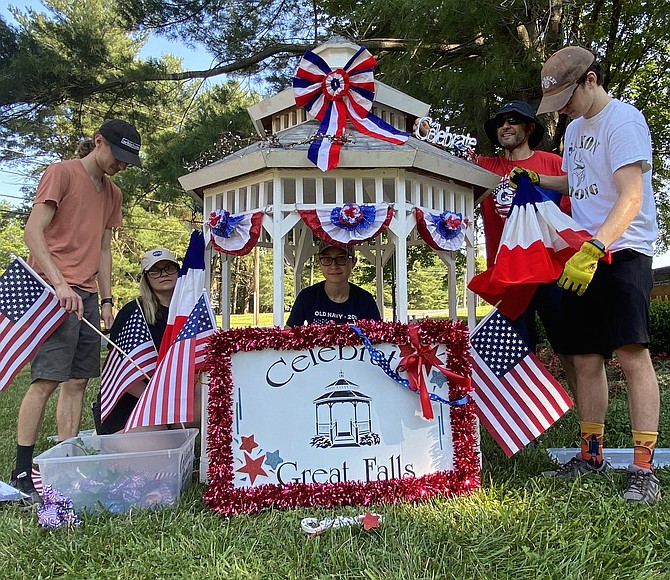 The annual 4th of July Parade and Hometown Celebration produced by Celebrate Great Falls Foundation took on a new look in 2020. COVID-19 remained embedded in the country, and with it, health experts encouraged social distancing to prevent virus spread. Gone was the Little Patriots Parade, the Main Parade and fireworks at Turner Farm Park, traditions marked by time. Yet, organizers at Celebrate Great Falls Foundation remained resilient. They committed to keeping the spirit alive that made Great Falls a special place to live. "We were happy that the community was still able to find a way to celebrate... with a drive-thru reverse parade," said Barbara Gracey, Great Falls Friends and Neighbors Vice President of Community Outreach.
Debbie Felder and Kathryn Rutkowski served as the Co-Chairs for the annual Celebration. Rutkowski said with much help from Erin Laboto and others, the Foundation pulled off arrangements for a family-friendly 4th of July Drive-Thru Celebration. And they accomplished the planning in less than two weeks.
Rutkowski described a drive-thru or reverse parade. "Members of the community will drive through the route in their cars... to maintain social distancing. Displays are being supplied by various organizations and local businesses within the community along with a sprinkling of antique cars and fire trucks, which normally participate in our 4th of July parade," she said. The hour-long event boasted 32 displays situated on lawns or common areas along the predetermined route that began at Cavalcade Street near Turner Farm Park.
PARADE PARTICIPANT Julie Ryan, Communications Lead at Great Falls Little League, said, "We are honored to be part of the 4th of July festivities put on by Celebrate Great Falls Foundation. We will be honoring our graduating 12-year old players."
One side of the entrance to the Drive-Thru Celebration featured the iconic Celebrate Great Falls Foundation gazebo. Mark Mahdessian, 17, and his family helped decorate it. "The gazebo is normally on a flatbed for the annual 4th of July parade," Mahdessian said.
Flanked on the other side of the entrance, Boy Scout Troop 55 Great Falls installed the United States and Commonwealth of Virginia flag display. When done, scouts Thomas Ye, 12, Dian Wang, 16, Kevin Shen, 15, William Nowak, 17, and James Ye, 17 stepped back, looked up and saluted the United States flag soaring twenty feet into the blue sky.

ORGANIZERS reported that 300 vehicles drove the parade route. Viewers and participants waved and called out to friends missed. Tara Reynolds is President of Forestville Elementary Parent Teacher Association. "It is important for the Forestville ES PTA to participate in the Great Falls 4th of July Drive-Thru Celebration so that students and parents know we are still here for them. We are all still Cardinals regardless if we are learning remotely or if it is summertime," she said.
Joey Newton, 13, is the creator of Joey's Wood Signs. He said, "I'm so glad I can celebrate July 4th with the neighborhood and display my new wood signs at the parade."
Peter Falcone is co-chair of the Great Falls Citizens Association. He said that the association was proud to join their community partners to support the efforts of Celebrate Great Falls to organize a family fun event for its residents this year. "Celebrations like this underscore the strength and resilience of a community like Great Falls, especially in the face of the COVID-19 pandemic."