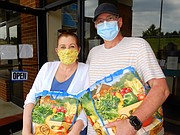 For people living from paycheck to paycheck, a global pandemic makes things infinitely worse. The day laborers from the Centreville Labor Resource Center (CLRC) know this fact firsthand.
When COVID-19 forced the center to close, the workers who booked jobs through the facility were left without a way to support themselves and their families. So the center – run by the nonprofit Centreville Immigration Forum (CIF) – has been holding food drives for them.
"We try to do a collection for our members twice a month," said CLRC Manager Colleen Dowling. "And even during high season, when we're open, they struggle financially because the jobs aren't constant. They never know when they're going to work or not."
So, thanks to the help and generosity of the community, she and her assistant, Nelson Alava, stood outside the center on Saturday, June 27, receiving food donations for the workers. They collected rice, dried black beans, canned tomatoes, oatmeal, cooking oil and tortilla flour.
"We sent emails to employers and our contacts and also put out the word on Facebook," said Dowling. "We've been closed for two months and jobs haven't been going out very often. The workers have been hit hard financially, so we're trying to do what we can to assist them during the crisis."
The CLRC's goal is to feed 50 worker families per food drive. In addition, every Wednesday, the center partners with Centreville United Methodist Church, which holds a first-come, first-served, food distribution that's open to everyone.
MOST OF THE WORKERS come from Central American countries such as Guatemala. So, explained Dowling, "One of the main reasons we needed us to do this is because – if our members go to other food pantries, they often get food they're not familiar with, such as peanut butter and jelly. They don't know how to use and prepare these items or just don't like them.
"So our Directiva – a workers group that holds seats on the CIF board – told us we needed to provide them with the foods that are often staple items in their pantries," she continued. "Then, once we finish collecting it, we'll pack it into reusable shopping bags and distribute it to their homes via volunteer drivers to keep it as contact-free as possible."
Among those bringing food contributions were Marian Coronado, who donated dry pasta, and Sumant Raturi, who brought 25 pounds of rice and 20 pounds of black beans. Ellen and Jeff Church, of Chantilly's Franklin Farm community, came with diced tomatoes, spaghetti, black beans, rice, and corn flour for making homemade tortillas and tamales.
"We support the CLRC anytime we can," said Ellen Church. "And we know these families need help right now because of COVID-19, so we're just happy we're able to do something small that can make a difference for them."
Dowling said the CLRC "really appreciates the community's generosity, and the workers thank everyone, too, because this food means so much to them. Every time we drop it off, they always thank us profusely and give us their blessings. So I want to pass that along to everyone who's donated food."
FOR THE NEXT collection date and a list of the food items needed, go to the Centreville Immigration Forum's and Centreville Labor Resource Center's Facebook pages. Most of all, though, said Dowling, "The best way to help these workers is by hiring them and giving them an income. This food will only last so long – but employing them will benefit them for much longer."