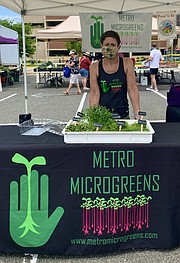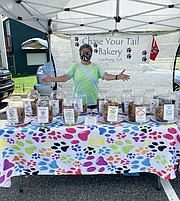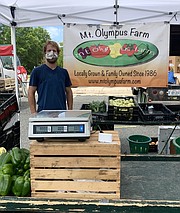 The sweltering Saturday of July 11 was the first of the weekly Burke Farmers Markets since December, where farmers, bakers and chefs came from all over Maryland and Virginia to sell their products.
The market offered both in-person and pre-ordering, and lines marked six feet apart kept customers socially distanced. Although the market opened later than in previous years, customers and business owners were eager to attend.
"It's run very safely, so we feel good being here. We feel that the customers are well taken care of and coached well," said Deb Matthews, the owner of Chase Your Tail Bakery in Leesburg, Va. "We usually do seven markets and we're only doing three. This really is a good part of our income."
"We were here last year… so we have developed a great customer base. There's a great word of mouth," said Eman Sleem of House of Empanadas from Northern Virginia.
"We usually get our peaches and tomatoes here," said Elaina Fazio, a customer from Springfield. "I get some for my grandma as well, so we go and deliver her peaches and tomatoes to her."
Many of the businesses create their own products using produce from the market.
"Our empanadas and corn loaves are only from scratch. We make everything, we source as much as we can from the market and we sell only at the markets and online," said Sleem.
"We have our own chickens, so we use our own eggs when our girls are laying. We try to source as much as we can from the farmers at the market," said Matthews.
Even during the pandemic, many felt supported by the community.
"Other markets… have been great in supporting us and getting the commonwealth of Virginia to recognize us as essential. A lot of people wanted to support small businesses so it's been great." said Sleem.
"[The pandemic] has actually been a boost for our business this year. We did seven acres of pick-your-own strawberries and we would constantly have 400 people out in a day," said Travis Urda of Mt. Olympus Farm in Ruther Glen, Va.
However, the pandemic has complicated how the vendors interact with customers.
"Before the pandemic, we would have [customers] taste everything; now we can't," said Debbie Ross of Metro Microgreens in Rockville, Md.
"People can't touch anything because we don't want anything to be contaminated and possibly affect others," said Jesus Reyna of King Mushrooms from Barclay, Md.
Overall, vendors were excited to be there and sell their products.
"I'm just happy that we're able to sell our product and that we have people that are coming out and are interested in it and want to be healthy," said Ross.
"I go from starting the seed to all the way through watering and picking and harvesting everything, so I can connect with the customer. They want to know where their food is coming from," said Urda. He plans to attend every weekend until November.
Burke Farmers Market is open Saturdays, 8 a.m.-12 noon, at 5671 Roberts Parkway, Burke.