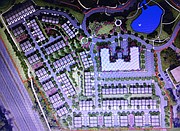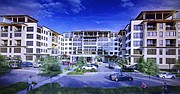 Yet another controversial residential project is being proposed for Chantilly's Westfields area. Developer K. Hovnanian wants to rezone 23 acres in Land Unit J from industrial to high-density residential – even though land-use and environmental groups are vehemently opposed.
During the June 15 joint online meeting of the Sully District Council and West Fairfax County Citizens Assn. (WFCCA), Hovnanian's representative, attorney David Gill, described the project in glowing terms. He did likewise at the county Planning Commission's July 15 meeting.
However, it's the third developer attempt to build homes under Dulles International Airport's flight paths – where the Metropolitan Washington Airports Authority (MWAA) has said it's too noisy for people to live. And there's growing concern that local leaders are putting developers' wishes above residents' wellbeing.
In 2019, MWAA updated its noise-contour map showing aircraft-noise decibel levels (dba) in Westfields. But the Board of Supervisors – contrary to guidance in the county's own Comprehensive Plan – continues denying the new map's existence and, instead, is deliberately voting on residential projects there based on MWAA's outdated map from 1993.
So Hovnanian wants to construct Boulevards at Westfields there. Planned are 120 two-over-two townhouses, 67 regular townhomes and a 135-unit multifamily apartment building – 442 homes total. And after the June 15 presentation, Sully District Council's Jay Johnston spoke out.
"We're putting people's lives at risk by this being approved under the old contours," he said. "The Board of Supervisors is pushing this through without public hearings and the opportunity for everyone to be heard." Agreeing, WFCCA's Carol Hawn called it "disrespectful of every future resident."
At the outset, Gill said it provides "a significant amount of park space, with areas for games and grilling. One amenity area has a playground, and one has a gathering space. And we'll put in a crosswalk from Park Meadow Drive across to the trail system and Wegmans."
THE MULTIFAMILY BUILDING would have underground parking, plus community gardens, a clubhouse and a pool on the rooftop. "There's inter-parcel access for vehicle, bicycle and pedestrian connectivity," said Gill. "We're excited about this site, and the Westfields Business Owners Assn. has endorsed us."
He said it's located between the 60-65 dba noise contours on MWAA's current – although 27 years old – map. "Our pre-COVID noise study showed it below 60 dba," said Gill. "Aircraft will fly thousands of feet above the highest rooftop. And we'll do full disclosures to potential buyers about the airport's proximity and that airplanes will be flying overhead."
But, said Sully District Council's Sheila Dunheimer, "The only way this is in the 60 dba is if the residents never open their doors. MWAA's contours show this site between the 60-65 dba contours." She also recommended the county adopt MWAA's updated map and not approve anymore residential projects in that area until it does.
"Airplanes go over my house at between 1,500-2,000 feet, on the same flight path," said Hawn. "And they're not 'thousands of feet' above this site – they're much lower."
The overarching problem, said former Planning Commissioner Jim Hart, is that the Supervisors are disregarding the Comprehensive Plan language to adopt updated noise contours as soon as they're available. "It would be more above-board and wouldn't have an unethical aroma if [they'd] do that," he said. "This anti-citizen, anti-environment rush to approve new developments [in Westfields] without a public hearing has poisoned the atmosphere."
Another Hovnanian representative said the developer has been "working on this since 2016 and is now at a point where it has to move this thing forward. There's a housing shortage, and some people don't care if they live near an airport."
But, said Hart, the Supervisors "need to make the new map's adoption a priority. And it's obvious the Board's priority is approving the new developments under the old contours – instead of doing the right thing." The joint land-use group then voted to oppose the project and recommend to the Board that it not go forward.
Afterward, several entities sent letters to the Planning Commission before its meeting last week. For example, Michael Cooper, MWAA's government affairs manager, wrote, "Residents moving to this location will hear loud, aircraft noise overhead, 24 hours/day. And given Dulles's growth, over time, hourly flight activity will undoubtedly increase in frequency."
Hart wrote that "County staff remains forbidden to consider the updated noise-contour map, which remains stalled in a committee chaired by its principal opponent." Boulevards at Westfields is in Sully District Supervisor Kathy Smith's district and, ultimately, she'll decide its fate, since the other supervisors normally defer to the wishes of the supervisor in whose district a project is. And Smith chairs the committee Hart mentioned.

"It's simply bad public policy to allow residential development under a runway."
—Richard Dei Tos, Metropolitan Washington Airlines Committee
The updated noise-contour map was referred to the Board's Land Use Policy Committee that she heads, rather than to the Board's Environment Committee, wrote Hart, "even though the noise policy is contained in the Environment section of the Policy Plan. Because of the importance of the pending applications, that committee assignment looks intentional."
Meanwhile, he added, "Significant residential-rezoning applications roll along, without regard for citizen and industry opposition. The lack of transparency and accountability seriously damages our land-use process and undermines citizen confidence in county government."
When land-use group members recently complained to Smith about it, she said the Board's "concerned about the county's economic development – not the airport, alone." But disregarding the airport's wishes could actually endanger the county's economy.
Richard Dei Tos is executive director of the Metropolitan Washington Airlines Committee, representing 44 domestic and international air carriers at Reagan National and Dulles airports. With COVID-19 fundamentally altering the aviation industry, he wrote, hub airlines like United at Dulles will be rethinking their routes and where to place their hub operations.
"Before making these critical decisions, air carriers are watching which communities are doing what they can to promote airport development, not stifle it," wrote Dei Tos. "The same is true for the many international carriers. They'll look for long-term economic benefits from frequent airport operations and a welcoming community."
PLACING HOMES under Dulles flight paths, he continued, would be "an unmitigated disaster which is entirely avoidable. Remember, airlines don't have to come to Dulles. They can fly anywhere – and we'll have to convince them to remain or restart operations here.
"Dulles is Fairfax County's crown jewel international airport, and additional passengers and flights bring jobs, money and benefits to the county. We urge [you] to advocate for the new noise contours and review why you'd want to build underneath a flight path. It's simply bad public policy to allow residential development under a runway."
Re the updated contour map, on July 15, Dranesville District Planning Commissioner John Ulfelder said the Planning Commission previously asked the Board to expeditiously adopt the new contour map, and "The Board ignored it."
Still, said Braddock District Planning Commissioner Mary Cortina, "The Planning Commission has an obligation to be aware of all the latest information." She stressed that, although the Board hasn't acknowledged it "doesn't mean we have to stick our heads in the sand."
Furthermore, asked Providence District Supervisor Phil Niedzielski-Eichner, "Can noise be mitigated on a rooftop recreation area when the noise level is 65 dba?"
Several callers urged the commissioners to deny the application, including nurse Jody Bennett who said, "Children playing outside under a flight path can suffer significant, adverse health effects from the airplane noise and pollution. How do we protect them?"
Resident Tammi Patrine wondered why the county is "quibbling over a few decibels. Do you seriously believe no damage occurs at 59 decibels, but does at 60? Planes land there every 6-9 minutes, 24/7, yet we have a supervisor pushing for 4,000 homes in Land Unit J for the benefit of three developers."
And, added Carol Hawn, "Dulles Airport recently contributed $8.34 billion to Virginia's economy. Why would the Supervisors approve something that could adversely impact this?"
The Planning Commission will vote on Boulevards, July 29. Until then, comments may be sent to planningcommission@fairfaxcounty.gov.