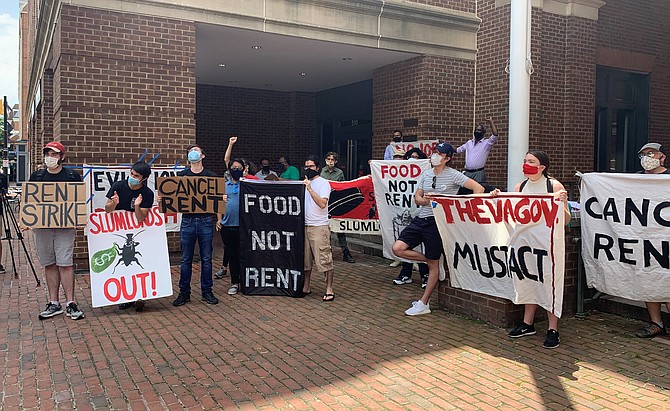 Residents of Southern Towers apartments gathered July 15 at the Franklin P. Backus Courthouse in Old Town to protest for the cancellation of rent payments and demand an extension to a statewide moratorium on evictions, which expired last month.
"We are here today protesting the more than 150 evictions that have been filed at Southern Towers since the moratorium has been lifted," said a spokesperson for the Democratic Socialists of America, who partnered with the residents in the protest. "We are opposed to the evictions and feel it is morally wrong to expect the residents to pay rent during the pandemic."
The moratorium on evictions expired June 28 as Gov. Ralph Northam announced the Virginia Rent and Mortgage Relief program, which is providing an additional $450,000 for eligible Alexandria residents. This supplements $4 million in federal Coronavirus Aid, Relief and Economic Security (CARES) Act funds designated for the city's Emergency Rent Relief Assistance Program and $671,500 in federal Community Development Block Grant funds for affordable housing tenants.
State funding will provide one-time payments, and the option for renewal will be based on availability of funding, household's need for assistance, and eligibility. Eligible residents must have monthly rent or mortgage at or below 150 percent Fair Market Rent as defined by the U.S. Department of Housing and Urban Development. Gross household income must be at or below 80 percent of area median income.
According to the city's website, short-term emergency rental assistance through the CARES Act will be provided to assist Alexandria renters experiencing housing insecurity due to COVID-19 related loss of income. Funds in the amount of up to $1,800 in a one-time payment will be provided directly to property owners on behalf of eligible tenants, who must be current in rent as of March 31, 2020.
The city has acknowledged that the pandemic has disproportionately impacted communities of color, and there will be targeted outreach to communities of color across Virginia.
Residents should take a self-assessment survey to see if they qualify, and then call 703-746-5700 to apply.