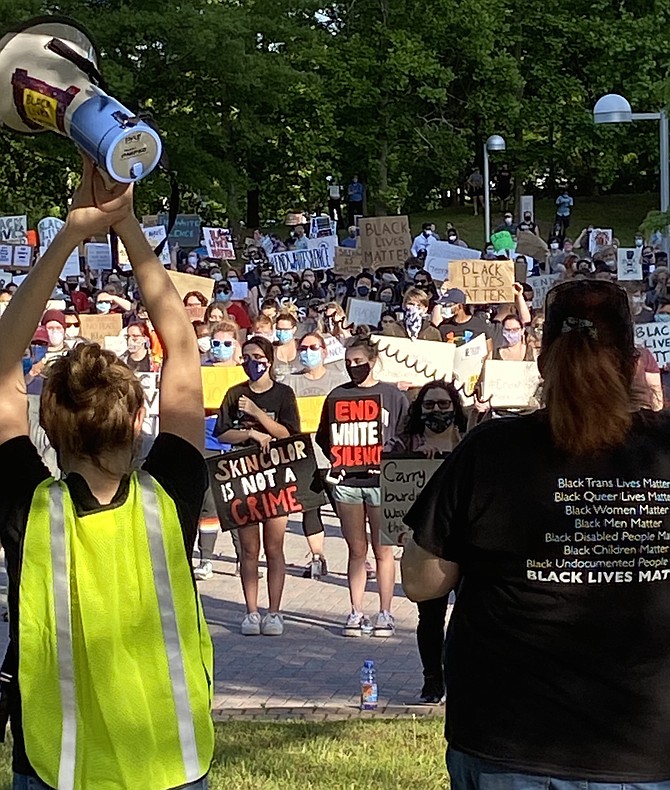 After seven days of nationwide protests, escalating riots and looting by some in the fallout from the death of African-American George Floyd while being arrested by a white officer in Minneapolis, Showing Up for Racial Justice (SURJ) Northern Virginia held protests at two northern Virginia police headquarters. One was in Alexandria, the other at Public Safety Headquarters in Fairfax. With police barricades and officers behind them surrounding the gathering area, officers on the roofs of buildings and helicopters in the air, protesters of all races safely and without incident rallied demanding an "end to white silence on issues of racial injustice."
SURJ NoVa organizer Karen Wolf said, "While tragedies like the death of George Floyd make the news, they're the tip of the iceberg in a larger pattern of racialized harm and violence." Cayce Utley, a member of SURJ NoVa, handled the microphone. Addressing the crowd, she said, "We are here to break white silence around white people supporting our police… We are keeping it peaceful, but we need to make it good for others."
Chief Edwin C. Roessler Jr., Fairfax County Police, stood at the barricades and watched. "We are fortunate to have a very engaged community with robust support and partnership between officers, residents and business owners. Regarding potential demonstrations, we are in communication with various stakeholders and are working together to ensure events in Fairfax County are peaceful and safe for voices to be heard while also maintaining public safety in our neighborhoods," he said.