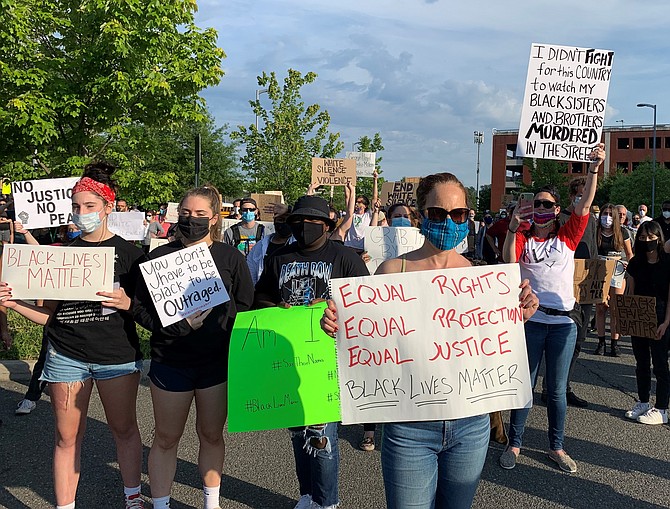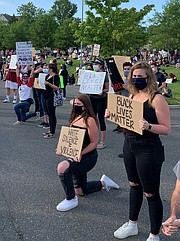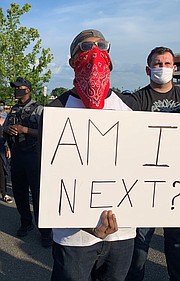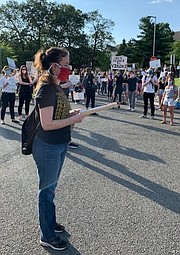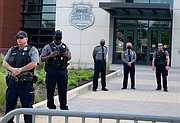 A group of more than 500 demonstrators gathered outside Police Headquarters June 2 as part of a vigil to "End White Silence in Alexandria" in the wake of the May 25 killing of George Floyd, an unarmed black man, while in police custody in Minneapolis.
The rally was organized by Showing Up for Racial Justice, a group that coordinates white individuals to fight causes of racism. The aim was to call attention to the death of Floyd as well as Ahmaud Arbery, Breonna Taylor and other black Americans at the hands of police officers.
"I'm here because not showing up for an issue that affects our brothers and sisters in America is complicity in the problem," said Tim Reichman, who is white and attended with two women of color. "Racism is still an issue in America and until we address that and work to fix it, it just continues."
Demonstrators were peaceful as chants of "Black Lives Matter" filled the air. The names of individuals who died while in police custody were read by organizers and repeated aloud by the crowd.
"It's wonderful to have this many people show up for black lives," said Cat Clark, a SURJ spokesperson and organizer of the event in support of the Black Lives Matter movement. "We are encouraging people to follow the movement for black lives and their call to divest from policing and invest in communities of color, especially black communities. Transferring those resources to where they will count will make a huge difference in what is happening."
Police Chief Michael Brown and other officers were standing at the entrance to the building as the rally took place and the Fallen Officers Memorial was blocked off to demonstrators.
"We are out here with a group that is expressing their First Amendment rights very peacefully," Brown said. "We welcome them here to bring forward a very, very important issue – speaking to the death of Mr. George Floyd. Those here want it stopped as much as we do. We look forward to seeing some movement across the country on these issues going forward. If there is something we can learn from this, so be it."
Protests have erupted across the nation after video surfaced of Floyd struggling to breathe as a white Minneapolis police officer held him down with a knee on his neck. The officer, Derek Chauvin, was charged with third-degree murder, and numerous signs scrawled with "I can't breathe" were prevalent at the police headquarters vigil.
"We're all the same people and we all just want to have the same rights."
—Rally attendee Marc Komeman
"I'm here because I know that I should use my white privilege to fight for those who do not have a voice," said Elizabeth Lane. "Those like George Floyd."
Added Catherine Green, "We have to end white silence if we are ever going to change the police state that is America and the brutal racial violence that has characterized our country for hundreds of years."
Another vigil will be held in Alexandria on June 4 at the Charles Houston Recreation Center. The Facebook event page stresses that "expressing anger through violence is not welcome." Attendees will meet in the parking lot of the center at 7 p.m. and walk to the front of the building. A prayer, moment of silence and remarks from community leaders will follow and masks are encouraged for attendees to help prevent spread of coronavirus.
"We are but one part of the underlying issues raised following the death of Mr. Floyd," said Brown in a letter to the community. "I pray that America will stay focused on Mr. Floyd and the many victims of racial inequity that have come before him, so that they will not be lost again to short attention spans or the many distractions of our time."
Marc Komeman, a black man who attended the demonstration wearing a shirt and holding a sign that read "Am I Next?" was happy to see so many coming together.
"This is a beautiful display of humanity," Komeman said. "There are more white people here today than black people, which gives me hope. We are all Americans. I don't want to see people called African American or Asian American. This is the only country in the world that makes differentiations on who you are as an American. But we're all the same people and we all just want to have the same rights."