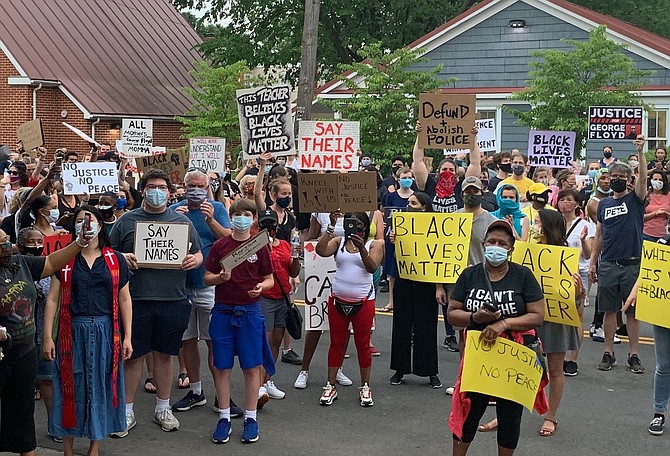 One by one the names were read aloud. For eight minutes and 46 seconds – the time that George Floyd suffered with the knee of a police officer on his neck during an arrest in Minneapolis – the names of African Americans who died at the hands of law enforcement rang through the crowd gathered June 4 at the Charles Houston Recreation Center.
Close to 1,000 people gathered in a peaceful protest against police brutality and in the memory of Floyd, whose death May 25 was recorded in a now viral video.
Mayor Justin Wilson, joined at the protest by City Council members Amy Jackson, John Taylor Chapman, Canek Aguirre and Mo Seifeldein, was one of several speakers to address the crowd.
"Black Lives Matter," Wilson chanted with the crowd. "Sometimes in an argument, someone will say the words 'calm down,' which never works. I am telling you today, do not calm down. Stay in our face. Stay in the face of the policymakers, the men and women who are making the decisions to protect black lives."
Protester Ivory Dean fired up the crowd after calls for her to take to the microphone.
"We have been saying this time and time again," Dean said to the cheers of the crowd. "We have been telling America that you are killing us. Black on black crime does not exist – it's the police that are killing us and we need convictions. We need them fired. When the law stops protecting these murderous police, that's when you won't see us anymore."
Rabbi Jack Moline, president of the Interfaith Alliance, attended the rally.
"This is a time for all of us to follow the lead of those who have been disenfranchised and oppressed because of the color of their skin," Moline said.
Rev. James Daniely of Roberts Memorial United Methodist Church also addressed the crowd.
"We don't need someone else to tell us that we need education and opportunities," Daniely said. "We know that. Give us the opportunity and we will do it ourselves."
Daniely continued: "This is not a black on white issue – it's a human issue. And we as human beings need to repent for our inactivates. If the things that you think, do and say have an inherent bias because of a learned behavior, repent from that. That will save not only black lives but human lives."
The protest began in the parking lot of the recreation center followed by a march around the block to the front of the building. The majority of the planned program took place until a severe thunderstorm warning went into effect and Police Chief Michael Brown asked everyone to immediately seek shelter.
Community activist Boyd Walker was one of the organizers of the event.
"There is an amazing crowd here today," Walker said. "More than 1,000 people came out to celebrate the life of George Floyd and I hope everyone goes home tonight and does something constructive to change things."