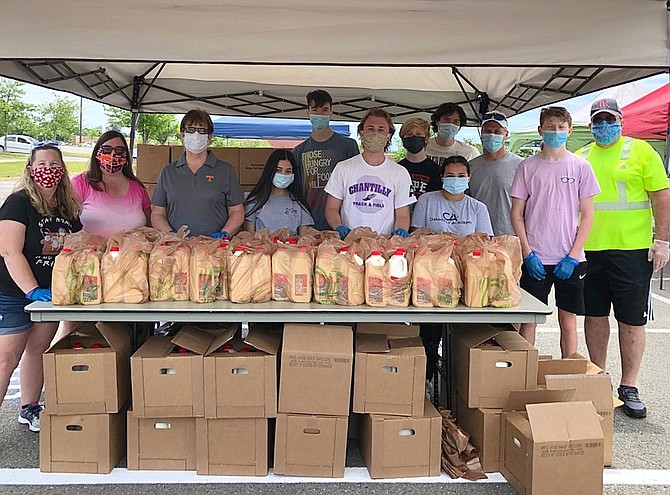 When times are tough, people already having a hard time making ends meet need an extra hand. So last Monday, June 15, volunteers gave out free milk and other dairy products to Centreville and Chantilly families, plus the food pantries that support them.
The four-hour event was organized by Sully District Supervisor Kathy Smith's office and the Springfield-based De Lune Corp. Supporting their efforts were Western Fairfax Christian Ministries (WFCM), Fairfax County Neighborhood and Community Services (NCS), the county's Community Emergency Response Team (CERT) and Human Services Transportation (Fastran), plus Food For Others.
"It's always good to help others," said Christina Petruzzi of CERT, which helped with traffic control. "And it makes you realize how fortunate you are, the impact this pandemic has had on the community and how people have come together to help each other."
ALSO INSTRUMENTAL in the event's success was the unselfish work of a whole slew of volunteers from Centreville United Methodist Church, Ox Hill Baptist Church, Grace Covenant Church, Capital Home Professionals, Wegmans, Northwest Federal Credit Union and fire stations from Centreville, Vienna, Franconia and Burke.
"My company encourages us to do this kind of thing – getting involved with the community," said Northwest Federal's Daniel Zeballos. "And you get to give back to people in need."
Ultimately, 1,165 households total received dairy products at seven different locations – outside Westfield High School, the Lee Overlook Apartments, FACETS Barros Circle Community Center and Centreville Regional Library, plus the Meadows of Chantilly, Fields of Chantilly and Chantilly Mews neighborhoods.
De Lune brought two huge trucks – containing 2,000 boxes of USDA dairy products and 960 boxes filled with milk – to Westfield. There, some 60 volunteers then loaded half of this food and milk into seven Fastran buses that went to the low-income housing areas listed above for distribution to the residents.
"They expect about 300 families at the Meadows of Chantilly, alone," said WFCM Executive Director Harmonie Taddeo, that afternoon. "And we loaded supplies for 200-300 families at the Fields of Chantilly."

Recipient families each received four half-gallons of milk, plus a dairy box including cream cheese, instant milk powder, plain and vanilla whole-milk yogurt, butter and 64 ounces of low-fat milk. The rest of the dairy boxes and milk went to local churches and community-based organizations, such as WFCM, Food for Others and FACETS, to take back to their food pantries to distribute to their clients. But before they did that, they also gave it out to people in need driving to Westfield to pick it up that day.
Lori Stevens, with the Vienna Volunteer Fire Department, helped load boxes into their vehicles. "We ask each driver how many families they're picking up for," she said. "We also loaded up the buses this morning with the dairy boxes; it took about an hour-and-a-half. I'm with my fire department's auxiliary and, right now, we can't hold bingo or other big fundraisers. So I'm just doing anything I can to give back to the community in these difficult times."
Ox Hill Baptist Church member Emma Anderson, a rising senior at Westfield, also put the donated dairy products into people's cars. Glad to participate, she said, "It feels good to help out and to see the faces of the people getting the food."
CERT's Babita Thapa helped unload the trucks, put the boxes onto pallets and place them into the buses. "This helps people in need," she explained. "It's my duty to help my community, and it feels great helping others. It's also a good use of my free time."
John Phillips, who coordinated the canteen from Centreville Volunteer Fire Department's Station 17, was one of 10 volunteers there from his station. "Ciao [Italian restaurant in Centreville] donated pizza for the volunteers, and we brought Gatorade, water, candy bars and chips," he said. "The station does what it can to support the community."
"It's nice to see the turnout of volunteers," continued Phillips. "It's pretty impressive – especially in these tough times – to see all these people stepping up and helping out."
THERE, AS WELL, were Supervisor Smith and her office's community-outreach person, Dan Dolan. "He found out De Lune had a USDA contract with the federal government to distribute to the community," said Smith. "And since De Lune is on the other side of the county, it was important that Dan connected with them so we could have their food on this side of the county, too. He then reached out to our community partners, like WFCM and NCS to put people together."
"We're also grateful to Westfield Principal Anthony Copeland for letting us use the facility," said Dolan. "They've been very gracious and accommodating. And we really appreciate the snacks and water from the Centreville Volunteer Fire Department, plus the manual labor from them and the other fire departments here."
Besides that, added Smith, "We're glad Fastran was able to take some food directly to several neighborhoods, because not everyone has transportation to come here to Westfield and pick it up. I'm really pleased with how everything's turned out. This is what's great about living in the Sully District – everybody pulls together to help each other."
More like this story