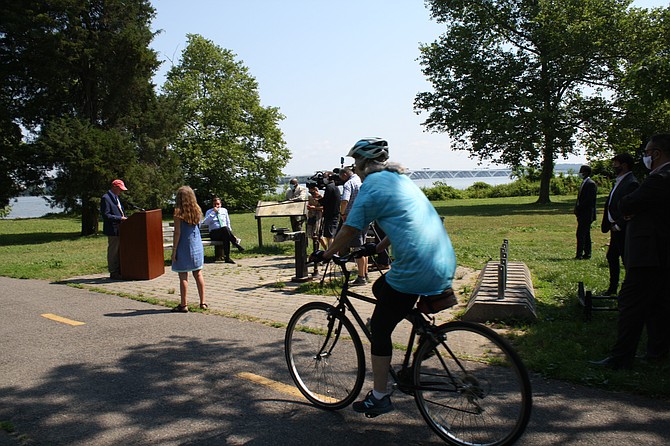 When he got down to the river's edge in Belle Haven to talk about the "Great American Outdoors Act," recently passed in the Senate 73-25, Sen. Mark Warner (D-VA) looked through a spotting scope to see an osprey nesting offshore.
Glenda Booth, one of the Friends of Dyke Marsh, pointed out the bird. "In Dyke Marsh, we probably have 10 osprey nests," she said.
Warner was on site to talk about a bill that will soon be up for a house vote to address the $12 billion maintenance backlog at national park sites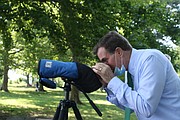 nationwide and provide permanent funding for the Land and Water Conservation Fund. The bipartisan bill includes Sen. Warner's "Restore Our Parks Act," which would help fund much-needed repairs at Virginia national park sites such as the George Washington Memorial Parkway, which currently has more than $700 million in maintenance needs. The bill was reintroduced with Rob Portman (R-OH), Lamar Alexander (R-TN) and Angus King (I-ME) as bipartisan legislation to address the maintenance backlog, which has delayed the upkeep of visitor centers, rest stops, trails, campgrounds and transportation infrastructure operated by the National Park Service in the Commonwealth and across the country.
In addition to helping the parks, Warner pointed to the number of jobs the National Park's provide, which is about 100,000 jobs nationwide, and 10,000 in Virginia. "That doesn't even include tourism-related jobs," Warner added.
With bicycles going by on the Mount Vernon Bike Trail, and ducks floating by in the river, the time is now, he said. "It's now up to the House," Warner said, looking at the upcoming July 4 holiday as a perfect time. "I can't think of a better birthday present for our country," he said.
Virginia's national parks, which host more than 25 million visitors every year, are in need of this funding to continue preserving some of the nation's national treasures. Shenandoah National Park alone has outstanding maintenance needs totaling almost $80 million, while Colonial National Historical Park is more than $420 million behind schedule. To make matters worse, recent reports indicate that the 35-day government shutdown exacerbated the NPS maintenance backlog and delayed work preparing park facilities, roads and trails for the busy summer season, according to Warner.
Trailside Talk
Belle View resident Marianne Razzino was on her bike in the parking lot, getting ready for a ride. The Covid-19 pandemic and the quarantine has encouraged a lot of people to get out on the local trails to get some exercise, as is recommended by Governor Ralph Northam (D-VA). "Sometimes the trail could use a little upkeep," Razzino said. "It gets a lot of use," she added.
Representatives from the Blue Ridge Parkway Foundation, Wolftrap Foundation, the American Sport Fishing Association, the Public Lands Alliance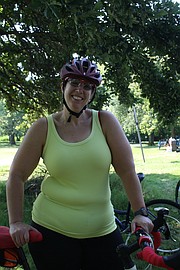 and Pew General Trust were on hand to make their needs known. Kevin Brandt cited the needs on the Blue Ridge Parkway, and what this funding will do. "This is an incredible step forward," he said.
Warner uses the Mount Vernon Bike Trail from time to time, and has seen what happens when the funding falls short of maintenance, particularly at the rest stops. "I was noticing they'd gotten a little shabby around the edges," he said.
Hands-On Lessons
To kick off Warner's event, members from Nature Bridge conducted an exercise where everyone took a pause, and used their senses to feel what was going on around them. There were a few families enjoying the sunshine, ducks in the water, and airplanes taking off, which is a common sight at Belle Haven Park. "This is something we do at Nature Bridge to help children connect," said Talia Schmitt.
Dr. Carman Orozco-Acosta represented a group called the "Green Latinos," and talked about the family gatherings that fill the park on weekends. "As a community member, I really care about the environment," she said.
According to the list of Virginia National Park Deferred Maintenance as of 2017, the George Washington Memorial Parkway has $233,441,316 of deferred maintenance needs. "These are parks that we all own," said Warner.