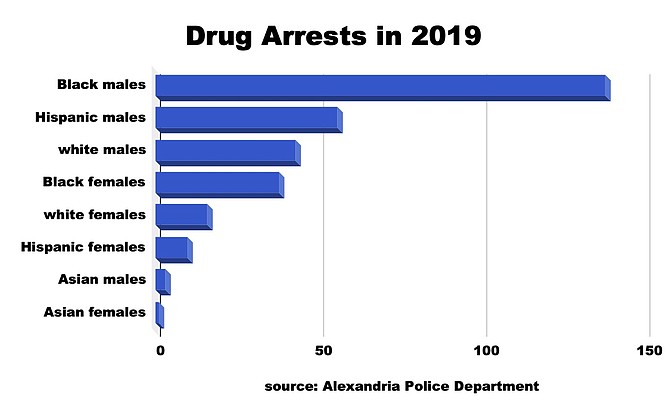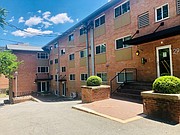 When Harold Cook arrived at the Longview Terrace Apartments one summer day three years ago, he had no idea he was about to find himself, a Black man, in the middle of Alexandria's war on drugs. Cook was caring for an ailing fiancee, and he was bringing a basket of her laundry from her apartment to his truck when he was confronted by a white police officer. As he approached the truck, he put an unlit cigarette in his pocket so he could get his keys. According to a lawsuit filed in federal court, that aroused the suspicion of a white police officer.
"This is a case of holding a cigarette while black," the lawsuit says.
Alexandria Police Officer Brandon Smith ordered Cook to stop and began questioning him. According to the lawsuit, the officer repeatedly accused him of having drugs and demanded to know what was in his pockets. Cook said that he didn't have any drugs. But, according to the lawsuit, the officer handcuffed Cook and searched him before taking his driver's license to check for outstanding warrants. The lawsuit says Cook was detained and in handcuffs for almost half an hour, charging racial profiling and violating his constitutional rights.
"He was simply a perfectly normal man attending to perfectly normal everyday activities. Then Officer Smith drove up," the lawsuit explains. "Officer Smith believed Mr. Cook was a drug user or distributor solely by reason of being African American and being in an apartment complex in which a majority of residents were African American and lower income."
After being released, Cook called his brother, Earl Cook, who was chief of police at the time. Then he filed a formal complaint against Smith, which launched an Internal Affairs investigation. Chief Cook recused himself, and the investigation concluded that the officer engaged in racial profiling. Smith was let go from the Police Department in 2018.
But many people in the department believed the finding of racial profiling was in error. When Michael Brown replaced Cook last year, the new chief reversed the decision and rehired Smith, who is now a detective.
"It was determined there were some deficiencies in the investigation that did not support the findings in accordance with legal standards used in establishing bias," explained Brown.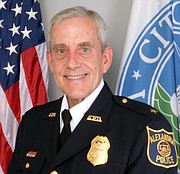 DOCUMENTS OUTLINING Alexandria's war on drugs show how the interaction between Cook and Smith reveal the complicated intersection between race relations and law enforcement. According to the Alexandria Police Department, 64 percent of people arrested in Alexandria for drug arrests last year were African American. Almost half of those arrests were Black males. Across Virginia, Black people are 3.4 times more likely to be arrested for marijuana possession, according to a recent report from the American Civil Liberties Union, which also found that arrests for possession of marijuana make up about 52 percent of drug arrests.
Chief Brown says in his experience drug arrests are often influenced by substance abuse.
"Putting somebody into a court or a jail facility doesn't always help that problem. Putting a cop on it doesn't always help it either," said Brown. "The best treatment is the treatment in the social services system, and this city has a very robust social services system. I'd much rather see them go there than go to jail. But sometimes you've got nowhere else to put them and no one who's going to be able to treat them."
It's not just drug arrests that are disproportionate. Documents from the Alexandria Police Department show most arrests in the city are of black people. Of the 4,300 arrests in Alexandria last year, about 2,300 of them were of African Americans. That's disproportionate for a city that's only 23 percent black, although police officials note that many of those arrests were not of people who live in the city. Brown says his department is currently digging through the data to figure out why these numbers are so lopsided, and what his department can do about it.
"We have no red flags that show our officers are being biased," said Brown. "But if we're looking at that number at its face value, I want to make really sure we're not doing something that is biased."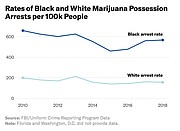 EARLIER THIS YEAR, the General Assembly passed a bill to decriminalize marijuana, an effort led by two prominent members of the Alexandria delegation, House Majority Leader Charniele Herring and state Sen. Adam Ebbin (D-30). Gov. Ralph Northam signed the bill. Advocates for criminal justice reform are hopeful the new law would reduce mass incarceration rates that have been a burden to the black community since the war on drugs was launched by President Richard Nixon. But a recent study from the ACLU found that in every state that has decriminalized marijuana, black people are still more likely to be arrested for possession than white people.
"Black Americans are disproportionately arrested because we have a racist system that over-criminalizes whole communities where the police are present at levels that they're not present where white people are smoking marijuana," said Claire Gastanaga, executive director of the ACLU of Virginia. "We have a racist system, and the racist system is structured to put more black people in jail and prison, and it's structured to make sure when that happens they can't vote and don't have any civic power."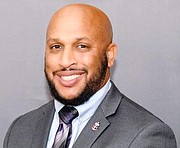 For a while during the Obama administration, it seemed that marijuana arrests were on the decline as a growing number of states decriminalized. But then, in 2015, that trend reversed. The FBI reports more marijuana arrests in 2018 than in 2015, despite the fact that eight states legalized marijuana for recreational use or decriminalized possession during that time. Here in Alexandria, Chief Brown is reaching out to groups like the NAACP to have them participate in a community action team to make sure that more voices are at the table for decisions that guide policing in the city.
"Being on these committees and being actively involved in policy goes a long way," said Christopher Harris, president of the Alexandria NAACP. "I have a confidence in the police department that I have rarely had in all my years in Alexandria, and I believe that Chief Brown and his department are being proactive to try to wane these numbers and decrease these arrests."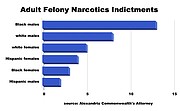 RACIAL DISPARITIES also exist at the courthouse, where black males arrested for drugs must defend themselves against prosecutors. Most of those are misdemeanor cases, which are handled in the General District Court. Sometimes they are handled with diversion programs, but often they end up leaving a record that can cause people a hard time getting a job or finding a place to live. The more serious cases are felony crimes handled by the Circuit Court, where Commonwealth's Attorney Bryan Porter says about half are of African Americans.
"I think it's very apparent that there are disparities built into the system," said Porter, "and I think it's important for people in a position like mine to acknowledge that and to do what we can to address them."
One strategy he uses to accomplish that goal is decreasing the number of felony cases that come out of his office. Three years ago, Porter says, his office indicted about 400 felonies. Last year, he says, he was able to get that number down to about 300. This year, he says, his office is on course to bring that number down to 200, although he acknowledges that part of this year's reduction was the result of COVID-19. Porter says part of the reason he was able to cut the number of felony indictments in half was because by changing them to less serious charges or diverting them out of the criminal justice system altogether.
"The idea is to wherever possible avoid incarceration and get people services for mental health problems and substance abuse problems, which are often colocated," said Porter. "I think it's important for all of us to look at numbers because they do paint a somewhat bleak picture. But it's obviously important for us to know that so we can continue to address, reduce and hopefully one day eliminate these disparities."
MORE PEOPLE ARE ARRESTED for simple drug possession in the United States than for any other crime, according to a recent report from Human Rights Watch. The 2016 report was titled "Every 25 Seconds" because that's the frequency people are funneled into the criminal justice system, the report found. Ultimately, the group concluded, the long-term consequences of waging a racially imbalanced war on drugs is separating people from families, excluding people from jobs and making people dependent on welfare assistance and public housing.
"There is no good reason for narcotics to be illegal, and it just becomes an excuse to criminalize people and it leads to all these other highly negative effects," said John Raphling, a senior researcher at Human Rights Watch. "We need to end the drug war, and we need to find better ways to support communities than policing."
"We need to end the drug war, and we need to find better ways to support communities than policing."
—John Raphling, senior researcher at Human Rights Watch
Here in Alexandria, the numbers show a disparity that has many city leaders asking questions about equity and justice. Alexandria police could shed some light on the circumstances behind individual arrests, but so far the department has declined to offer that level of transparency. City Council members are talking about establishing a police review board, but the details about who would be on it or what kind of oversight abilities it would be able to exercise have yet to be worked out. Ultimately, the dialogue about racial disparities in the criminal justice system isn't as easy as plugging numbers into a spreadsheet and calculating a ratio.
"In the current environment, people assume that racial bias and racial profiling lead to higher arrests and higher levels of interaction with the police. That could be true, either on the margins or as a systemic problem. However, it could be true there are innumerable other factors," said Rich Kelsey, former assistant dean at the George Mason University School of Law. "Drugs, crime, and interaction with police tend to be a function of economic circumstance and desperation, which also contributes to disproportionate numbers affecting people of color."
THE DEBATE ABOUT RACIAL PROFILING is an area where some people see more shades of gray than black and white. Back in 2017, the City Council agreed to pay $100,000 to settle the federal lawsuit brought by Harold Cook alleging that an Alexandria police officer who handcuffed him and falsely accused him of carrying drugs was guilty of racial profiling. Under the settlement, Smith and the city did not admit to any wrongdoing.
"Most black people are not arrested, and few are killed by police. But lots and lots of them, all of them, likely, have suffered directly or indirectly from the slings and arrows of, at least, cultural and institutional racism," said Victor Glasberg, the lawyer who represented Harold Cook. "The latter receives less dramatic press than the deaths, but it is embedded in our culture and is pernicious. That is what has to change.