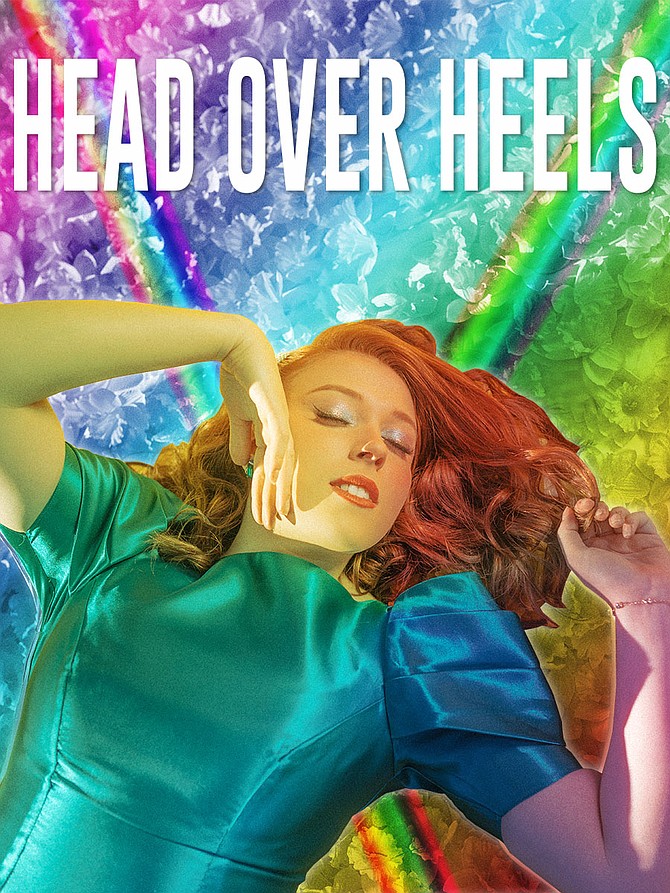 Monumental Theatre Company is presenting the jukebox musical comedy, "Head Over Heels," featuring music by The Go-Go's, from now through March 23, 2020. With a book by James Magruder, adaptation by Jeff Whitty and a plot based on Sir Philip Sidney's The Countess of Pembroke's Arcadia, "Head Over Heels" features the all the drama of a 16th-century romance with a queer twist. Set in the fantastical land of Arcadia, a fateful prophecy is delivered to the king which will send each character on a journey of self-discovery in order to save the kingdom and find their true love.

Jimmy Mavrikes, Director and Co-Artistic Director of Monumental Theatre Company, said he saw the show during closing week on Broadway and absolutely loved it. "I was really intrigued by what the show stood for. 'HoH' features the first out non-binary character in a lead role. The original production featured Peppermint, the first trans person to originate a role in a Broadway musical. We wanted to continue this celebration in the DMV and have talented cast members and designers from many facets of the LGBTQ+ community work on the production."
He continued: "'Head Over Heels' is also a unique combination of 1980s pop and 16th century literature, which doesn't seem like it goes together, but in its own exciting way, absolutely does.
"The story follows the king of Arcadia and his family on a mission to save their precious 'beat.' For us, the beat represents tradition, and Pythio, our resident non-binary oracle, sees that Arcadia's beat will be lost if four instances occur. I want people to see that the breaking of tradition is OK, and ultimately necessary for us to grow. You can't really get to know people until you are accepting, and that acceptance is important for the whole community."
He said he hopes that the audience walks away feeling lighter and more comfortable with who they are. "They should have so much fun during this show and will be bopping to the music the whole time. The Go-Go's music plus this amazing cast of performers should make the audience feel like they're walking on air," he added.
Lauren Farnell is playing the role of Philoclea, which comes from the Greek "Lover of praise."
"Aptly named, she spends a lot of her life hoping to be liked, and really maintaining her role as the people-pleaser of the family. She puts nearly everyone else before herself, and always aims to do the right thing for the benefit of all. There's a lot of kindness, and selflessness in that, but one of the most satisfying, and I think earned, transformations for her is when she finally learns to put herself first, and be selfish! She learns her happiness is just as valuable as that of others," she said.
She said the dancing was very challenging to learn. "Our choreographer, Ahmad Maaty has worked so hard to create this amazingly intricate choreography that's a really neat blend of old and new. Imagine if Shakespeare's company of actors was transported to a club in NYC in the '80s. It's really challenging, but when you nail it, it looks awesome, and feels like a great accomplishment," she said.
She added: "The text in its own way was also challenging, because it was adapted from a story written in 1580. However, this writing stands the test of time, because even though the words and syntax are not in our 2020 lexicon, the sentiments and relationships between characters are very real, even today."
"Head Over Heels" runs from now through March 23, 2020, at the Ainslie Arts Center on the campus of Episcopal High School — located at 3900 West Braddock Road, Alexandria. Tickets can be purchased online at https://www.monumentaltheatre.org/shows-events.