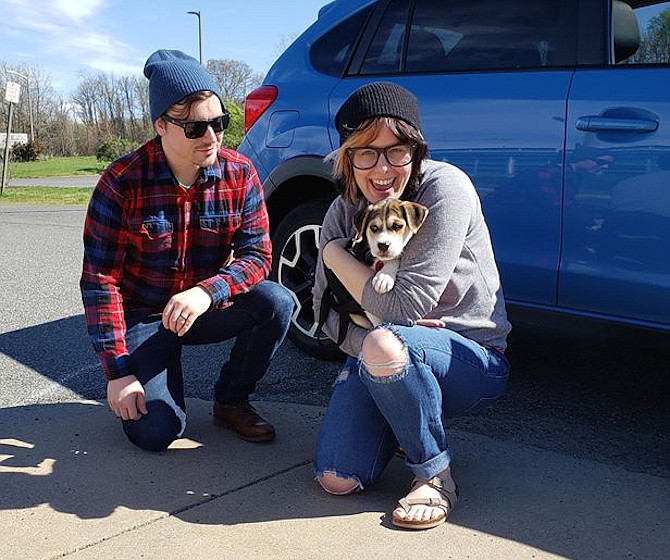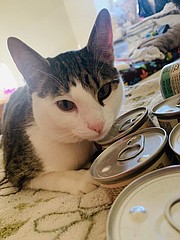 The team at the Animal Welfare League of Alexandria (AWLA) hasn't let a global pandemic deter them from their mission of helping animals in the community every day. Instead, they continue to look for new ways to connect with people across Northern Virginia, while modeling safe best practices for the community and their own staff.

A new virtual adoptions process, for example, has brought about more than 65 adoptions since it launched in early April. That includes an energetic gray tabby kitten, adopted by a deaf couple who viewed him during a virtual meet-and-greet and typed their questions about him to AWLA staff using an online conferencing platform. Hershey the kitten went home the same day.
Here's how AWLA continues to provide vital services to the community:
Safe space: The shelter is following best practices for both human and animal health management. This includes limiting the number of people in the shelter, use of face masks and other protective equipment, frequent disinfecting and sanitizing, and allowing the public to remain in their cars for pickup and surrender of animals. The shelter also is using special protocols for handling animals that might have been exposed to the virus. All safety policies are reviewed and updated as new research on the virus becomes available.
Virtual adoptions: Virtual adoptions offer a safe way for people to bring a new companion into their homes. Potential adopters start the process by viewing adoptable animals at AlexandriaAnimals.org/VirtualAdoptions. Then they choose a date for their virtual meet-and-greet and fill out an online adoption survey to indicate to AWLA staff what they are seeking in a pet. Calendar slots have been filling quickly, but potential pet parents have been patient as they wait to connect with their future furry family members in the digital "meeting," an audiovisual encounter between pets and potential adopters. "We know it's hard for potential adopters who want to just reach out and pet the animal, but if we can help everyone stay safe and still connect animals with adopters, we think it should be considered a success," said AWLA Adoptions and Admissions Manager Sean Furmage.
Adopters who wish to move forward with an adoption have a phone consultation with a staff member to learn more about the animal. Once the process is complete, the adopter picks up the animal at the Vola Lawson Animal Shelter; they stay in their car while an AWLA team member in protective equipment delivers their new pet to them and finalizes the adoption contract. And, of course, staff remains available to answer any questions by phone that adopters might have.
Pet Pantry: Canned and dry pet food, potty pads and litter are flying off the shelves of the shelter's Pet Pantry, which supplies these and other pet necessities to pet owners in need. Requesters can email community@alexandriaanimals.org or call (703) 746-5508 to request pet food or supplies, which are available for pickup by appointment only. To donate to the Pet Pantry, supplies can be placed in an outdoor cart at the shelter at 4101 Eisenhower Ave. or delivered directly through the AWLA Wish List at AlexandriaAnimals.org/PetPantry.
Volunteers in action: Dozens of AWLA volunteers have sprung into action from home, writing short bios of adoptable animals, sewing curtains for kennels and face masks for employees, whipping up enrichment items such as "busy boxes" for the shelter animals and many more tasks. "As always, our volunteers have been essential to keeping the shelter thriving," said AWLA Manager of Volunteers and Community Events Echo Keif.
Learning for kids: The AWLA launched a new virtual humane education program for kids of all ages called Junior PAWS, which will offer weekly lessons on topics ranging from animal-themed crafts to animal careers. Many of the shelter's youth programs, including Pawsitive Action Club (PAC), scout badge programs and youth shelter tours, also have been converted to virtual formats; more information can be found at AlexandriaAnimals.org/Youth.
Newborn kitten support: As the weather gets warmer, the northern Virginia region experiences "kitten season," when the number of kittens born starts to go up. In order to help kittens stay their healthiest and to prevent the community spread of COVID-19 in the coming months, the AWLA is following the best practices of veterinarians and animal welfare professionals across the country: If a kitten appears healthy, it should be left alone. For kittens who appear ill, injured, trapped or abandoned, the AWLA is still available to assist, both to offer guidance and take in kittens in need of nurturing or veterinary care. But healthy kittens in the care of their mothers should remain where they are, for their own safety as well as the continued health of the community.
The AWLA team continues to be a resource across the City of Alexandria: staff are still available to take in stray and surrendered animals by appointment and to offer guidance and behavioral advice to adopters by phone. The Animal Services team remains hard at work helping wild and domestic animals across the city, all while following best practices in this time of pandemic. During these unprecedented times, the AWLA still strives to do the best for animals in the community, and for the people who love them.
Animal Welfare League of Alexandria
The Animal Welfare League of Alexandria is a local 501(c)(3) organization. Operating the Vola Lawson Animal Shelter, which is Alexandria's only open-access animal shelter, the AWLA touches the lives of more than 6,000 animals every year, including strays, lost pets, local wildlife, rescued animals and animals surrendered by their owners. The AWLA is committed to addressing animal homelessness, promoting animal welfare and serving as an educational resource for the community. More information can be found at AlexandriaAnimals.org.