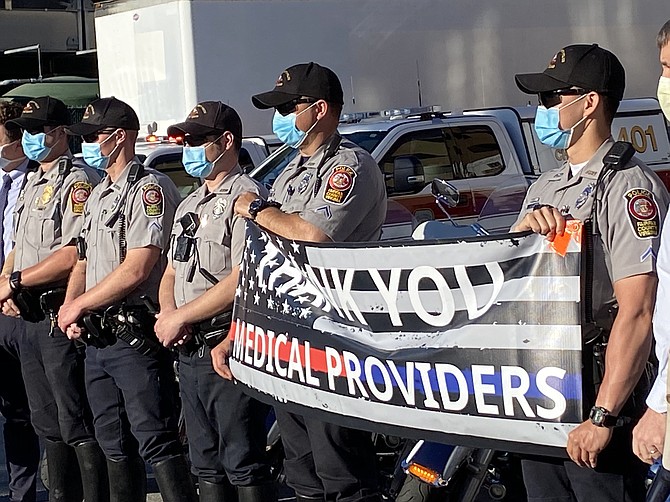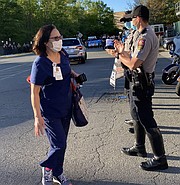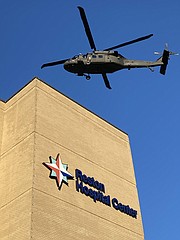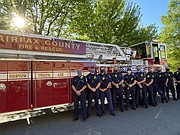 In a show of support and gratitude for frontline health care workers at Reston Hospital Center, area police, fire and rescue agencies held a parade and a flyover Monday evening, as a pre-kickoff for National Nurses Week, which traditionally begins on May 6 and Hospital Week that starts May 10. "It truly takes a village to care for our community and manage our public health and safety successfully during critical times like these," said John Deardorff, Chief Executive Officer of HCA Healthcare's Northern Virginia Market and Reston Hospital Center.
Emergency vehicles from Fairfax County Fire and Rescue Department, Fairfax County Police Department, Virginia State Police, George Mason University Police Department, Metropolitan Washington Airports Authority Fire and Rescue Department and Sterling Volunteer Rescue Squad sounded their sirens and flashed their lights thanking hospital health caregivers in a show of support.
Leading the parade procession was Fairfax County Fire Station 25-Reston. "We are honored to be able to thank workers at Reston Hospital for their dedicated service to the community. Their teamwork and dedication deserves the utmost recognition," said Chris Seaman, Technician Fire Station 25-Reston.
For Supervisor Walter Alcorn (D-Hunter Mill), the opportunity proved to be "a privilege" to thank the healthcare heroes at Reston Hospital Center, as well as dedicated public safety employees. They work on the frontlines of the pandemic. "Our community is grateful for your service and sacrifice," said Alcorn.
Similar in many ways to Reston Hospital Center's health caregivers, best-in-class and known to save lives, a Black Hawk helicopter circled low over the hospital multiple times, its pilot giving rotor blade salutes of gratitude.
"Each day, we work hand-in-hand with the outstanding team of doctors, nurses and care team members here at Reston Hospital Center. We are proud to recognize the frontline caregivers and want to show our sincere appreciation for their hard work and dedication during this challenging time," said Captain Mike Lighthiser Special Operations, Research and Training at George Mason University Department of Police & Public Safety." Together, we will persevere to get our community back on track."
Reston Hospital Center is part of the HCA Healthcare family. It is located at 1850 Town Center Parkway in Reston, VA and serves residents in the Northern Virginia area.