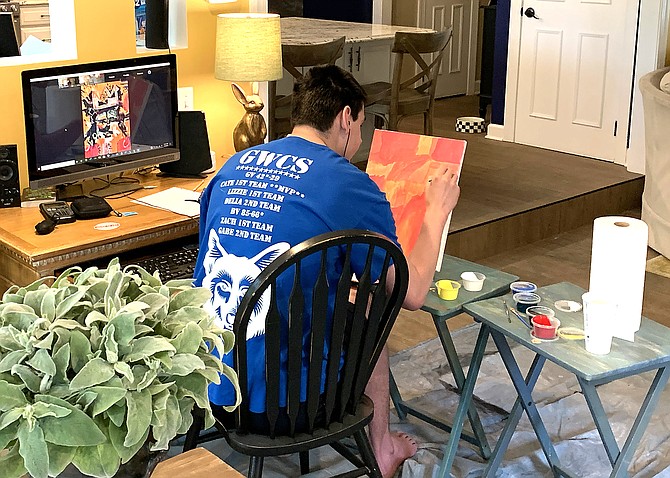 School started the way it always had on March 19, with advisories, groggy students and a few snarky jokes. But instead of staring at a teacher, everyone was staring at a screen. The COVID-19 lockdown had begun.
Students at the GW Community School were thrilled to be there.
"We had only missed a few days of school," said history teacher Tim Connelly. "But with everything going on, it felt desperate and lonely. Everyone was so excited to see [each other]. There was a sense of normalcy. We had history class. We were making jokes."
Founded by teachers Alexa Warden and Richard Goldie, GW Community School is a private college preparatory high school. "GWCS students are bright, motivated, often non-traditional learners who don't necessarily fit into the big public high school mold," said Warden, school director. "They may have felt that there was something missing in their previous school environment, a missing connection that kept them from realizing their full selves."
That connection is what they find at GWCS. They become part of the family.
With an average class size of seven, GWCS's 41 students take classes in everything from English to astrophysics and choose from an assortment of extracurriculars, including a basketball team, a theater group and many clubs.
Warden says it's important for kids to have a sense of belonging. So community is core to the school's philosophy. Students are encouraged to help each other, their families and the community at large. Teachers and administrators are expected to model that behavior.
Anthony Parisi, a senior from McLean, feels the difference: "Public high school can be lonely. But here, it's one big group … a community, like the name implies."
The approach to academics focuses on igniting students' interests and passions. Parisi's mother, Suzanne, can't say enough about the impact the school has had on her son's excitement for learning, just since September. "All of a sudden it was like seeing the energy and enthusiasm I had seen in him in grade school," she said. "That [energy] had slowly drained out of him over the years."
For senior Gabe Kimmel of Fairfax, the reason for the school's success is simple, "It's a community," he said. "You support each other and that helps you want to learn."
The GWCS students and their parents didn't waste any time stressing over a shutdown that would ultimately disrupt the education of Virginia's nearly 1.6 million school-age children. Jay Mestraud, a student from Clifton, had confidence in the school's director, saying he "knew not to worry, because Ms. Warden is always super prepared."
And, in fact, Warden had recognized early in the COVID crisis that GWCS needed to move quickly to be prepared in case the school was forced to close.
So, weeks before Virginia schools were shuttered, Warden orchestrated Microsoft Team downloads and updates on every student and teacher's computer. And with one local student already quarantining at home and teachers testing distance learning methods by operating from remote classrooms, the team was able to troubleshoot the technology.
Warden recognized that technology would be just one of the pieces that would ensure success. Students would need structure and a continued sense of community to energize them for the rest of the school year.
March 12 was the last day the brick-and-mortar school was open, and Warden and the staff worked to adapt the curriculum as needed. So by March 19, it was business as usual with full-day, live education for all GWCS students.

While many public and private schools struggled with the transition to remote learning, GWCS students quickly learned that there would be no lowering of academic performance expectations, said Goldie, who, in addition to being a co-founder, also serves as the school's assistant director, teacher and coach.
BEFORE THE pandemic, Fridays during the school's fourth quarter were a big deal. Juniors and seniors would go to internships, while freshmen and sophomores engaged in carefully crafted outings. Something had to be created to replace those experiences. It was critical that social distancing didn't result in social disconnecting.
The result was the new-for-Covid-19 version of the "Out of the Box" Friday program, which was kicked off by an all-school Zoom call. On Fridays, Warden splits the students into teams and they are given an activity to complete, and sometimes there's competition between teams. For Earth Day, they used the seek app (iNaturalist) to document biodiversity in their yards and neighborhoods and then analyzed and documented the data together.
Last week, English and math teacher Sam Wallace introduced the work of the late artist Jean-Michel Basquiat and, led by artists from Artjamz, the students completed self-portraits inspired by Basquiat's style. In preparation, parents and guardians had picked up art kits from a central location.
Ana Parker, a junior from Arlington, started at GWCS just after they began distance learning. She said she "used to dread the idea of going to school on Mondays." But at GWCS, despite not having met any of the other students face to face, they were quick to draw her in. She was immediately invited to the weekly Zoom movie night that one of the students had organized, which she really appreciated. And, while Parker says she, "doesn't love school, the way some people do, [she] loves this school."
GWCS parent Lisa Kimmel said she is "blown away with how the school has handled the remote learning. And how quick they were to adapt to it. It's been an overwhelming success."
"Creating predictable structure and normalcy is very important for young people," said Jackie L. Stout, a Herndon-based trauma specialist. "Especially at a time when the uncertainty caused by the pandemic can increase stress levels. And GWCS's actions benefit not just the students, but the entire family. Knowing that kids are focused constructively during the day minimizes potential tension between family members."
Suzanne Parisi acknowledged that she "doesn't know anyone who is having an educational experience that is even close to what her son, Anthony, is getting." That can make talking to less-satisfied parents a challenge, "I try to edit myself," she said, "so they don't get bummed out."
The school is definitely unusual, but it's hard to argue with the results. All fourteen 2020 GWCS graduates have plans to attend college programs. That is, if the world goes back to normal in the fall.
And graduates are successfully launched.
Ben Suskind of McLean, who graduated from GWCS in 2019, says his classes and teachers set him up for success in college. But what he really appreciated was "having the time and freedom to explore [his] interest in aviation because GWCS doesn't waste time with busy work." Suskind recently finished his freshman year in the Aviation Flight Science program at Western Michigan University.
Another member of the class of 2019, Centreville's Gabriella Holtermann, said she has found college challenging, but has taken lessons learned at GWCS to successfully seek support from her college advisors at The American University, where she's pursuing a double major in anthropology and international studies.
Max Ginsberg of Fairfax, class of 2017, remembers well a time when crippling social anxiety kept him from making meaningful connections with peers. Moving to GWCS for his sophomore year, Ginsburg says, "the family environment is the key reason [I] did well there." In the face of the welcoming acceptance he felt from the other students he said "[his] nervous shell dissolved away." Ginsberg is a rising senior at Davis and Elkins College, W. Va., with a major in psychology and a minor in theater.
In hours of interviews, there was not even a hint of criticism of the school. In fact, the gushing from parents and students was over the top.
About the only possible dent in the armor seemed to be when one student mentioned that Warden sometimes yelled at the school's pet turtles.
So when I sent Warden a list of mundane follow-up questions, I tucked one devious one in: "What do the turtles do to make you angry?"
Her response: "I never get mad at the turtles. I love them."
When I went back to my source with some follow-up questions, I could almost hear freshman Jay Mestraud's infectious laugh in his typed reply, "Ms. Warden doesn't yell at them in anger she just gives them a stern talking to because they are mischievous and get up to all kinds of things. … Kinda like her students."
That's just how it is when you are a family.