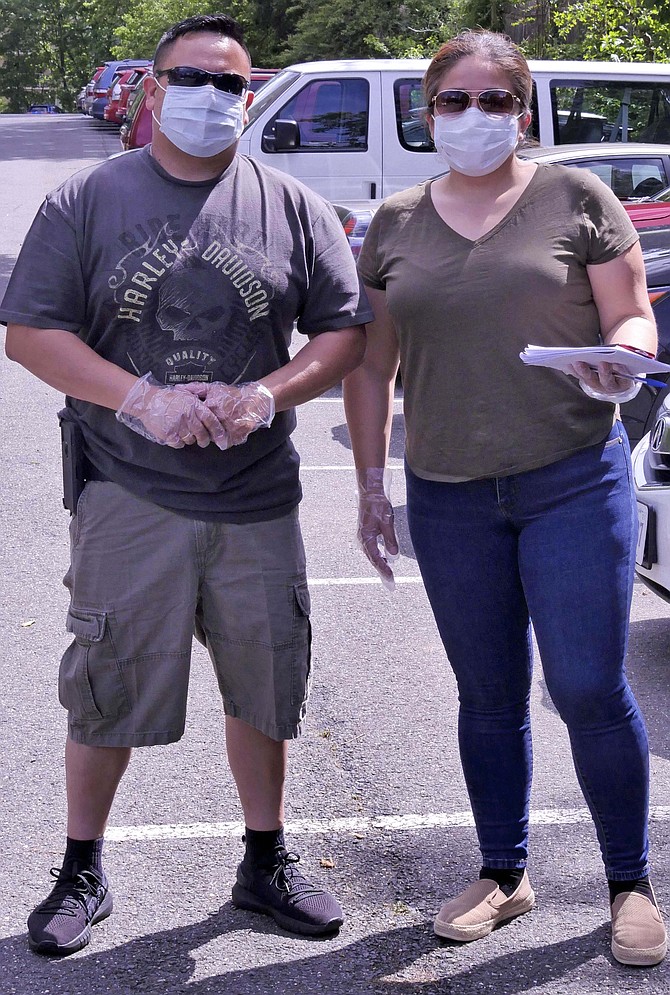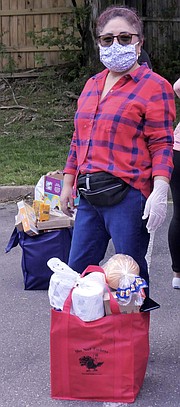 It began with the discussions at the regular Wednesday morning mom's meeting at Kenmore Elementary and morphed into an effort to provide food to needy families in Arlington. The group raised the alarm as they saw the economy affect a number of families. The idea was to serve hungry families regardless of school, neighborhood or the need for special documentation or requirements.
Janeth Valenzuela, one of the chief organizers of this effort, said their initiative began in March when she heard the story about a mother of four who was denied food by Arlington Food Assistance Center (AFAC) because she didn't have two proofs of residency. "She left crying, and we didn't want that to happen to anyone else. Anyone who is hungry should be able to eat."
Charles Meng, CEO and President of AFAC says, "I haven't heard about that. If an Arlington resident is denied food at AFAC, they should contact Lily Duran, who is the head of Client Services at lily.duran@afac.org. We want to know." He continued, "Very simply, if you are in need of food and are an Arlington resident (including the undocumented) we are here to help."
Meng explained that AFAC requires both proof of residency, which can be done in numerous ways, and also almost any form of ID so they can connect the person to the referral made by the Arlington County of Department of Human Services, the Arlington County Public Schools (ACPS) or one of their 20 community partners. He says AFAC has been very liberal with the forms of ID that are acceptable.
Valenzuela says that when several parents decided to launch their plan, they first went to the Kenmore PTA. According to Jenny Ozawa, another organizer, "We were having a lot of challenges on what we could spend money on. The PTA had a lot of bureaucratic rules. For instance, we couldn't give out individual gift cards because it would be favoring some children over others." They couldn't distribute food without a food pantry and couldn't keep a pantry because of mice.
So the group decided to organize a food drive on their own. The Kenmore PTA wanted to help so they set up a PayPal account and that way were able to reach all of the Kenmore families with the information. "Valenzuela had a list of families who need help. We got a list of staples from Our Lady Queen of Peace Catholic Church, who run their own pantry, and the first time in March we fed 67 families."
Valenzuela says, "The sacks are heavy with 30-35 pounds of food, enough to last three weeks." Today's bags are loaded with staples such as rice and beans, cereal, fruits and vegetables, snacks for the kids, applesauce, bread, fudge-striped cookies, spaghetti sauce, and Northwest Airlines deli picnic pacs. She says, "One issue has been the bags." In the beginning, they asked the families to save the bags to be refilled, but when the coronavirus progressed, they needed to find a source for new bags every time.
The effort quickly grew as other schools learned about the food distribution. In April they served 75 families and in May expect to feed over 100.
Three Yorktown High School teachers set up an "opt-in one pantry at a time" Go-Fund Me campaign that raised $200,000 for gift cards to be given to the needy families.
"Most of our families don't drive so we take the food to them." They had packed the grocery bags on Thursday evening and today they have stopped at the Serrano Apartments on Columbia Pike mid-afternoon and are headed to the Greenbrier Apartments, Arbor Heights and several other sites before wrapping up about 7 p.m.
Ozawa says the funds have petered out for now but every time you look for help there are so many interested groups. "Tuckahoe Elementary reached out and are helping us this month." She says they have now rolled in Boston-Hoffman families "who are providing assistance and sending families for help. And Arlington Community Corporation is helping with diapers. All the help is heartwarming.
"I am so happy to live in Arlington; there is a lot of trust, even among people who don't know each other."
But what Ozawa worries about is that some kids have completely dropped out with online public school, and there is no contact. "We can't reach the families by phone." She is also concerned about coordination of food distribution. "Does anyone have a list of everyone who is getting help and who is providing it to them?"
Valenzuela agrees, "If you don't have a kid at Randolph, you don't get the food distribution there. But we don't have particular schools. We just know they need food. Carlin Springs Elementary, Campbell Elementary, Washington Liberty and Wakefield High Schools." Valenzuela says she has lived in Arlington for 25 years and, "I know this community. I know who is who. Yesterday Barnett, also the north side—who are those families? Kids fall through the cracks. Everybody needs to have food."
Diane Kresh, Co-chair of Cooperative for Hunger Free Arlington (CHFA), says the County came to her after schools closed down in March and asked her to help set up this group to address the food needs of everyone. She says the Cooperative is a set of informal relationships between the County, APS, AFAC and groups such as PTAs, faith-based food pantries, restaurants offering food to the needy, and expanded Meals on Wheels.

Kresh says, "By connecting the various players we can identify gaps to make sure we're not overlooking a neighborhood. We check in twice a week to make sure everyone is covered." She explains, "If people lack understanding on what is available, it is our job to get the information to them. We're pushing messages out in Hispanic."
She says while APS and AFAC have records, there is no overall database in place that allows the Cooperative for Hunger Free Arlington to track what is going on; is one group getting an overabundance of food while another is short? "That would be great, but there are privacy issues. For instance, do people want others to know they are getting food assistance?"
She says they are using GPS to pinpoint the location of the nine ACPS "grab and go" sites, the low-income housing, the AFAC sites "so we have a good idea about need. But we're still looking at who is still in need, like the west end of Columbia Pike, and how we can get to them."
Kresh says people come and want to help. She says it is important to get in touch with the Cooperative for Hunger Free Arlington if you know someone in need so they can fill in the pieces in the overall picture to make sure they are reaching everyone. "This is a time to be flexible. The point is to get food to people."
If you need food assistance, call Cooperative for Hunger Free Arlington at 703-228-1300.