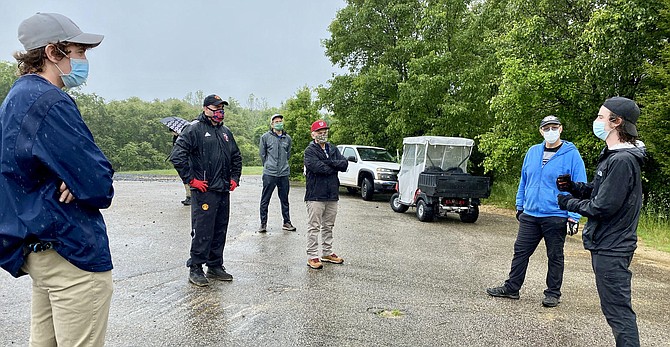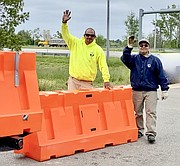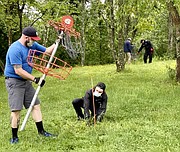 After a surprise late Tuesday afternoon announcement from the Fairfax County Park Authority, maintenance operations crews were at work Wednesday morning, May 20, removing barriers from park parking lot entrances and returning them to storage sites. It was a welcome sight for citizens eager to return to area parks.
This phase of park reopening was primarily complete by Friday, May 22. Park Authority Executive Director, Kirk Kincannon, reached his decision to open in time for Memorial Day weekend in consultation with Chairman Jeff McKay, the Board of Supervisors, and after talking with officials in other park systems, said Judy Pedersen, of the Park Authority's Public Information Office.
District Supervisors Herrity and Storck had urged park openings, as Herrity described, "to reopen outdoor facilities so residents could exercise outside while maintaining appropriate social distance." Pedersen added that the Park Authority has heard from many individual constituents as well, who requested opening of various parts of the park system; each person wanting the opening of something important to him or her, from tennis to disc golf and more. Opposite this pressure to open quickly, was consideration of the area's overall phased re-opening, State and CDC health guidelines, and need to take into account the full park system's 427 parks and staff.
Disc golfers were among the groups waiting for word that courses could reopen. Volunteers from the NoVA Disc Golfers Association quickly organized a work team on Friday, May 22, to help. Volunteers assisted county employees in re-setting baskets on the Giles Run course to speed the course's return to play. More than a dozen volunteers answered the call, following the same mask wearing, social distancing protocols that will be needed on the course, along with play limited to foursomes. Giles Run is one of nearly a half dozen 18-hole disc golf courses in the area.
While citizens can be happy for an authorized return to the parks for more activities, groups must be held to ten or fewer people, and social distancing of at least six feet must be maintained. Park buildings, athletic fields, dog parks, play grounds, volleyball and basketball courts, water fountains and restrooms remain closed in this phase. Disc golf, and tennis courts are now open and will be ready for use as soon as baskets and nets are set up; tracks and picnic areas are open. Farmers' markets at Wakefield and Lorton open on May 27, and May 31, respectively, and join those already opened at Burke, Mt Vernon, and Reston.
Fairfax County began the phased reopening of select farmer's markets and golf courses on May 8 & 9. Both venue types opened with changes in operating procedures to create social distancing for protection of customers.