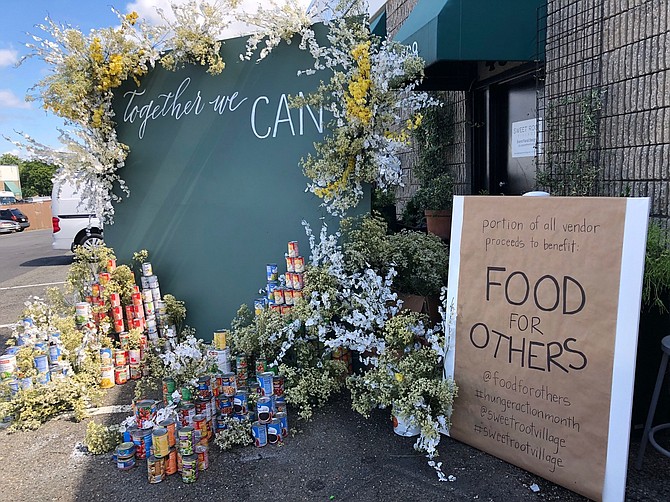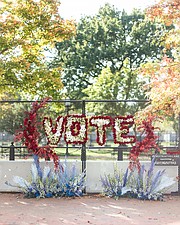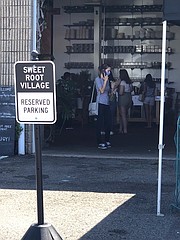 It was the end of the summer and many in Alexandria had been homebound far too long. The pop-up markets Sweet Root Village ran in September and October somehow made life more bearable. Creative, friendly young people, beautiful flowers, and a philosophy that was so unlike what the country was living through, made the pop-up magical. The spirit of happy-to-be-out collaboration among the vendors made it resemble a country fair or a village square. As an added bonus, shopping was helping others: Sweet Root Village donated food and money to Fairfax-based "Food for Others," to help people who had lost jobs and savings during the pandemic: they raised 483 pounds of canned goods which was donated along with over $800 cash which, Village co-founder Rachel Bridgwood said, "provides a gallon of milk and a dozen eggs to 320 families, or weekend food packs to 200 children." 
Bridgwood's energy and laughter are contagious, and despite losses during the pandemic, it would be hard to keep her down. She started Sweet Root Village on a shoestring, with her business partner Lauren Anderson, in 2010. It was a tiny boutique wedding photography and flower studio on South Patrick Street in Old Town. It grew into a luxury event floral design studio, with a team of six who produce flowers for 80-100 full scale events each year in the DMV and sometimes far outside the area. The business has been featured by Martha Stewart, The Knot, and built a solid reputation as a creative, dependable, and fun design studio. 
Then COVID-19 arrived. The two women watched their events begin to reschedule or cancel in droves. They lost about 80 percent of their projected revenue for the year, and as the virus continued to surge, they lost hope of recouping losses in 2020. 
The Village had already moved in 2016 from Old Town to a commercial warehouse on Eisenhower Avenue because they had grown so fast. Rent was more expensive but pre-Covid business had been brisk. Bridgewood said, "This year, we made cuts and changes to help float us into next year, but most aspects of our small business including space, staff and inventory had to stay in place to be prepared for the onslaught of rescheduled events anticipated in 2021."  Recovery started to look a lot like the rest of the economy: slow, questionable, and distant.
But Bridgwood and Anderson aren't hand-wringers. They figured out ways to "pivot" to produce new streams of revenue to support themselves as business owners as well as their full-time staff and space. One way was throwing a careful, socially distant pop-up market with some other local businesses. They could gather responsibly, support other small businesses by showcasing their work, and support their community by raising funds and awareness for a local food bank in honor of September's Hunger Action Month. 
The Village hosted local flower farm Grateful Gardeners, stationery and illustration artist Emily Baird, ceramicist Tried and Truhn, Photographer and Stylist The Pen and Piper, Calligrapher and Educator Laura Hooper Calligraphy, and D.C. fair-trade coffee shop La Coop Coffee. A portion of all sales from each vendor went to support Food For Others, a local food bank. 
The pop up was successful enough to do again. In October, sales benefitted Safe Shores, a child advocacy group in Washington, D.C. The upcoming pop up on Dec. 6 at 4570 Eisenhower Ave. in Alexandria will benefit Bethany House and Animal Welfare League of Alexandria. The pop up will be open from 10 am to 2 pm. For more information, see: http://sweetrootvillage.com/