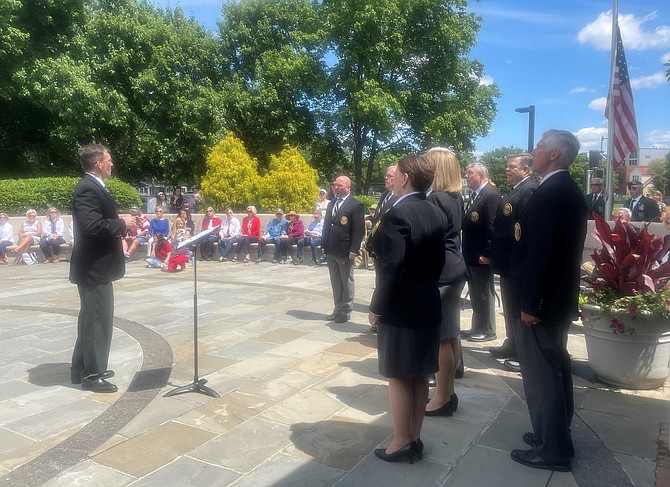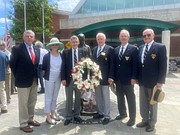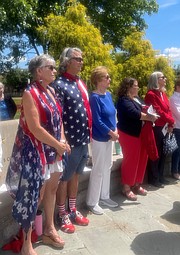 One by one, 68 names were read as Alexandria paid tribute to its local fallen and missing in action service members as part of the May 31 Memorial Day observance at the Captain Rocky Versace Plaza and Vietnam Veterans Memorial in Del Ray.
The Plaza, named for Medal of Honor winner and Vietnam POW Humbert Roque "Rocky" Versace, was the site of the ceremony that included a wreath laying by members of Versace's West Point class of 1959.
"We have to recognize our fallen heroes along with our serving heroes," said Tim Waters, a 32-year Army veteran who attended the ceremony with his wife Tracy. "My father was a Vietnam veteran and always taught me that it was those before us that led our lives so we have to remember and honor them."
The West Point Alumni Glee Club opened the ceremony with the National Anthem followed by the Pledge of Allegiance led by members of the St. Rita American Heritage Girls Troop 1381. Bugler Lt. Col Steve Tracy (ret) closed the ceremony with Taps.
Family members of Alexandria's fallen attended the ceremony, standing near the Gold Stars etched in marble as the names of each of the fallen were recited. A photo exhibit of each of Alexandria's' fallen Vietnam veterans was on display.
The Rocky Versace Plaza and Vietnam Veterans Memorial was dedicated in July of 2002 in front of the Mount Vernon Recreation Center, not far from where Versace grew up. With less than two weeks remaining in his second tour of duty, Versace and his unit were ambushed by the Viet Cong in the Mekong Delta. The story of his heroics that day and during his time in captivity as a Prisoner of War resulted in Versace posthumously being awarded the Medal of Honor.
Newly unveiled signage at the plaza tells the story of Versace's heroics, a collaborative effort of the Friends of Rocky Versace and the City of Alexandria.
"Remembering and honoring those who have served is an extension of military service," Waters added. "We have to remember those who gave us these freedoms and I think too many have forgotten that."