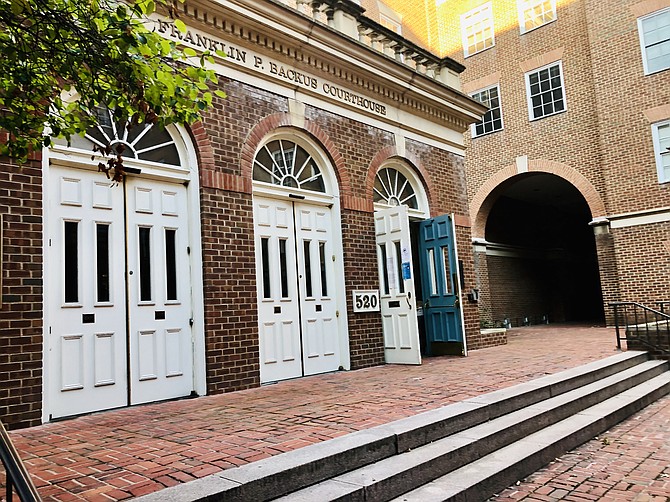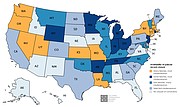 House Democrats and Senate Democrats are deadlocked over how people accused of minor crimes should be able to clear their records, a clash that has stalled action for now on one of the most important criminal-justice reform efforts on the agenda for Democrats now that they have seized control of the General Assembly. House Democrats are pressing for an automatic process, where defendants would not need to hire a lawyer or miss work to be in a courtroom to make the charges go away. Senate Democrats are holding out for a petition process, where a judge would be able to evaluate each individual case.
"So there's a very good reason to have a petition process," said Rich Kelsey, former assistant dean of the George Mason University School of Law. "But certainly it is 100 percent true that the petition process requiring you to hire a lawyer is expensive, and because it's expensive it would necessarily preclude many people from having the same access toward expungement."
When Democrats took control over the General Assembly earlier this year, they were deadlocked over this issue and ended the session in March without coming to a resolution. Then, when lawmakers assembled for a special session on coronavirus response and criminal justice reform, hopes were high they could come to some kind of resolution on the issue. But when the bill went into the secret, closed-door conference committee process that's not open to the public or the press, it never emerged. Lawmakers ended the special session earlier this month without resolving the split between Democrats on whether the process should be automatic or petition-based.
"When you create a cottage industry for attorneys, it's going to be a harder road to eliminate that industry," said Del. Charniele Herring (D-46), the Majority Leader of the House of Delegates who represents Alexandria. "With automatic expungement, all that needs to happen is someone has served their time and not committed another offense. It's more just, and it's more equitable."
Senate Democrats say creating an automatic approach would be a mistake, especially at a time when lawmakers have been taking steps to move away from mandatory minimum sentences. During the special session, lawmakers took action to give prosecutors more discretion to drop drug prosecutions. So the idea that the General Assembly would move in the opposite direction by taking discretion away from judges to consider individual expungement cases seems like it would be moving in the wrong direction to Senate Democrats opposed to the House approach.
"They also want to automatically expunge any type of dismissal," said Sen. Scott Surovell (D-36). "Whether it was dismissed because a witness didn't show up or persuaded your abused spouse to drop the case against you, they want to automatically expunge those kinds of things. And that's what we're fighting about."
"With automatic expungement, all that needs to happen is someone has served their time and not committed another offense. It's more just, and it's more equitable."
— Del. Charniele Herring (D-46)
THE DEBATE OVER EXPUNGEMENT comes at a time when Virginia is on the verge of legalizing marijuana, which has led to countless charges and convictions during the War on Drugs. Earlier this year, lawmakers took action to decriminalize marijuana. Now that state officials have determined that legalization could generate as much as $300 million in annual sales tax revenue, Gov. Ralph Northam put his support behind the longstanding effort to finally end the War on Drugs and legalize pot.
"It is high time that we legalize marijuana in Virginia, but we must do more than that," said Del. Mike Mullin (D-93), chairman of the Courts of Justice Criminal Law Subcommittee. "That is why I am calling for the automatic expungement of all marijuana convictions. Not a petition-based system, but automatic expungement. This unjust law has harmed our Commonwealth, and disproportionately impacted communities of color."
One of the potential stumbling blocks of building support for an automatic process is the professional affiliations of lawmakers who are also lawyers. The Virginia General Assembly is a part-time gig, and members are encouraged to have full-time jobs outside of the political sphere. The system is designed so people can bring their professional experience to the table during discussion of bills, whether it's as a farmer or a dentist or an insurance agent. Critics of the petition process worry that lawyers are able to make a persuasive case about the need for lawyers to be involved in expungements.
"Not only are they a powerful lobby, these attorneys, they're members of the legislature and they're chairs of committees that hear these bills," said Jenn Michelle Pedini, executive director of Virginia NORML. "So there seems to be a conflict of interest potentially there, but if Virginians are going to keep electing these people to represent them, they're going to continue to get the same results."
IF VIRGINIA WERE TO MOVE forward with an automatic expungement process during the 2021 session, the commonwealth would be on the vanguard of a criminal justice reform that's been attempted in only a handful of states. Pennsylvania was the first state to create a model for automatic expungement in 2018, and a few other states have started moving in that direction since then. The real question for the Crime Commission and lawmakers are which crimes should be on the list for automatic expungement and how long defendants should have to wait before their record is cleared.
"The rationale I use when I look at this is, are these crimes of poverty?" asks Del. Paul Krizek (D-44). "If these are crimes of poverty, then to me that makes it clear to me that they should be expunged automatically."
One issue lawmakers still need to resolve is what kind of information about charges and convictions is available on the private market. Even if lawmakers take action to automatically expunge non-sexual and non-violent misdemeanors and some drug-related felonies after eight years, those charges and convictions would still be available to people conducting background checks. Another issue that needs to be resolved is which charges and convictions would disappear. If the discussion about automatic expungement is limited to misdemeanors, many people caught up in the War on Drugs with felony charges would be left out of the conversation and not helped by the reform.
"I don't think possession of drugs should be a felony. I think it should be a Class One misdemeanor," said Alexandria Commonwealth's Attorney Bryan Porter. "If we could amend that down to a misdemeanor, it's still a crime but it's a much less serious one. Then that problem wouldn't exist."
As lawmakers prepare for the upcoming General Assembly session, House and Senate Democrats say they're hoping they can find some kind of resolution to get to a shared goal. One compromise that's already receiving some discussion is moving forward with automatic expungement for some non-violent and non-sexual misdemeanors now and implementing a petition-based process for drug-related convictions.
That way, reluctant lawmakers might move toward an automatic process for expunging convictions after a demonstration that the new policy is a success.
"We ought to find a way to automatic expungement, but we're just not there yet," said Sen. Creigh Deeds (D-25). "If we determine as a matter of policy that certain low-level convictions ought to be subject to expungement, then we ought to perfect that process through petition."