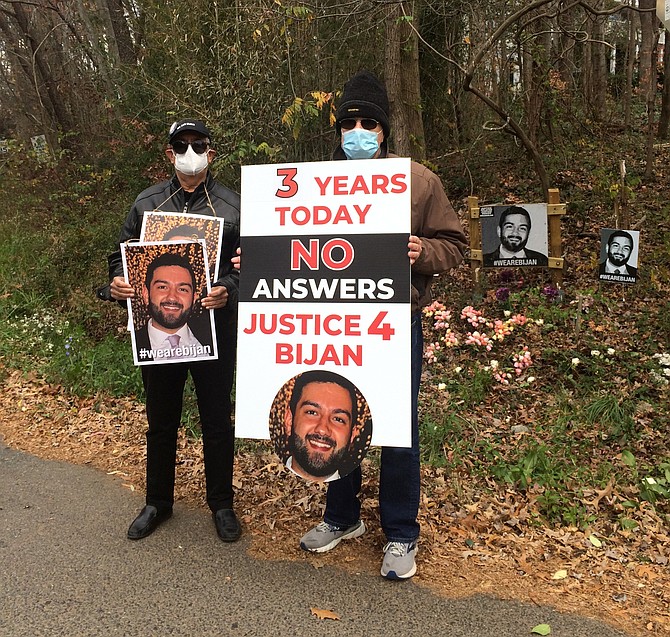 In Letter from Birmingham Jail Dr. Martin Luther King, Jr. wrote, "Justice too long delayed is justice denied." How long is too long when the crime is murder of an unarmed motorist by 2 law enforcement officers? It has been over 3 years since Bijan Ghaisar was shot by US Park Police Officers Lucas Vinyard and Alejandro Amaya and that is too long.
I hold 5 Agencies and their leaders complicit in his murder. The Department of Justice, Attorney General William Barr; the FBI and its Director Christopher Wray; the Department of the Interior and its interim head, David L. Bernhardt; the National Park Service and its leader Acting Director Margaret Everson; and the US Park Police and its Acting Chief Gregory Monahan.
These agencies and their leaders have done nothing to bring justice to the Ghaisar family. To the contrary they have resisted, refused to answer numerous questions from US Senators Chuck Grassley and Mark Warner, among a host of other federal and state politicians, put roadblock after obstruction after cold hearted dismissal of queries simply asking why.
Bijan was shot on 11/17/17 and was taken off life support on 11/27/17. Yes the two officers have been indicted and yes there is a civil suit working its way through the court system but the officers expect to get off by having their trial moved from Fairfax County to federal court and the civil action is a suit not a criminal charge of manslaughter.
"Justice too long delayed is justice denied." Three years is too long.
John Bergen
Mount Vernon