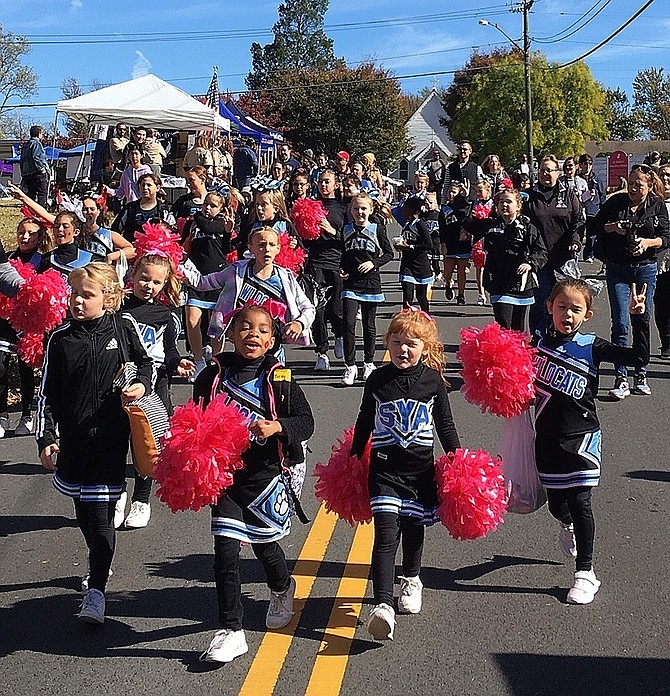 With an eye toward the future, several land-use and transportation projects are in the works in Centreville and Chantilly. Below are details about some of them:
Development Projects
Commonwealth Place
Commonwealth Place at Westfields is a project of developer Regency Centers and involves a parcel of land across the street from the Chantilly Wegmans, along Newbrook Drive. An amended rezoning enables it to have both residential and retail uses.
Being built are 550,000 square feet of residential uses, including 120 single-family, attached homes and 112 multifamily units – stacked townhouses – for 232 homes total. The developer also proposes constructing 100,000 square feet of retail/movie theater/shopping center uses there.
Sully District Community Center
Fairfax County is building the Sully District Community Center on a 5-acre site at the intersection of Wall Road and Air and Space Museum Parkway in Chantilly. The roughly 30,000 square-foot building will serve as a multigenerational center for the surrounding communities, so it's geared for residents of Chantilly, Centreville and Oak Hill.
It will also be the new and permanent home of the Sully Senior Center and will include a healthcare component, as well. The community center will offer a broad array of services, programs and activities for people of all ages and abilities. Estimated cost is more than $20 million, and the project is scheduled to be completed in 2022.
Planned are three multipurpose rooms for programs both day and evening, plus an arts-and-crafts room, game room, exercise room, offices, kitchen and pantry. The facility will also feature a gym with two basketball courts. There'll be programs for youth after school and during the summer. And the center will provide a meeting place for groups and organizations, too.
Transportation Projects
Route 28 Widening

Rush hour on Route 28 in Centreville can be pretty slow going. But a multimillion-dollar widening project should improve things considerably. It won't become reality until 2023, but plans are well underway toward making that happen.
Route 28 will be widened from four lanes to six, for about 2.3 miles, from the bridge over Bull Run to the interchange at Route 29 at the Prince William/Fairfax County line. Besides adding more through lanes to Route 28, the project will provide additional lanes on side streets to improve traffic flow.
It will also improve intersection operations, upgrade existing traffic signals and improve bicycle and pedestrian crossings. In addition, new, 10-foot-wide, shared-use paths will be created on both sides of Route 28. This Fairfax County project is being done in cooperation with VDOT and the Northern Virginia Transportation Authority.
The whole shebang is estimated to cost $76,625,000, and it's completely funded from a variety of sources. In May, the county signed a contract with the design-builder, Shirley Contracting Co. And at the 60-percent plans stage, Shirley will hold a public hearing before construction starts, to explain all the details to the community.
Route 29 Widening

During the afternoon rush hours, Route 29 between Buckley's Gate Drive and Union Mill Road is 1.5 miles of painfully slow, bumper-to-bumper traffic. That's when residents are heading home to Centreville, or points west, trying to avoid I-66 west's gridlock at the same time.
There's also a bottleneck there during the morning rush, with long backups at the intersection of Clifton and Stringfellow roads. But VDOT is riding to the rescue with a plan to widen that stretch of Route 29 from four to six lanes.
The goal is to reduce congestion, while improving safety, operations and access. The project will also add and improve 10-foot-wide, shared-use paths along both sides of Route 29 to provide better bicycle and pedestrian access to the trails at the Fairfax County Parkway/West Ox Road Interchange. Planned, as well, are crosswalk improvements at major intersections, with modified signals to accommodate them.
There'll be intersection improvements at Centreville Farms and Union Mill roads, Clifton and Stringfellow Roads, Meadow Estates Drive and Hampton Forest Way, and Buckleys Gate and Summit drives.
Estimated project cost is $85.9 million, with $19 million of that amount yet to be funded. Construction is anticipated to start in late 2022 and take approximately two-and-a-half years.
Route 50 Improvements

Under normal traffic conditions, the two-mile segment of Route 50 between Route 28 and Stringfellow Road in Chantilly is clogged during the morning and evening rush. It also averages 71,000 vehicles a day and has a high number of crashes.
So VDOT's doing a STARS (Strategically Targeted Affordable Roadway Solutions) study to assess how to make this stretch of road function better and safer. According to VDOT engineer Andy Beacher, STARS is used to develop low-cost solutions to traffic problems.
Toward that end, he said, "We studied all the intersections on Route 50 between Stringfellow and Route 28 and are making recommendations. However, there's no magic bullet for this corridor. It's very congested because of all the commercial development and commuters."
VDOT collected traffic and accident data on seven signalized intersections in the study area and then examined both short-term solutions that would help immediately, plus mid-term solutions that would provide relief into 2030. The estimated cost range for these improvements is $8 million to $11 million. They're not yet funded, but VDOT hopes to get some money via the Smart Scale program.
Braddock and Old Lee Roads

VDOT is currently assessing potential safety and operational improvements it could make at the intersection of Braddock and Old Lee roads in Centreville, plus the S-curve on Braddock just west of Old Lee. The concept it's promoting involves a jug handle plus realigning the S-curve.
During non-pandemic times, that section of Braddock carries 9,200 vehicles a day, with 8,200 on Old Lee. Eastbound Braddock has heavy traffic congestion and queuing during the morning rush, with southbound Old Lee experiencing the same thing in the afternoon – in addition to people trying to turn onto Braddock. As for the S curve, between 2010-2017, some 18 large trucks have gotten stuck there.
Fairfax County's current master plan calls for realigning Braddock and Old Lee to go into Rock Hill District Park and out again, with Braddock ending in a T at old Lee. VDOT contends it would be too costly. But residents vehemently object to the new proposal, which they say will clog Braddock with Loudoun County commuters, at the expense of Fairfax County's residents.
Bridge over Cub Run
Plans are afoot to rehabilitate the northbound Route 29 (Lee Highway) bridge over Cub Run to improve safety and extend the overall life of the bridge. The bridge was built in 1954, and Route 29 carries an average of 26,000, combined northbound and southbound vehicles a day at Cub Run.
So this nearly 66-year-old bridge needs upgrades and repairs, and they've been designed to last 75-100 years. The improvements will include removing and replacing the concrete deck, installing steel beams, rebuilding the concrete pedestals, replacing the bridge bearings and repairing cracks.
The work area will run from .15 mile east of White Post Road (near Gate Post Estates) to .08 mile west of Paddington Lane (near London Towne) in Centreville. It's a VDOT project, with an estimated cost of $3.2 million. Construction was set to start this summer and end sometime during summer 2021.