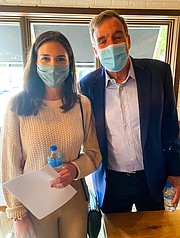 Sen. Mark Warner (D-VA) met with area restaurateurs Oct. 5 for a discussion on how Congress can support the industry and its workforce during the economic crisis caused by the COVID-19 pandemic.
"The meeting consisted of a diverse group of restaurant owners," said Chelsea Anderson of the HomeGrown Restaurant Group. "Sen. Warner basically wanted to get information from us on how things have been going since March. He wants to gather as much information as possible on how Congress might be able to help the industry."
Held at Hen Quarter restaurant on King Street, Warner was met with questions regarding the $120 billion fund for independent restaurants that was approved as part of the U.S. House's latest COVID relief package.
"While we had a lot of specific questions, Sen. Warner was not able to give many answers since details of the act have not been worked out yet," Anderson said. "He didn't want to commit to specifics because a lot can change."
Warner is a cosponsor of the RESTAURANTS Act – Real Economic Support That Acknowledges Unique Restaurant Assistance Needed to Survive – which would provide grants for restaurants, bars, food trucks and other food-service venues to cover the difference between their 2019 revenues and their estimated revenues for each quarter of 2020. Restaurants or franchises with more than 20 locations would not be eligible for these grants.
"Most restaurant owners wanted to know about getting rent and utility support," Anderson added. "Many restaurants are having difficulty with their landlords and we wanted to learn more about how to access these grants."
Another topic of conversation was increased labor costs due to new industry safety requirements.
"Labor costs have gone up due to increased cleaning and sanitization requirements," Anderson said. "Restaurants also have the added expense of PPE gear so we wanted to know if relief will be available for the added costs of making and keeping restaurants safe and sanitary."
The RESTAURANTS Act is part of the pending $2.2 trillion coronavirus relief act. The U.S. Senate has not acted on at least two relief bills passed by the House, and the President recently cancelled negotiations.
"It was a productive conversation," Anderson said of the meeting with Warner. "He really wanted to hear our concerns."