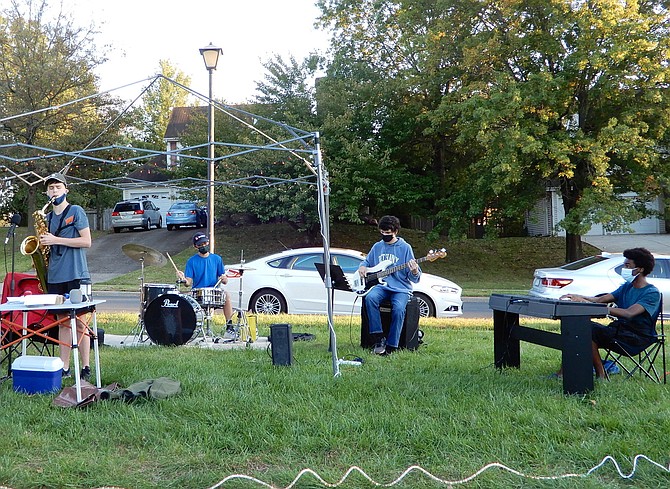 Because of the pandemic, this year's annual National Night Out celebration was shifted from the first Tuesday in August to the first Tuesday in October. And although the local events were fewer and more low-key than normal – so as not to attract large crowds – they were just as heartfelt.
The fun included music, food trucks and a chance for residents to meet and chat with their community's first responders, plus their own neighbors. Below are details of two of the Oct. 6 gatherings in Centreville and Chantilly Highlands.
The Elms of Centreville
Instead of being held inside their clubhouse, the event for the residents of The Elms of Centreville, on Braddock Springs Road, was held directly outside it. A barbecue food truck offered main dishes to go with the chips, cookies, beverages and candy provided by the property managers.
"It's good to get folks together, since we've been stuck in our houses so long," said Regina Peterson. "And it's nice to see some neighbors and new faces."
"I love doing this and involving the first responders and residents," said Donna Smith, The Elms service manager. "It lets the residents get to know one another, and it's always nice to have the police here so we can let them know we appreciate their service."
Police officers from the Sully District Station – including Assistant Commander Josh Laitinen and Crime Prevention Officer Sabrina Ruck – stopped by, as did Auxiliary Police Officers Bob Battani and Nelson Fernandez. And 2-year-old Ethan Nam was thrilled as his mom, Claire Kim, held him up and let him peek inside a police cruiser.
"My son loves seeing police cars on TV, so he's excited because, today, he gets to see inside a real one," said Kim. "We're also getting to meet our neighbors, and everyone's so friendly."
"National Night Out has always been a great time for the police to get together with the neighborhoods and communities," explained Battani. "And I think it's even more important now – with the way things are in the world – for the police to show their support for the community, and the community to show its support of the police."
Agreeing, Fernandez said it's a good idea for law-enforcement and residents to have an opportunity to spend time together and talk with each other in a friendly and relaxed environment. "For the police to be effective, we have to have a good relationship with the community, because we rely on them for information when a crime is committed."
Meanwhile, 8-year-old cousins Anushka Adhikary and Anshil Dahal were just having a good time being outdoors together and having snacks. "I like that there are more kids around, and you can hang out and have fun," said Anushka. "I haven't seen a police officer up close before, so it's cool having the police here. And I loved the brownies."
Chantilly Highlands
Music filled the air at Chantilly Highlands' National Night Out celebration. It was held on a grassy field off Kinross Circle and featured a snow cone/ice cream truck, plus live, jazz music by The Recorda Gang.
Three of the members, Brady Markin, Jesse Chon and Ethan Makokha, attend Chantilly High and are in its jazz band; and the fourth, Travis Hanover, is a student at Rachel Carson Middle School. They formed the band during the pandemic, yet the young musicians performed as if they'd been together for years.
Watching her son Jesse play the drums, Lawan Chon called National Night Out "a good way to bring the community together, have a sense of joy and belonging, and share something fun together." A resident since 2005, she said, "I like my neighborhood's camaraderie, and the people are always friendly, saying hi and helping each other."
Lindsey Smith, on the homeowners' association's Board of Directors, has lived there since 1990 and echoed Chon's sentiments. "Chantilly Highlands is one of the friendliest and safest neighborhoods," he said. "It's just wonderful and family-friendly, and my cul-de-sac is very close-knit."
Smith said National Night Out is important to promote neighborhood safety. "It's wonderful to have police officers come, interact and mingle with people, and answer questions," he explained. "People need to not ever be afraid to contact them when they need them."
He and Mary Williams, the community's event coordinator, plus events committee member Sudha Bhat organized the festivities. And, added Smith, with 909 homes in Chantilly Highlands, "It's great to have something like this to bring neighbors together, because some people don't know others on the other side of the subdivision."
Jim and Robin Beckwith enjoyed the evening chatting with friends Tom and Alice Zorn, while socially distancing and eating cookies-and-cream ice cream. "We wanted to see the band and support the neighborhood," said Robin Beckwith. "And it's nice to come out in unity and meet neighbors and the local police officers."
Alice Zorn said it's a nice thing for the community, "particularly when we've all been inside, due to COVID. I've lived here 41 years; Chantilly Highlands is small enough to walk around and convenient to shopping centers. It has nice tennis courts and a swimming pool, and it's a great community to live in and a good place to raise kids."
Members of the Fair Oaks District Station's Bike Team attended, as well. "It's a lot of fun," said PFC Charles Nagy. "It's pretty neat to see people in a different and friendly environment when we're not policing. They can ask questions, and the main part of building trust is meeting people in the community."
"We enjoy National Night Out," said 2nd Lt. Brad Metz. "It's a tremendous opportunity to engage, one on one, with the community, foster new relationships with the residents and see old friends."