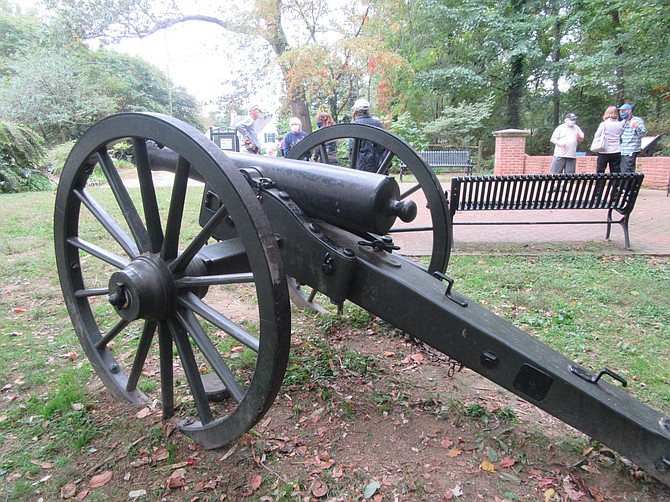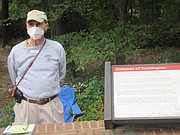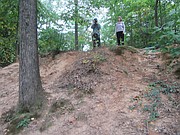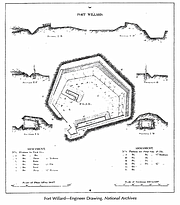 In 1862 and 1863, at the apex of today's Belle Haven community, Union soldiers at Fort Willard were on the lookout for enemies coming up the Potomac River or approaching along Accotink Turnpike. Fort Willard was the southernmost of 68 forts that Union forces feverishly built after the Confederates unexpectedly won the 1861 Battle of Manassas and President Abraham Lincoln, fearing Confederate attacks, ordered that the nation's capital and its 75,000 residents be protected. For Fort Willard, U.S. Army Corps of Engineers dug ditches and piled up dirt to form the fort's 20-foot walls, mounds still visible today, a little scrap of history that has survived 158 years of development.
The Mount Vernon Regional Historical Society hosted 45 people in three shifts on Oct. 10 at what today is a Fairfax County park.
"Most people don't know that Fort Willard exists," offered Glenn Fatzinger, the organization's co-chair, as history buffs toured the 1.6-acre park girdled by a street named Fort Willard Circle.
Greg Crider, a Williamsburg Manor resident, attended because, he said, "I'm interested in Civil War history and find that place unique for our area."
The Defenses of Washington
Military planners chose strategic heights overlooking turnpikes, railroads, bridges and shipping routes. By 1865, 68 forts and 93 batteries armed with over 800 cannons were in place. Today, the National Park Service (NPS) manages 17 of the original sites. Fort Willard probably resembled Fort Ward on today's Braddock Road, one of the best preserved and managed by the city of Alexandria, said Fatzinger.
The forts formed a ring of earthen fortifications around Washington. Says a National Park Service brochure: "Soldiers and laborers worked with shovels and picks to build ramparts (walls), parapets (slopes) and bombproofs (shelters), following a standard procedure for construction. A dry moat (trench) and barricade of dead trees called an 'abatis' surrounded each fort." By the end of 1863, 23,000 troops manned the forts.
The completed Defenses of Washington made Washington, D.C., one of the world's most fortified cities, according to National Park Service historians.

A Redoubt
Completed in 1863 by the 34th Massachusetts Volunteer Infantry, the 742-acre Fort Willard was Redoubt D, a temporary "appendage" to Fort Lyon, located near today's Huntington Metro, North King's Highway parking lot. Fort Willard was five sided with 20-foot high dirt walls. Dirt could absorb enemy projectiles better than wood, brick or stone. It had two barracks, officers' quarters, two batteries, a cook house and 10 support buildings. Between 400 and 500 men were stationed there to defend the Potomac River, Accotink Turnpike and the swampy lands below, later filled for the Belle Haven Country Club. It was named for Colonel George L. Willard who was killed in action at Gettysburg at age 35.
One irony is the location, a Union fort in a state that seceded from the Union in 1861.
"The northern part of the Mount Vernon area was taken over by Union forces," Fatzinger said. Fairfax County "went back and forth, was occupied by both," he said.
To build forts, the military appropriated land and at war's end, officials dismantled most forts and auctioned off materials. The federal government returned Fort Willard's land to the original owner, Samuel Johnson. In the late 1970s, developer Eugene Olmi Jr., donated the land to the Fairfax County Park Authority.
Society co-chair Sally Lyons told visitors, "There are very few Civil War forts left. This gives you a feeling of what was here."

Added Fatzinger: "This site is preserving part of our local history that people need to understand. We are trying to educate people."
Information:
https://www.nps.gov/cwdw/index.htm