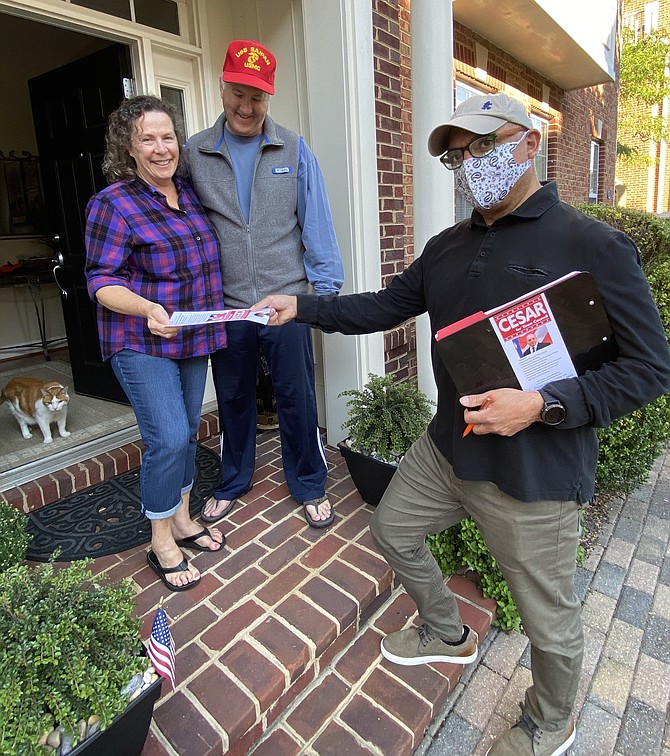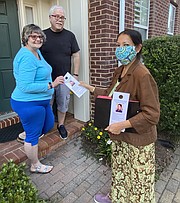 With forty-four days until the November 3 Town of Herndon elections for Mayor and Members of Town Council, councilmember candidate and incumbent Cesar A. del Aguila and candidate Naila Alam walked door-to-door, the weekend of Sept. 1. They left campaign literature on voters' doorknobs. Benny Lawrence and Jim Dingle happened to be home when Alam came to their door. "We are pleased to be Town of Herndon residents and have candidates out campaigning because they love the community too," said Lawrence. "They are interested in helping to shape the future of our town," she said.
Aguila stopped at the home of Paul and Karen Novak. According to del Aguila, it was crucial for qualified voters to cast their ballots in the Town Council elections because the Town is structured under a Council/Manager form of government. Town Council decisions affected citizens' finances and quality of life.
According to del Aguila, who is serving his first two-year term on Council (Jan. 1, 2019- Dec. 31, 2020), the Town Council is made up of a Mayor and six Council members. They are elected simultaneously for two-year terms. He said, "The Town Council controls Town budget, capital improvements, Town property taxes, infrastructure improvements such as road paving and sidewalks, land use and development decisions, Town development and Metro Kiss and Ride, Herndon Police, services of Public Works, such as Spring and Fall Clean up, leaf and snow removal, (and) fees for water, sewer, and recycling."
Candidates for mayor are Sheila A. Olem and Roland B. Taylor. Candidates for Town Councilmember are Naila Alam, Cesar A. del Aguila, Pradip Dhakal, Signe V. Friedrichs, Clark A. Hedrick, Stevan M. Porter, Sean M. Regan and Jasbinder Singh.
"So please vote on November 3, 2020," said del Aguila. Use this link to register online: Virginia Department of Elections or visit https://www.fairfaxcounty.gov/elections/.