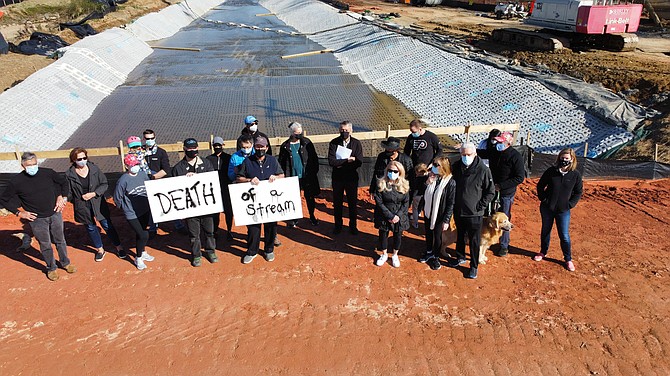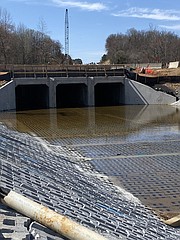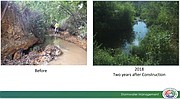 Colvin Run in Vienna died this spring. The stream, also known as Bridge Branch in the late 1700s when President George Washington owned the 300 acres in the area of the now historic Colvin Run Mill, runs parallel to Leesburg Pike (Route 7). The stream is part of the Route 7 Corridor Improvements Project by the Virginia Department of Transportation, assisted by Shirley Contracting Company, LLC, along with Dewberry Consultants LLC as its Lead Designer.
IN THE LATE AFTERNOON of April 3, 2021, approximately 25 distraught citizens from both sides of Route 7, Vienna and Great Falls, gathered together at the intersection of Carpers Farm Way and Colvin Run Road. They had assembled to mourn the death of Colvin Run. Washington, who walked the same area on November 7, 1799, and investigated the bounds of his purchased parcel according to history by Robert Lundegard, more than likely would not recognize it.
Instead of water tumbling powerfully over rocks, a source of potential energy for a future mill, Colvin Run flowed flat through a near 60-foot-wide trapezoidal paved channel with paved banks, devoid of life. This is not what the community had worked to achieve for over a decade.
On May 23, 2019, William Canis, the Great Falls Citizens Association (GFCA) president sent a letter to Robert Berg, U.S. Army Corps of Engineers in Norfolk. According to a copy of the letter provided to the Connection by Canis, GFCA was concerned with the highway widening's environmental aspect and the relocation of Colvin Run. As part of the Route 7 Working Group, Canis said GFCA expressed concern that the stream should not be made into a long, straight channel "because of the adverse impact that it would have in managing stormwater."
Through working with Fairfax County stormwater management officials, GFCA learned about best practices the County employed. Canis wrote, "The recommendation to make Colvin Run into a riprap channel-Option 1OC-is not a best practice. It seems like a throw-back to an earlier era that resulted in downstream degradation and erosion.' Canis said that it would be a departure from stream management best practice, with unintended consequences of channelizing the stream needing to be addressed in the future "at great cost to the Commonwealth or the Fairfax County Park Authority." Canis added channelizing Colvin Run would cause problems for Difficult Run and could negatively impact the nearby wetlands. Canis suggested an option such as a meandering stream with shallow pools.
A few months later, in another email dated Aug. 12, 2019, Craig Carinci, Director Stormwater Planning Division Department of Public Works and Environmental Services Stormwater Planning Division of Fairfax County wrote to Mark Eversole, Marine Resources Commission Habitat Management Division regarding the pending Route 7 Corridor Improvements East and Realignment of Colvin Run, VMRC Permit Application 20190554. Carinci said the main item of concern was the proposed realignment of Colvin Run into a trapezoidal channel running parallel to Route 7 near the confluence with Difficult Run.
Carinci said Fairfax County recommended: "The realigned Colvin Run segment be designed using natural channel design to incorporate aquatic habitat, improve water quality and enhance the adjacent wetlands." Carinci qualified the recommendation by saying that while the County understood that the Corps of Engineers recommended the hardened, trapezoid channel over a more natural channel design to avoid direct loss of adjacent wetlands, they appreciated the importance of protecting wetlands. However, they were "concerned about the potential secondary impact of draining these wetlands by constructing a large, trapezoidal channel."
On April 3, 2021, gone were the hyporheic zones, habitat, and refuge for various stages of aquatic organisms such as microbes, macroinvertebrates, and fish. Gone were the wetlands, home to birds, amphibians, reptiles, and small mammals. Washington more than likely would not recognize the "concrete monstrosity" as Hope Reynolds, who lives in the neighborhood, called it. The tumbling, mighty Colvin Run was dead.
Highlights of Residents' Comments:
"I've lived in this neighborhood for 29 years and always breathed a sigh of relaxation when I drove into the neighborhood—the stream was so beautiful. Now we have a concrete monstrosity. Homeowners living on Scenic View Terrace and Carpers Farm Ct. can make no changes to our houses without first obtaining approval from Fairfax County because we are located in the Colvin Run historic district. So how can this steam be destroyed as it's also located in the historic district?" – Hope Reynolds
"If you compare this work to the stream restorations being done now by the county, you see what could have been had they cared about the community and the stream." – Stella Koc
"I think the appeal of Fairfax county is its natural beauty. We lost that with this construction. I'm disappointed. Please at least plant new trees and vegetation to offset what has been done." – Jeff Kin of Vienna

"It is unfortunate that the very beauty we all crave for our communities was so summarily destroyed by a thoughtless vision for redirecting a natural stream. We are all disappointed for the County and the state not allowing a more generous approach to our environment." – Phil and Deonne Snare of Vienna provided joint comment.
VDOT: The Least Impactful Option
The Connection has obtained the following comment from VDOT:
"The team had also proposed a curved, meandering design, however this would have had greater impacts to forested wetlands just south of the stream, so the channel design was required by the U.S. Army Corps of Engineers to protect valuable forested wetlands in this area.
This section of Colvin Run was originally relocated into a straight channel along the south side of Route 7 in the late 1960s. Over time the channel eroded and meandered, resulting in extensive soil loss near Route 7. To accommodate the road improvements and a longer, taller bridge over Difficult Run, about 1,200 linear feet of Colvin Run has been shifted slightly to the south in an articulated block channel. The articulated blocks will protect the area from erosion, and wooden weirs placed in the channel will encourage the stream to form a more natural, meandering pattern. The hollow shape of the blocks will help encourage plant growth.
Of ten total options considered for Colvin Run with input from the environmental agencies, this option was determined to be the least environmentally impactful."
More like this story