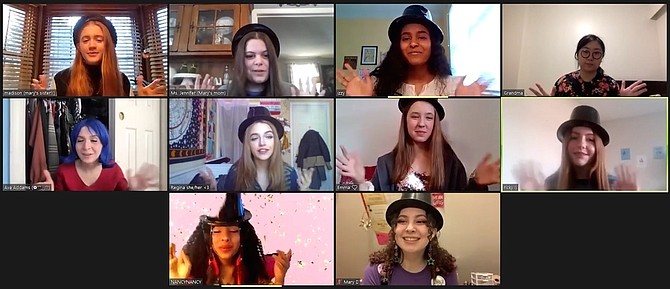 Unfortunately, things don't seem to have changed much two years in the future. Quarantine and all its struggles were still very present, or at least they were in the universe of "The Party Hop," a one-act play recently written by Natalie Margolin.
Langley High School's production of this play brings eerie nostalgia to a familiar situation. Friends Ava, Emma, and (unexpectedly) Nancy got ready to attend a few parties one night, and it was revealed that Ava had never kissed anyone. Nancy declared that this was the night Ava would get her first kiss! Ava was convinced by the other two to hold onto this dream as they traveled through parties, each one revealing different ways people try and sometimes succeed to connect while distanced. In the final party, Ava's chance finally came along, and she took it. Immediate regret followed with the realization that she just kissed a camera, not a person, and her crush was weirded out. The three friends returned to their own meeting and Ava spoke her thoughts to both friends, frustrated, but ultimately they forgave and felt more connected than when the night began.
All actors involved gave extremely natural performances, to the point that it appeared to be just a recording of a normal Zoom call. Nancy's (Talia-Rose Diorio) extroverted extra-ness filled her little box, even when she wasn't speaking, and the small moments of quiet vulnerability were moving. In stark contrast was Ava (Tess Jannery-Barney) with subtle yet very relatable reactions. You had to cringe when something awkward happened. Emma (Abhaya Tyrka) was always present and smiling as the mediator between the other two, able to finish Ava's sentences despite lag and share a happy moment with Nancy.
The supporting cast all brought strong, diverse characters to the screen. All the adults at the cocktail party were astoundingly adult. The combo of Nathan and Nora, played by Gunnar Peacock and Gabriella Sanchez respectively, had excellent chemistry (or anti-chemistry, looking at their muted heated arguments). Nora's exaggerated eye rolls added levity, especially making use of the limited framing. At Mary's birthday party, Mary herself (played by Katie Murchison) displayed the strangeness of emotions online with her mostly stoic face describing her emotions.
Impressively, there were zero technical issues. The audio was perfectly clear, the editing was very subtle and well-timed, and the lighting was natural. All the costumes fit the characters, especially Nancy's bright orange party attire. The sets for every character were carefully chosen and perfectly framed, such as the very accurate way Grandma (Erin Young) seemed even smaller in frame with too much distance. The production also made use of Zoom itself, including personalized name tags and somehow making lag nostalgic. The direction of each scene, by Elizabeth Tippens, kept everyone extremely authentic and in character.
Perhaps the world isn't as far away as it would seem in this quarantine. As Nancy pointed out, physical distance doesn't matter online. You could even throw your own Zoom party. Maybe even have your first kiss (in a year at least).