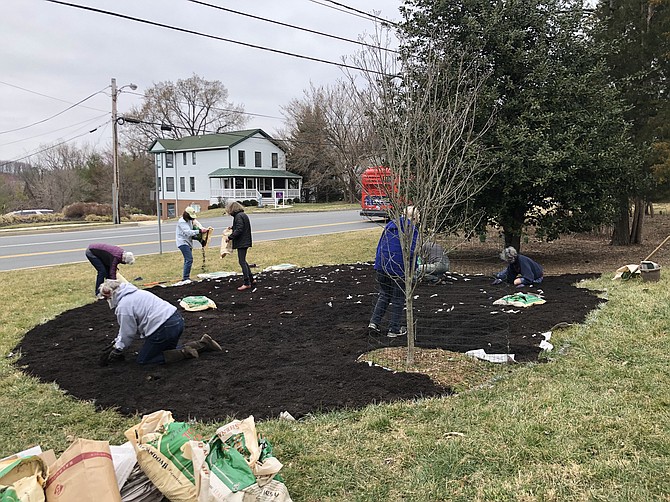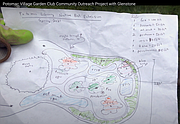 Ever since the Potomac Library opened its building on Glenolden Drive and Falls Road in 1986, the Potomac Village Garden Club has worked to add plantings and specialty gardens to the library grounds.
Last week, they got a big assist from members of the Glenstone Museum grounds crew in finishing a Maryland natives garden along Falls Road.
Early on Tuesday morning, April 13, Glenstone grounds staff arrived at the library with two trucks loaded with a tiller, mulch, new shrubs and flats and flats of ground cover, all Maryland natives and ready to be planted.
Fortunately, the garden club members learned earlier that they were not just going to watch the work but were expected to help with the planting too.
"I did not realize we would be doing more than watching!! Guess I better wear work clothes," Edie Wingate, garden club member and president of Friends of the Library, Potomac, wrote in an email before the event.
The garden takes up most of the library property along Falls Road. One section, the side that gets mostly shade, was started two years ago and its perennials were already coming up, ferns beginning to unfurl, last week.
Cindy Hall was there cleaning up debris that blows over from the road and pulling weeds while waiting for the time to plant on the "new" side.
Cindy and Julie Perlman are the real movers and shakers in getting the native garden planted according to more than one club member.
"I just can't stop digging," Hall said.
It was Perlman who got in touch with Matt Partain, grounds superintendent at Glenstone.
"I emailed Glenstone and [Matt] came up and walked the property with me discussing plantings," Perlman said. "While the library grounds contain many native plants, the club wanted an area which was all native to encourage visitors to consider more native plants in their yards."

Partain created a plan and then offered the plants and help finishing up the sunny side of the garden, an area of between 900 and 1,000 square feet.
Besides preparing the soil, the Glenstone crew planted two ironwood trees and four spicebush shrubs. Pertain has been a featured speaker for events for Friends of the Potomac Library.
The library project was part of the Glenstone Foundation's Glenstone Gives program according to Calvin Perry, a horticulturist at Glenstone.
"I'm happy to be out in the community," Perry said. "Native plants, this is something I'm passionate about."
After the members of the garden club finished planting mountain mint, purple flame iris, golden groundsel, fox sedge, creeping sedge, tussock sedge and blue lobelia, it was time for mulch then standing back to admire their work.
"It was amazing to see the finished product once it was all mulched in. The library is most fortunate. There is no way the garden club could have undertaken such a project either financially or manpower-wise," Wingate said.
Watch the video:
Video by Cherie Lejeune
Glenstone Museum
12100 Glen Road Potomac, Md. 20854
The name "Glenstone" derives from two local sources: Glen Road, where the property line begins, and a type of carderock stone indigenous to the area, which is still extracted from several nearby quarries.
Guided by the personal vision of its founders, Glenstone assembles post-World War II artworks of the highest quality that trace the greatest historical shifts in the way we experience and understand art of the 20th and 21st centuries. These works are presented in a series of refined indoor and outdoor spaces designed to facilitate meaningful encounters for our visitors.
See https://www.glenstone.org/ to schedule a visit. No walk ups.