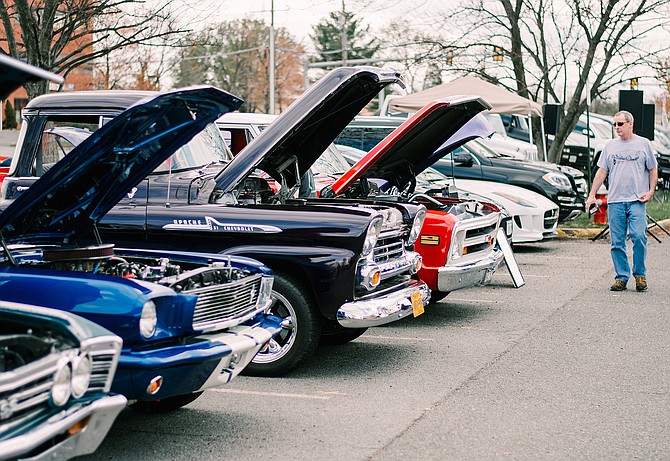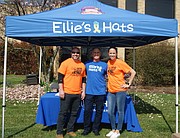 Cool cars, tasty food, fun for all ages – and the chance to raise money for a good cause – that's Casey's Fourth Annual Car Show & Spring Fest. Hosted by Casey's Automotive owners Bryan and Mary Jewett outside their business at 4260-A Entre Court in Chantilly, it's set for Sunday, May 2, from 12:30-3:30 p.m.
Admission is free, parking is plentiful, and the festivities will also include children's games, a silent auction and professional Star Wars characters from the 501st Garrison Tyranus. Most of all, 100 percent of the proceeds will be donated to local nonprofit, Ellie's Hats, which provides hats to children with cancer, plus assistance to their families.
In 2013, P.E. teacher Jay Coakley began Ellie's Hats to cheer up one of his students, Ellie, then 5, newly diagnosed with leukemia. When she lost her hair from her treatments, she wore hats to school every day, so Coakley organized a hat drive to get her more. 
Realizing he could bring similar happiness to other young, cancer patients – plus raise awareness about the disease – he founded Ellie's Hats. The organization also gives hats and toys to the recipients' siblings and donates gas cards, gift certificates and money to their families to help them through difficult and expensive times. For more information, go to https://ellieshats.org/. 
While the pandemic cancelled last year's car show, the one in 2019 raised $8,000 for the cause, and event organizer Lauren Bien, Casey's Automotive marketing coordinator, hopes this year's show will raise even more. And she promises lots of fun for everyone.
"In 2019, we had about 100-150 cars," she said. "We get everything from American muscle cars to Army Jeeps, antique cars, old-school 1920s and 1930s vehicles, 1960s and 1970s classics like Mustangs and Corvettes, as well as fancy new cars like a 2021 Maserati. Motorcycles are welcome, too – whatever anyone wants to show off."
THE REGISTRATION FEE is a $25 minimum donation to Ellie's Hats. Pre-register vehicles at https://caseysautomotive.com/caseys-2021-car-show-spring-fest/. Those doing so online by April 27 will get a swag bag including a commemorative T-shirt in their size.
Several items will be available for attendees to bid on during the show's silent auction. They include a two-hour, professional, photo shoot with Marigold Bus & Booth; virtual, martial-arts classes for children or adults, courtesy of Tiger Den of Chantilly; and a set of four brand-new tires donated by Casey's Automotive. Auction items are still being accepted; any local businesses wanting to donate products or services for it may email carshow@caseysautomotive.com.
And when attendees get hungry, food trucks will be there to fill the bill. Zainy's Flyin' Grill will offer its signature puffy tacos and other items, ResQ BBQ will provide barbecued dishes and sides, and Kona Ice will offer shaved-ice treats.
For the children, there'll be field games such as Jenga, cornhole and Connect 4, as well as two people making balloon animals to order. And bringing music to the day will be deejay Craig Wood of Perpetual Sound LLC.
A car-show contest will be held, as well. The spectators will vote on their favorite vehicles in various categories – for example, Best Muscle Car, Antique Car, Classic Car, etc. Winners will each receive a special trophy handcrafted and custom-welded by one of Casey's technicians, Jon Young.   
All in all, said Bien, "It's a family-friendly event with a lot of cool cars. People can also enjoy some delicious food and even dance. And it's all for a good cause – every dollar we take in goes to Ellie's Hats. Casey's does automotive repairs and maintenance, plus custom builds and upgrades. But Bryan and Mary Jewett want to give back to the community, as well."
"Upstairs in our Chantilly location is where Jay Coakley and his helpers box up the hats they send out to the children," continued Bien. "And he receives this space free of charge. It's of the utmost importance to us that we can raise some money for Ellie's Hats – and the more, the better."
AS FOR COAKLEY, he's delighted that the Jewetts and their business have done so much for Ellie's Hats. "We are so grateful for the support we have received from Casey's Automotive," he said. "Since the early days of Ellie's Hats, Bryan and Mary have supported us. They've raised over $12,000 in the three previous car shows. All these shows have been fun for both car enthusiasts and families, and we hope everyone will join us for this upcoming one, as well."
An Ellie's Hats donation table will be at the event. However, people unable to attend, but still wishing to contribute, may do so at https://ellieshats.org/.