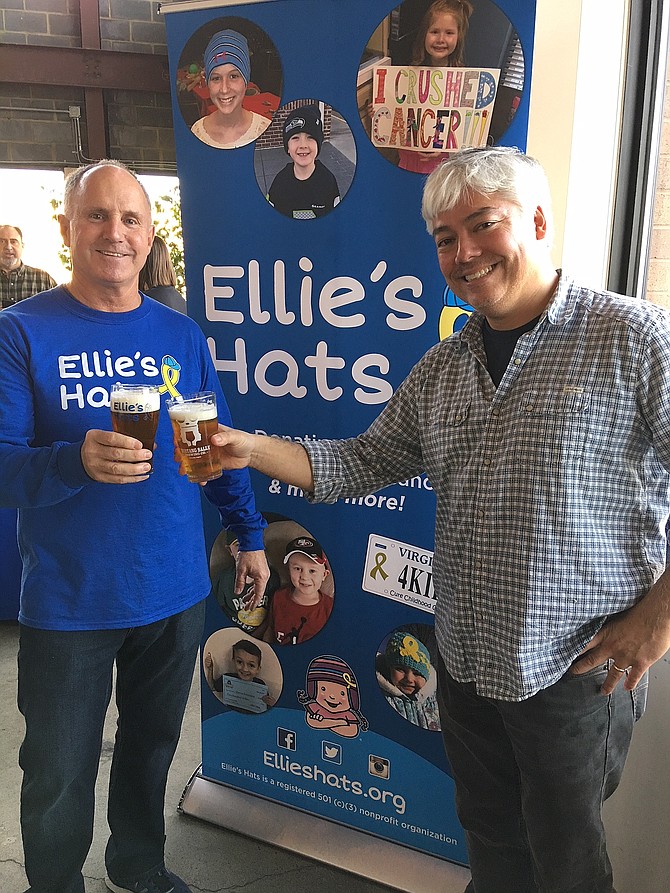 Young Ellie Whitfield was diagnosed with acute lymphoblastic leukemia in 2013; and by the time she started kindergarten at Woodburn Elementary, she'd lost her hair and was wearing hats to school every day. Her P.E. teacher, Jay Coakley, noticed how happy her hats made her, so he organized a hat drive for her.
Wanting to bring that same joy to other children suffering from cancer, as well as raise awareness of the disease, he then founded Ellie's Hats, which collects and donates hats for them. Most come from hat drives from schools and groups, such as churches and Scouts — and in every state, plus Canada and South Africa, people knit and crochet hats for the organization.
Ellie's Hats also helps their financially struggling families and contributes to the hospitals and clinics that treat pediatric cancer patients. So it was with great joy that the nonprofit celebrated its fourth anniversary, Feb. 18, at Mustang Sally Brewing Co. in Chantilly.
Owner Sean Hunt met Coakley when he opened his business, and Ellie's Hats was the first group for which Hunt held a fundraiser. "We've also had other events for them," said Hunt. "It's part of our culture, so doing this was a no-brainer. We see ourselves as a community brewery, so these relationships are what we opened the brewery to do."
Among the celebrants were Christine and Mike Angles, who run an Allstate insurance agency in Chantilly. Two years ago, they looked for a nonprofit to get involved with locally and they chose Ellie's Hats.
"Every time an Allstate agent or group do something charitable, the Allstate Foundation gives a grant to that organization," said Christine Angles. "So far, we've raised almost $10,000 for Ellie's Hats. It's a fabulous idea and a great cause; it helps people in the local community and is direct and hands-on. We're here today to support Ellie's Hats with friends and bring more awareness to it."
Similarly, Mary and Bryan Jewett, who own Casey's Automotive in Chantilly, have been involved with Ellie's Hats for 2 and a half years. They met Coakley when their children's elementary school had a spring fling.
"And after talking to Jay about Ellie's Hats, we thought it was such a great organization, we wanted to be a part of it," said Bryan Jewett. "It's a good opportunity to support someone who's passionate about a wonderful cause. Last year, we did a car show for Ellie's Hats and raised $4,000 through the entry fees, raffles and sales of T-shirts and hats."
"One hundred percent of the proceeds went to Ellie's Hats, and we're doing it again, April 22, from 12:39-3:30 p.m., at our shop in Chantilly," added Mary Jewett. "It's a 4260-A Entre Court, off Willard Road. All kinds of cool cars will be on display, and people dressed as Star Wars characters will be there, too. There'll also be face painting, balloons and food trucks. It's all free, but people can donate to Ellie's Hats, if they want. We've also done hat drives for them."
Her husband said they were happy to be at the anniversary celebration and "to see that Jay's organization has been going strong for four years."
"I know it's hard for Jay to see the families and know what they're going through," said Mary Jewett. "But he brings so much joy and happiness into their lives with the hats. For example, one time, a little girl wanted a My Little Pony hat, and I was able to find one for her. And it made me feel good to do it and make her happy."
More than 70 people attended the anniversary celebration, including some parents whose children have been helped by Ellie's Hats. Sara and Marc Schweigert's son Trevor, now 8, was diagnosed 4 and a half years ago with neuroblastoma.
"It's been a long road, but he's doing well," said Marc Schweigert. "He's been on six, different clinical trials, and one of the two at [Memorial] Sloan Kettering [Cancer Center] gave us hope that he was going to survive."
"I met Jay at [Inova] Fairfax Hospital when our son was inpatient there," said Sara Schweigert. "And when he knew we were going to the hospital [Sloan Kettering] in New York, he'd drop off a box of hats for Trevor to bring to his friends there. He'd also bring Trevor snacks and video games for the long drive, plus a gas gift card for us."
And that was so special, she said. "It means so much for someone who doesn't know us to want to help our family, when no one else understands the physical and emotional hardships we're going through," said Sara Schweigert. "It brings a sense of love and warmth to have someone else care like that."
Basically, added Marc Schweigert, "When you have a kid with cancer, there's a lot of darkness, stress and fear. And it means the world when someone takes the time out of their life to care when you're going through something like that."
"When people hear the word 'cancer,' a lot of them run from it," said Sara Schweigert. "So to have someone run to it is awesome — it makes you feel loved."
There, as well, were Jennifer and Robert Scott. They have three children, and their middle daughter, Elizabeth, now 17, was diagnosed with acute myeloid leukemia in May 2015. She was initially treated at Inova Fairfax and went into remission that August.
"But she needed a bone-marrow transplant to prevent a relapse," said Jennifer. "We didn't have a match, but Duke [University Hospital] had umbilical-cord blood that matched hers. So on Oct. 2, 2015, she had a transplant there. She's now 870 days post-transplant and doing well. She's taking a full, academic load and looking at college and something in the medical profession as a career."
The month before Elizabeth was diagnosed, her younger brother Michael was at his baseball team's opening day and Coakley was collecting hats at an Ellie's Hats booth there. A month later, said Jennifer Scott, "Jay – who'd heard about us through a mutual friend – reached out to us and was standing in our kitchen with hats and gift cards."
"He recognized me and said, 'I bet you never thought you'd see me again,'" said Robert Scott. "I'll never forget that because I never knew we'd have a child with cancer and need his support."
Jennifer Scott said Coakley was also a huge help while Elizabeth was hospitalized. "He'd show up with coffee, bottled water and friendship when we were stuck in the hospital in isolation because of different infections she had and for other reasons. It was a connection to the outside world."
"What Jay's doing is really patient advocacy," she continued. "I'm a physical therapist, and others don't have the resources or medical knowledge we have. But Jay's been that link for other families, and we want to use what we've been through and help him do that."
Jennifer Scott said they attended the anniversary event to thank Coakley and celebrate with him "for everything he's done for these kids. It's personal to him. So many people say, 'What can I do to help?' — and Jay shows up and does it."
Pleased with how well the celebration went, Coakley said, "We had a great turnout, and it was a wonderful opportunity to spend some time with people who've done so much for Ellie's Hats. There were sponsors, people who've made and/or donated hats, volunteers and families who've been affected by pediatric cancer. We're now four years in, but it would be nice if we could just close up shop because we were no longer needed."
A pancake-breakfast fundraiser for Ellie's Hats will be held Saturday, May 5, from 8-11 a.m., at American Legion Post 177, 3939 Oak St. in Fairfax. For more information on the organization, go to ellieshats.org.