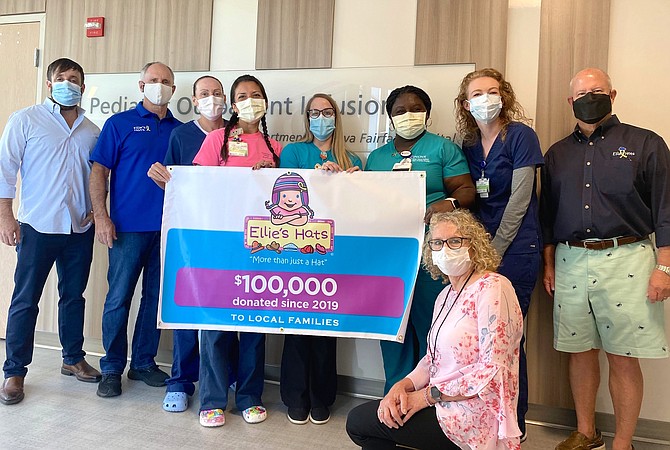 Founded in 2014, Ellie's Hats makes life a little brighter for children with cancer and their families. It began when P.E. teacher Jay Coakley wanted to do something nice for one of his kindergarten students, Ellie Whitfield.
She was diagnosed with acute lymphoblastic leukemia in 2013; and when her treatments caused her to lose her hair, she started wearing hats to school. Seeing how happy those hats made her, Coakley organized a hat drive for the child.
He also wanted to bring that same joy to other children suffering from cancer, while raising awareness of the disease, so he founded the nonprofit Ellie's Hats. Most of the hats come from drives held by schools and groups, in addition to the many handknitted and hand-crocheted hats donated by people throughout the U.S.
But the organization's motto is "More Than Just a Hat" – and for good reason. Besides raising the hat recipients' self-esteem, Ellie's Hats helps their cash-strapped families by giving them gas cards, gift certificates and money to help them through difficult and expensive times.

Equally important, it also contributes to hospitals and clinics treating pediatric cancer patients. It makes monetary donations and provides them with items including iPads, TVs, DVD players and gift cards. And in 2019, Ellie's Hats partnered with the social workers at Pediatrics Specialists of Virginia (PSV) to help the children's families in an additional way.
"Each month, PSV selects five families in need of financial help," explained Coakley. "They give us each family's name, and then those five families each receive a $1,000 check from us. "
And last Wednesday, July 29, Ellie's Hats reached a major milestone since launching this fundraising initiative with PSV. On that date, Coakley and Ellie's Hats board member Brian Drummond delivered five more checks, totaling $5,000, to PSV – thereby reaching the remarkable achievement of donating $100,000 total to this organization since the partnership began.
They made the donation at the Schar Cancer Institute (across from Inova Fairfax Hospital), one of the clinics where many of the children go for their treatments. And Coakley couldn't have been happier.

"As Ellie's Hats has grown, we have been fortunate enough to receive generous donations from our community," he said. "These donations have enabled us to continue our mission of helping financially struggling families. More than anything, this event was a reflection of what's possible when we all come together to support a greater cause."
For more information about Ellie's Hats, go to ellieshats.org. Pediatric Specialists of Virginia, with locations in both Fairfax and Fair Oaks, provides medical care to children. Learn more at https://psvcare.org/.