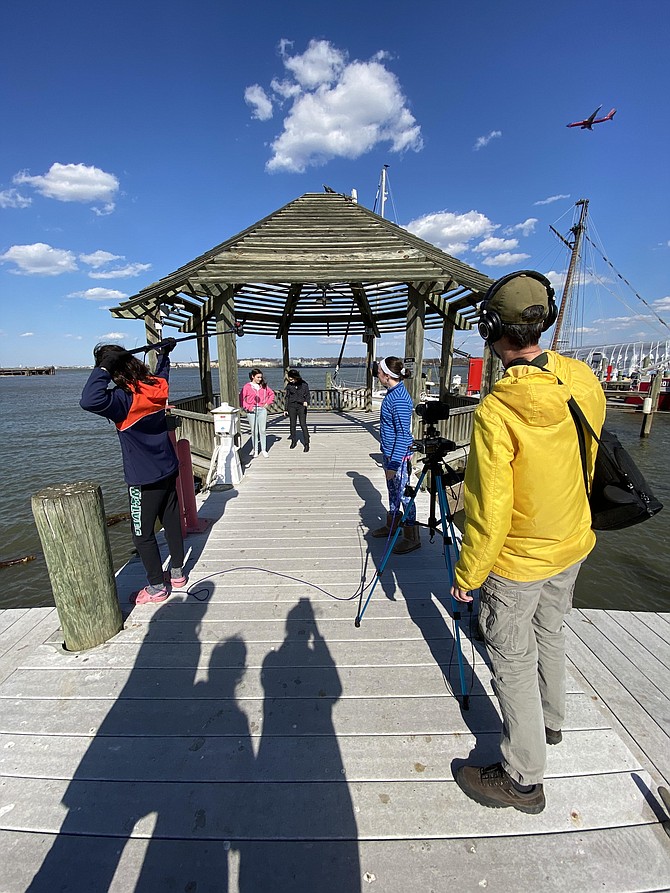 There were four teenage girls embarking on a school project that turned out to be a small part of what they really learned about each other and relationships in general. This was the plot of a film called "The Homework Club," created by 15-year-old Hallie Crawford that landed a spot in the 2021 Alexandria Film Festival.
"We don't really know that we have things in common until we get to know each other," Hallie said.
Set on the streets and waterfront area of Old Town, Alexandria, the short film involved the girls doing the project as a punishment of sorts for doing something in school, similar to the brat-pack classic "The Breakfast Club," from the 1980s. "I love that movie," said Hallie. The girls went from the waterfront to the Torpedo Factory, where they remembered an experience years ago when they were younger. An argument ensued, and the fledgling actresses gave stress on camera their best shot.
The cast included Sophia Webster, who is a sophomore at West Potomac High School, Jasmine Williams, who is home schooled, and Charlotte Benson who is a classmate of Hallie's at Bishop Ireton. The co-producer was Ella Schmutz, the screenwriter was Olivia Dedham, and Hallie's father, Brett Crawford, did some of the camera work and editing.
At school, the Cappies Theater Award program was announced, and it included an award for films too, so that gave Hallie the inspiration to make a movie and possibly submit it for a Cappie. "That got me really interested," she said.
Before shooting last winter, they planned it out, and held a casting call to find the rest of the cast, and pulled it all together. It was a lesson in perseverance, her father Brett Crawford said. "A fun experience but a challenging one," he said.
For one thing, they started filming in February, but as they got into spring, flowers bloomed and trees got leaves, so the background was changing. This presented a challenge since the plot is all set in one day. "This required some creative editing," he said. "It was something that everyone enjoyed," he added.
There was a dance scene to some non-descript music so there weren't copyright issues, and arguments and thoughts that were expressed covertly, but all worked out in the end. One thing they didn't have was a stage director that ran around with a storyboard, mapping out the scenes. The cell phone worked for that. "We watched the dance scene on our phones," Hallie said.
Hallie noticed a film festival was happening in the city, so she looked into it. "I got excited about it," she said.
Cell Phone Cinema
Technology makes filmmaking more accessible to everyone these days, since just about everything can be captured with the cell phone. "Filmmaking is no longer a Hollywood-studio-only enterprise," noted Patti North, executive director at the Alexandria Film Festival.
"That's one of the reasons the film festival exists--to give independent filmmakers an audience for independent films. Hence our motto 'celebrating independents,' North said.
Although Hallie has achieved a lot by being in the Alexandria Film Festival at the age of 15, another teen named Julia Hocker was in the festival a few years ago. Hocker's first film was a winner in the Burke & Herbert Bank "Lights, Camera, Save" competition, and she went on to produce others.
Click here to see "The Homework Club."