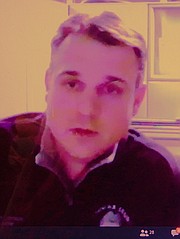 When it comes to human trafficking, no part of the U.S. is immune to it – even Fairfax County. So two county police detectives working in this field presented details about it during a recent, online meeting of the Sully District Police Station's Citizens Advisory Committee.
Dets. K.W. and Chistopher Rekas are part of the Police Department's Missing and Exploited Persons Squad (MEPS), whose cases include missing adults and children, child pornography, and exploited and trafficked individuals, The squad has 12 people, including a supervisor and an analyst.
"We handle cases that come in from the National Center for Missing & Exploited Children and the person lives in Fairfax County," said Det. K.W. "We also did a COVID crackdown, chatting online with people who were thinking they were chatting with underage victims. We'd then arrange to meet and [ultimately] arrest them."
She said Cyber tips come from the state police, too. "We also handle abduction and human-trafficking cases," said Det. K.W. "And a K-9 helps us locate both people and hidden electronics."
Rekas then listed some myths people tend to believe about sex trafficking, He said they think they involve foreign nationals and predominantly poor people. In addition, said Rekas, people believe sex trafficking doesn't happen in Northern Virginia. They also contend that people involved in commercial sex are prostitutes, not victims, and deliberately choose that lifestyle.
But all these myths are wrong, he said. Victims are often forced into prostitution against their will. Besides, added Rekas, "If the victim is under age 18, it's a Class 3 felony because a juvenile can't consent to commercial sex trafficking."
However, getting a conviction isn't always easy. "The victim has to want to cooperate with the police and be willing to disclose what happened," said Det. K.W.
Rekas said prostitution and sex trafficking can take place anywhere – from hotels to businesses to townhouses. And, he stressed, "Sex trafficking isn't a choice. The victims don't choose that lifestyle, aren't free to leave and don't control their own money, passport, etc. Another person controls their actions."
For example, said Det. K.W., "If a victim comes here from somewhere else, the person who helped them get here is in control because he holds their travel documents until they pay off their debt. But they never do, because they're always kept at a deficit."
Rekas said their unit often works on proactive investigations, linking up with other police units – such as Street Crimes – working on massage-parlor investigations. But they do reactive cases, as well.
For example, he said, "A patrol officer says a neighbor or hotel manager called and said they see odd behavior going on, such as a guy dropping off girls, coming back and checking on them or bringing guys to them. It's all-hands-on-deck, at that point. We'll do surveillance and undercover work and will do 'john' stops away from the place."
POLICE will also do historical investigations – long-term investigations that go on for months or years. These cases often involve multiple victims, search warrants, subpoenas and digital searches for evidence.
"Sometimes, we find out about a sex offence, after the fact," said Det. K.W. "For instance, we'll get a robbery call, but the victim doesn't want us to come to where she is. She makes a police report; but once we put the pieces together – or our bike team gives us further information – we realize what really happened."
She also discussed the difficulty many sex-trafficked victims have in walking away from their traffickers. Sometimes, it's because of the social stigma – they don't want to identify as victims. And many have formed a bond with their traffickers.
"They're isolated, and their trafficker is their only source of resources [such as food, shelter and clothing]," explained Det. K.W. "They're also in debt and don't want to admit they've broken the law."
She said these victims are "often forced to stay in bland, sterile environments with little ability to connect to the outside world. They're taught to fear [the police] and often don't understand local or U.S. law."
Obtaining information from human-trafficking victims, said Rekas, takes "multiple interviews and hours and hours of meetings. A victim is dealing with a lot of trauma, so they're not going to immediately trust us and tell us what we need to know. So first, we take them to a safe place and get them food, sleep and a shower. It may take months for them to let their guard down and realize the police are there to help them."
And, added Det. K.W., "It's often hard for a female to trust a male officer in a position of power." Rekas said the reverse is also true; in the case of a male victim, he might feel more comfortable talking to a male officer.
The detectives also gave parents some warning signs to look for in their own children, who might be in the process of being groomed by a sex predator. These indications include a change in peer groups – hanging out with people older than they are; isolating themselves from their families, friends and usual groups, such as clubs and sports teams; and lying and hiding information.
Rekas said other signs could be a teen wearing a different type of clothes or jewelry, a change in attitude or their becoming more sexually promiscuous. "A change in their behavior is a sign that something's not going right," said Det. K.W.
Rekas further noted that trafficking can happen to anyone, whether their family is rich or poor. He also cited three things traffickers do to their victims – scout, manipulate and track them.
SCOUTING involves seeking likely victims at bus stations, airports, malls, sporting events, detention centers and even in their neighborhoods. But the number-one way, said Rekas, is through social media, "which is always involved, at some level." He said they often connect with juveniles via Snapchat, Instagram, WhatsApp, Kik and similar sites.
"And teens have multiple accounts – only one of which they let their parents see," said Det. K.W.
Regarding manipulation, Rekas explained that, "Often, a victim is given narcotics to keep them up and working, and to control them so they'll keep going." Det. K.W. said the drugs also impair the victims' judgment.
As for tracking, said Rekas, "It involves the use of fear of physical violence, plus threats to the victim's family." He said it can also entail branding the victim and changing his or her name "so they're looked at like a piece of property."
"We work with all the state and federal agencies – FBI, State Department, etc. – so if you suspect it, report it," he continued. "It's here in the county, and we're trying to figure it out, ourselves. And we're not looking to charge the victims. We don't want to retraumatize them. If you suspect human trafficking, call 911 first, because it's the fastest way to reach us."
People may also contact https://humantraffickinghotline.org/, call 1-888-373-7888 (daily, 24 hours/day) or text 233733 or Help to that number.