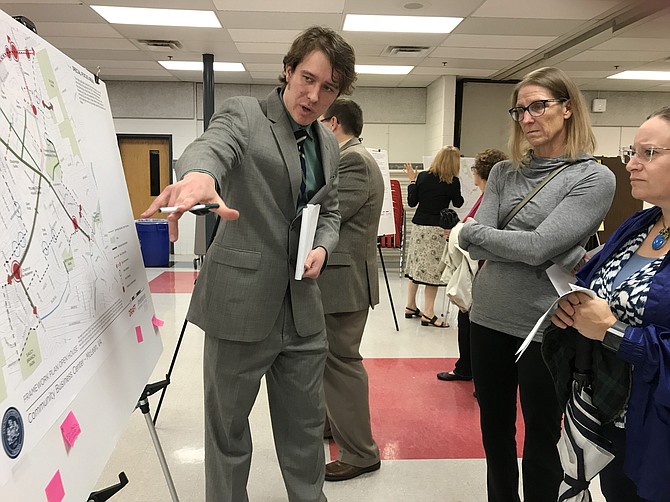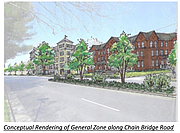 A virtual community open house is scheduled for Sat., Feb. 20, 9-11 a.m., regarding the re-planning effort for downtown McLean. Dranesville District Supervisor John W. Foust posted on Nextdoor that County staff will provide an overview of the McLean Community Business Center (CBC) Study, the draft Comprehensive Plan recommendations, and changes proposed to the draft Plan recommendations since the last virtual community meeting held on Nov. 7.
Those interested can go to the Fairfax County website for the McLean Community Business Center (CBC) Study to attend the meeting using the WebEx platform. Attendees can participate virtually by laptop or desktop as well as a smart device. To receive a callback, provide your phone number when you join the event. Call 1-844-621-3956 and enter the access code:179 701 2779.
Begun in the summer of 2018, the community-driven planning study for The McLean Community Business Center started with a series of three workshops to reimagine the area. The Board of Supervisors authorized a Comprehensive Plan amendment to review approximately a 230-acre site centered around Old Dominion Drive and Chain Bridge Road.
By fall,  the County had hired Streetsense to consider different vision goals for the McLean Community Business Center. Colin Greene, senior director of planning for Streetsense, presented the Vision's second Draft. At that time, Greene said the final recommendation, even if fully adopted by the Fairfax County Board of Supervisors as an amendment to the Comprehensive Plan, remained a vision. Greene said, "No one has put in applications for redevelopment. There's no agenda." The study was meant to be a "framework for future development."
Following focus groups, online surveys, workshops, public comment, and direct feedback, Streetsense brought forward the community members' Vision Plan of a reimagined downtown McLean on Dec. 18, 2018.
The Plan guided the McLean CBC Task Force composed of residents and stakeholders.  They discussed the new draft Plan text, working to recommend changes to the Comprehensive Plan for County staff consideration.  On Oct. 6, 2020, Task Force members held their twenty-seventh meeting.
According to Foust's post: "The draft Plan retains the neighborhood serving aspect of the downtown area but identifies the center of the downtown as an area of taller mixed-use buildings that create a sense of vibrancy and support walkability. A signature urban park is expected to be a major placemaking element in the center of the CBC. Development intensities would taper away from the core area, and existing development intensities around the edge of the CBC are expected to be retained."
A copy of the Dec. 9, 2020 Draft can be found online.