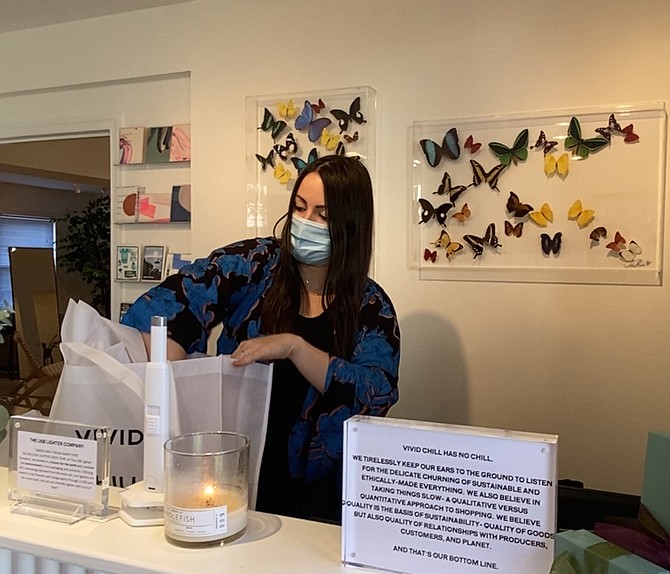 It all started with the local artisan's handbags, the love of little boutique shops that featured brands with morals and values, and telling her mom that more than anything else, she wanted to open a store in the Great Falls Village Centre with a showroom for those bags and other ethically and sustainably produced items. Sadly, mom Kathleen Murphy passed away before seeing her daughter's vision come to life.
Nearly one year later, Murphy's daughter Marika Tsombikos is in her newly opened shop, Vivid Chill, located at 752 Walker Road, Suite C in the Great Falls Village Centre. Despite the economic impact of COVID-19 crushing many small businesses, Tsombikos forged ahead, committing to sustainable products.
Asked what moment or occurrence triggered her decision to "jump all in," Tsombikos, founder and CEO of Vivid Chill, said, "Thinking about how it would feel if I didn't do this ... It's so important, now more than ever, to support and encourage these smaller businesses and talented makers to make sure they're still around when all this is over."

According to Tsombikos, she closed on the retail space in August but had her second baby in October. "I opened in the middle of December... It was my dream to get all these amazing brands together and offer them in one place where you can shop a bit more thoughtfully," she said. Vivid Chill offers eco-friendly home décor and skincare products, jewelry, clothing, and accessories. The company's online statement reads in part: "We believe quality is the basis of sustainability – quality of goods, but also quality in relationships with producers, customers, and the planet. And that's our bottom line."
Shopper Kim Abod said Vivid Chill is a welcome addition to Great Falls. "When we first walked in the store, my daughter Carah exclaimed, "I feel like I am walking into my own Pinterest board, except in real life." There's no shopper's guilt. Every item is ethically produced, so even the most conscious consumer can feel great about their purchase. "Marika has carefully vetted every product, and part of the charm is hearing the excitement in her voice as she shares the touching stories behind each product, each maker," Abod said.
Fellow shopper Sarah Vogel of Great Falls agreed. "Vivid Chill is the store we've all been waiting for in Great Falls. I'm a local girl, born and raised, and can attest to the need this town has always had for a store with this level of quality, relevant and attractive products. When you shop at Vivid Chill, you are not only supporting a local mama and her family, but you are choosing better products and supporting the small businesses that created them. I prefer to support small businesses when I shop for myself and others, and Vivid Chill has been the answer for me. Every time I pop in for a gift for someone else, I can't help but snag something for myself as well. Thank you to Marika and her family for opening the doors to this one-of-a-kind shop in the heart of Great Falls."
Vivid Chill at 752 Walker Road, STE C is located in the heart of Great Falls at the Great Falls Village Centre, with the shop's entrance facing the grassy village green. It is open Tues.-Sat. 10 a.m.-2 p.m. with online shopping available 24/7. Free returns or exchanges provided within 30 days of purchase—call (571) 407-7093 or email info@vividchill.com for more information.