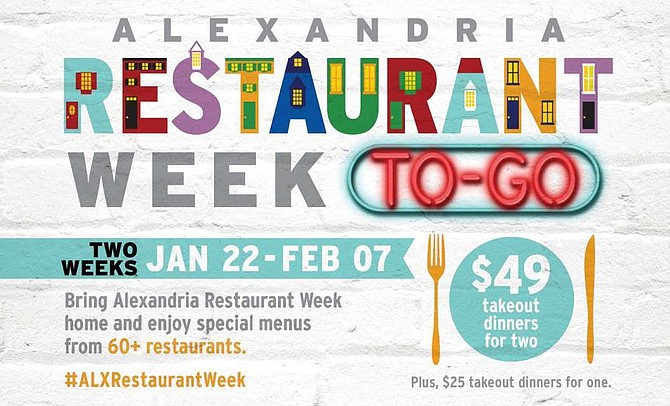 Permanent restaurant closures, temporary shutdowns for renovations AND a winter showcase of local restaurants (and their takeout fare): It's been a busy week since the new year began.
Bilbo Baggins Restaurant Closes After 40 Years
After remaining shuttered throughout the covid-19 pandemic, it appears Old Town staple Bilbo Baggins is closed for good. Signs on the window point to the building's sale by Century 21 Commercial New Millennium.
Bilbo Baggins arrived on the Alexandria food scene in 1980 and has remained a mainstay in town ever since, bringing with it a Hobbit-themed flair throughout. The restaurant even received permission from the Tolkien Foundation to use the Bilbo Baggins moniker. Both the dining room and the adjacent pub offered a comfortable, homey environment while also dishing up quality food and drink. Old Town will certainly miss it.
Yunnan By Potomac Closing Temporarily for Renovations
Forget spring cleaning: Yunnan by Potomac is shutting down for a bit to do some winter demolition.
In a social media post on Tuesday, the Yunnan-province Chinese restaurant announced the closure:
"Family & Friends, After a year's worth of uncertainty, planning, revising plans, and constant obsession, we are excited to finally announce the beginning of our latest ambition … complete renovation of our dining space and kitchen! We are saddened to close temporarily, but enlivened by the pursuit of our vision to share the beauty and diversity of Yunnan and its people through the food culture of Southwest China."
The restaurant did not specify a timeframe for its reopening, but the post said updates would be announced via social media as the time got closer.
Winter Restaurant Week To-Go on the Horizon
Alexandria's Restaurant Week is back – and like last go-round, it's back in a socially distant way. For two weeks ranging from Jan. 22 to Feb. 7, more than 60 local restaurants will offer special deals on takeout meals. Throughout Restaurant Week, a takeout dinner for two will run you $49. Many restaurants are also offering a new feature this time around: a takeout dinner for one for $25. https://www.visitalexandriava.com/restaurants/restaurant-week/
Hope Nelson is the author of "Classic Restaurants of Alexandria" and owns the Kitchen Recessionista blog, located at www.kitchenrecessionista.com. Email her any time at hope@kitchenrecessionista.com.