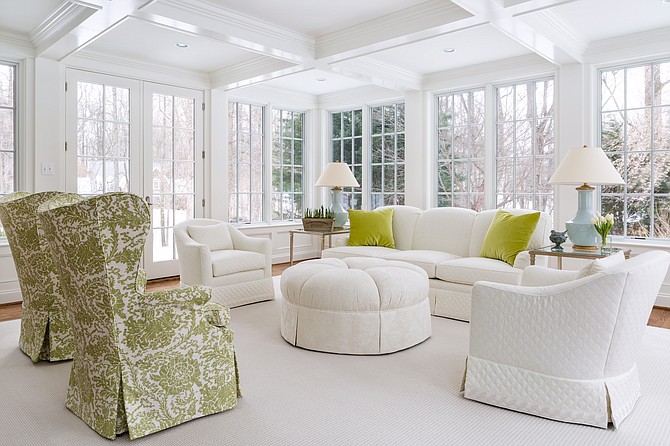 When the owners of a colonial, built in 1963 in Potomac, Md. decided to renovate their home, they wanted to make sure the traditional charm was maintained in an updated aesthetic that allows for streams of natural light. Designers at Anthony Wilder Design/Build were hired to take on the project, which included creating a light-filled sunroom.
Large windows offer dramatic views while giving the space a clean and airy feel. "You don't always need to knock down walls to have an impact," said architect Sean Mullin. "You can revamp a room by adding details like a coffered ceiling. For [this] project, we installed a tray ceiling and added a fireplace to complete a new look."
Timelessness in architecture, finishes and furniture was a priority. "[It] was paramount in this home's renovation [including] the classic white and green furnishings in the sunroom," said Keira St. Claire.
The new design allows for an abundance of natural light. " The widened, cased openings … also expand sight lines from room to room, even making the eight-foot ceilings feel taller," said Mullin.