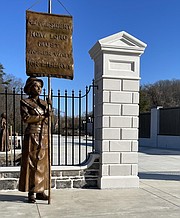 Those visiting Occoquan Regional Park, Lorton, can see progress toward completion of the Turning Point Suffragist Memorial. Replica White House gates, statuary, pavement and the main sign marker are now visible upon reaching the area opposite the park's main event building. When completed, tentatively this spring, the memorial, with statuary and garden, will honor suffragists and their success in gaining women's right to vote in 1917.

The peaceful actions of those women stand in stark contrast to the unsuccessful violent actions of those who sought to disrupt the certification of votes of the Electoral College at the Capital last week. Says Patricia Wirth, Executive Director/CEO of the Turning Point Memorial Association, "Suffragists engaged in peaceful demonstrations, and never perpetrated violence, although they did have violence perpetrated against them." They were often referred to as "silent sentinels" for their peaceful, quiet demonstrations in the capital city. The Memorial site stands near where several suffragists were jailed and force fed after their arrest for holding banners containing messages promoting voting rights on the sidewalk outside the White House.

Citizens reacted negatively after hearing of the poor treatment of suffragists in the Lorton jail, a reaction which helped the suffragist cause.
For donations, and more memorial and historical information, readers are directed to https://suffragistmemorial.org/.