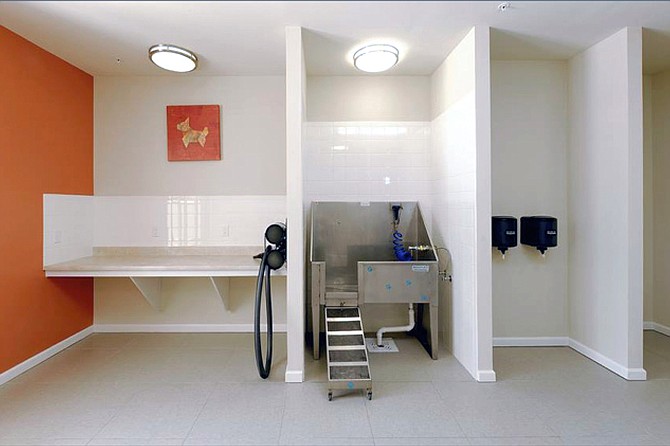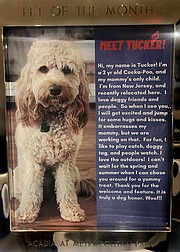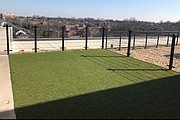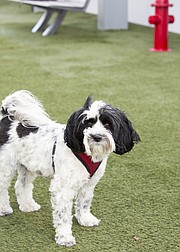 A dog park on the roof? Yappy hours? These Arlington buildings sure know how to make your canine feel at home.
Listed in alphabetical order:
2001 Clarendon (Courthouse)
2001 Clarendon Blvd.
844-869-0316
When the pandemic is truly in the rear view mirror, 2001 Clarendon organized patio and sidewalk "yappy hours" will return where people and pets can enjoy socializing over appetizers and drinks at local restaurants. September's last-day-of-the-season "doggie paddles" when dog residents can enjoy a dip in the rooftop pool will return as well. And the building's canine residents will once again enjoy post-walk dog biscuits in the lobby.
Acadia at Metropolitan Park (Aurora Highlands)
575 12th Road South
703-995-2505
The pandemic has not kept the Acadia at Metropolitan Park from honoring a dog-of-the-month with a portrait and write-up prominently displayed next to a bowl of dog treats in the lobby.
Avalon Arlington North (Waverly Hills)
2105 N. Glebe Road
703-215-9589
Avalon communities appear to delight in catering to the four-legged canine crowd. Avalon Arlington North boasts a private dog park with a pet waste station along with additional pet waste stations surrounding the community, in case your pup prefers street entertainment for his/her walks. The Avalon also has a "doggie swim" event to close out the season and every year there is a Halloween Pet Costume contest.
In addition, pre-pandemic, the Avalon hosted two pet adoption days featuring rescues from the Lost Dog and Cat Rescue Foundation (LDCRF), with food catered by the Lost Dog Cafe. Best of all, several pups were adopted.
Centro Arlington (Barcroft)
950 S George Mason Drive
571-205-7539
Centro boasts a large roof-top dog park as well as a pet spa for convenient pet bathing and fluffing.
Origin (Ballston)
700 N Randolph Street
571-444-5600
Origin's spacious rooftop dog park is conveniently adjacent to the building pet spa.
The Reserve at Clarendon Centre (Clarendon)
3000 N. Washington Blvd.
703-248-6282
The Reserve celebrates the end of the summer with an "annual dog swim" so your dog can enjoy the pool that two-legged residents appreciate throughout the summer season.
Zoso Flats (Clarendon)
1025 N Fillmore Street
703-822-4124
At Zozo flats, you and your canine will have easy access to the "dog walk" located in the back of the building with convenient pet waste stations. And, when the pandemic is over, your pup will find dog biscuits have returned to the lobby for a post-walk treat.
If you know of an apartment building in Arlington that offers awesome pet amenities, send email to: joan@joanbradyphotography.com.
ArPets is a weekly feature for highlighting the well-loved pets of Arlington as well as animals who are available for adoption. If you or your dog, cat, iguana, bunny, rat or any other pet, has an interesting pet story to tell, send email to: joan@joanbradyphotography.com.
Joan is an award-winning Connection Newspapers columnist and local photographer specializing in pets, children and families and contemporary business portraits.