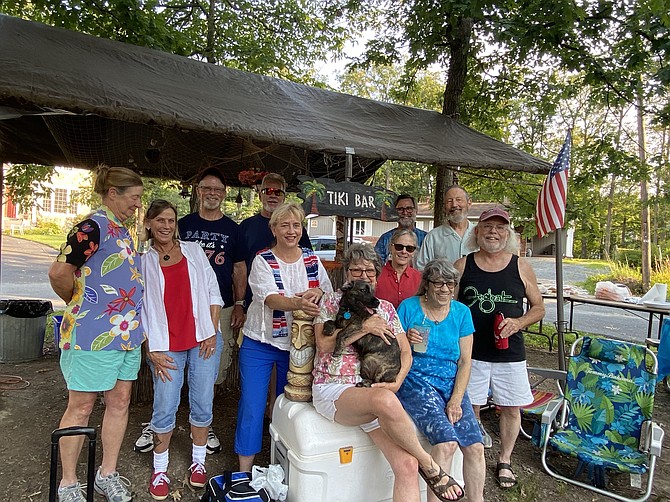 The Town of Herndon celebrated the 4th of July after canceling last year's event due to the pandemic. What made the evening extra special was that the firework display launched from the Herndon Centennial Golf Course was the first large group community gathering for town residents since the COVID-19 lockdown in March of 2020.
The opportunity proved to be freedom for friends and family. They gathered at neighborhood picnics as the people living on Nash Street did at their "island" located in the center of the cul-de-sac.
When dusk fell, families made their way to the barricaded streets with sightlines where the firework display could easily be seen. Children held sparklers, dads plopped their little ones on their shoulders, and friends who had not socialized in person for over a year hugged each other.
Jonathan Savitch and his family recently moved into a historic property downtown. "It's been a year," he said. His son Luke Savitch, unmasked, looked at others around him. "I'm very comfortable with spacing between people," Luke said.
Patriotism rang high and loud, especially among a group of college students. They expressed the joy to be out and free, the pandemic hopefully behind them. "I love America, and I love the beauty of everyone else loving America with me," Nicholas White of Herndon said, cheering and clapping as the firework display went into overdrive.
Daniel Lyons of Herndon held similar sentiments. He voiced his independence and pride as the United States was now moving past the coronavirus pandemic.

As of July 4, 2021, 67 percent of all U.S. adults received at least one COVID-19 vaccine dose.
In comparison, 75.1 percent of all Fairfax Health District adults received at least one COVID-19 vaccine dose, according to the county's COVID-19 Vaccine Data. The Fairfax Health District includes Fairfax County and the cities of Fairfax and Falls Church.