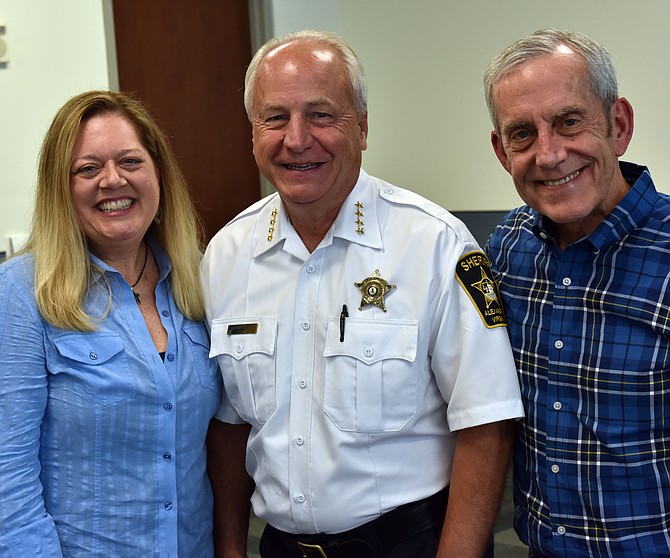 Alexandria Police Chief Michael Brown was fêted as he made his final appearance at police headquarters June 25 to begin his retirement after 46 years in law enforcement.
"Every now and again you meet somebody in your career that is a godsend," said Acting U.S. Capitol Police Chief Yogananda Pittman. "You don't know what the relationship is going to be like and you have no idea what's preparing you on your journey but Chief Brown has been a godsend to me."
Pittman joined officers and city officials at the retirement reception, which included the presentation of a personalized Alexandria street sign to Brown by City Manager Mark Jinks.
Pittman presented Brown with a U.S. flag that had flown over the Capitol building in Washington.
"I met Chief Brown at a National Organization of Black Law Enforcement Executives conference not long after the 2017 Congressional baseball shooting," Pittman said. "I introduced myself to him and he let me know he knew who I was. Since that time he has taken me under his wing as a friend, which speaks to the character he is as a person."
Pittman praised Brown for the many times he did not hesitate to help her, "just like your fine police department never hesitated to come to our rescue in June of 2017 at the baseball field."
Pittman continued: "Chief Brown, it has been my profound honor to work with you. You let me know that being a change agent for a police department is not easy, that there will be many days that you are going to go at it alone and you are going to ask God 'Why me?' I didn't ask to be here. I didn't ask to be in this acting chief of police role but one of the first calls I made was to my friend, Chief Brown, and for that I say thank you. It's an honor to know you."
Brown was joined at the event by his wife, Kirsten Knapp, who recently retired from the Alexandria Sheriff's Office. As is a retirement tradition, the APD motorcycle division escorted Brown home for his final departure from police headquarters.