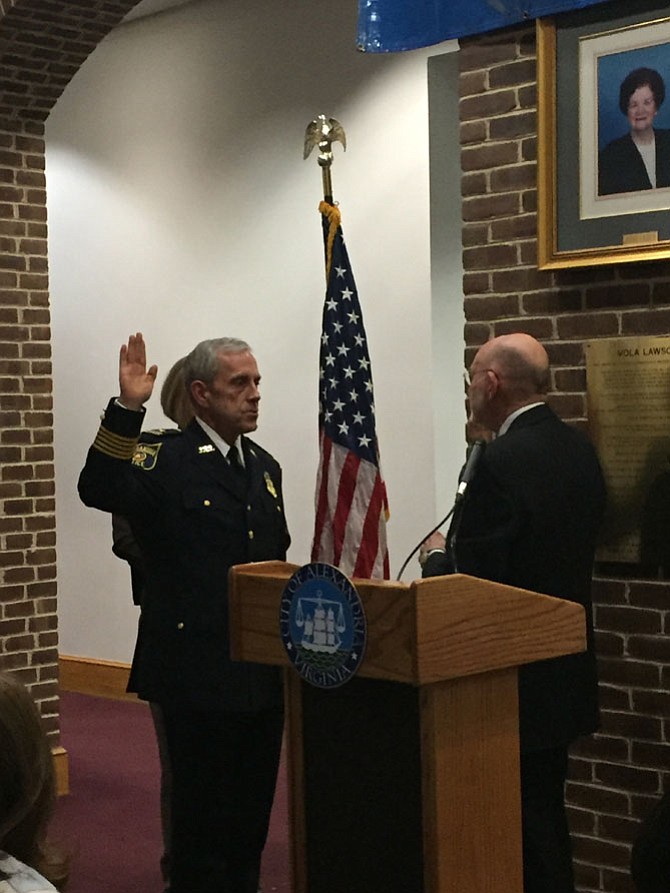 Alexandria — Chief Michael Brown came into Alexandria with a storm. Specifically, it was a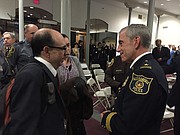 few days before Snowmageddon in 2010 when Brown moved to the city to take a law enforcement position in D.C. Having previously moved 19 times through his career, Brown says his family considers Alexandria home. At his swearing in on Jan 24 when he officially became Alexandria's new chief of police, Brown pledged to do everything in his power to help protect the city.
"I was humbled and awed at the possibility of becoming chief of police," said Brown. "Law enforcement is in a challenging arena. Its strength comes from the community it serves. I am blessed to be a part of this organization. I hope I live up to the hype and expectations."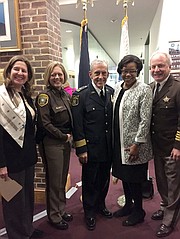 Brown's career in law enforcement includes a long career in the California Highway Patrol (CHP) where he was appointed state commissioner in 2004 and Deputy Secretary of Public Safety for the State of California in 2008. Brown resigned from his position as head of the CHP in 2008 amid questions regarding his leadership. Brown moved to Alexandria in 2010 to serve as director of the Office of Impaired Driving and Occupant Protection at the National Highway Traffic Safety Administration (NHTSA).
John Marshall at NHTSA and said Brown's work included extensive cooperation with regional and local law enforcement communities.
"He's a great leader and a great person," said Marshall. "I've gotten to know him like a brother."
Marshall said Brown's work at NHTSA centered around managing programs related to impaired driving and occupant protection, like the Click-it or Ticket campaign. Brown's work with impaired driving endeared him to many of the Alexandrians who came out to meet the new chief.
"To get somebody at the chief's caliber will help save lives," said Kurt Gregory Erikson, president and CEO of the Washington Regional Alcohol Program.
"Alexandria is fortunate at this stage to have a man of his experience … particularly with community policing," said local resident Macarthur Meyers.
Brown's wife, Kirsten Knapp, currently works in the Sheriff's Department. Sheriff Dana Lawhorne said as soon as Brown was hired, he reached out to other law enforcement agencies to build communications.
"He was an excellent choice," said Lawhorne. "I'm impressed with his willingness to listen and collaborate and approach the job with empathy and compassion."