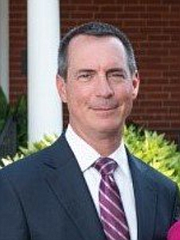 Christopher "Chris" Jon Adams, owner and funeral director at Adams-Green Funeral Home & Crematory in the Town of Herndon, died unexpectedly on July 14, 2021, at the age of 56. He is survived by his wife of 26 years, Kathryn, and their three children, Jack, 20, Susanna,18, and Daley, 14.
Born March 24, 1965, in Battle Creek, Michigan, Chris grew up in Herndon and graduated from Herndon High in 1983. Diane Griffin Goldberg knew Chris as a youth through his sister Traci.  "From the time I met Chris, he was unflappable. Nothing seemed to bother him. When Chris purchased the funeral home, I thought he had the perfect temperament to help families in their time of need."
A longtime member of the Rotary Club of Herndon, Chris's fellow Rotarians expressed sympathy to his family. They reflected on Chris's calm, compassionate demeanor, love of family, and community involvement.
"Chris offered so much comfort to so many. My heart goes out to his family and the many people he supported in their time of sorrow as a funeral director. What a devastating loss for the whole community," said Signe Friedrichs, Rotarian and Town Councilmember.
Mary Drum, like many Rotarians and community members, said she was still in shock. "He was the kindest, most gentle of men."
According to Kurt Rose, he met Chris more than 25 years ago when they, as young entrepreneurs, were trying to make their way with new businesses. "What I quickly learned about Chris was that he was not just a good businessman, but a devoted family man and dedicated community volunteer. He was a fellow Rotarian and never hesitated to volunteer his time or money to help people in need throughout his hometown. He loved his community, and his community loved him."
Rotarian Dee Cacio agreed with Rose that family came first to Chris.  Several years ago, she asked Chris if he would like to become Rotary president for the coming year. He thought about it; briefly, Cacio said. Quoting him, she said, "I would love to serve as president, but right now, my kids are at a stage in their lives where they really need me to be involved in their lives and activities. My family comes first. Maybe another time." 
The family plans to receive friends from 1 to 4 p.m. and 6 to 8 p.m. Thursday, July 22, 2021, at Adams-Green Funeral Home & Crematory at 721 Elden St. in Herndon. The funeral service is Friday, July 23, at McLean Bible Church, Vienna, with the time yet to be determined.
Instead of flowers, memorial donations may be made to Foundation Fighting Blindness, American Tinnitus Association, and Selamta Family Project.