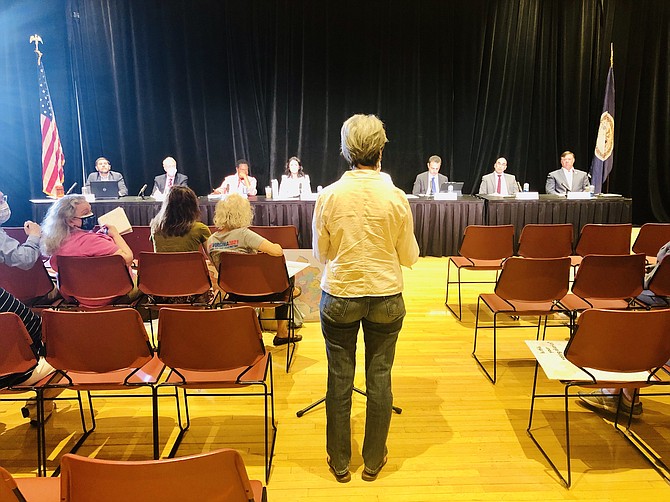 For Mason Cook of the Middleridge neighborhood in Fairfax County, the problem of gerrymandering can be understood in an afternoon commute. During a public hearing of the Virginia Redistricting Commission this week, he explained that if he were to drive from his house to his grocery store and then drop off a package at his post office, he would have gone through three different House of Delegates districts.
"It makes no reasonable sense," said Cook. "I would like to implore the redistricting commission to try to keep the south-central area of Fairfax County together."
Speaker after speaker gave personal testimony about how their neighborhoods are separated into unintelligible pieces and connected with other communities in neighboring counties. Several brought maps to show the strange configurations and shapes created by decades of partisan redistricting, a process that has been guided by elected officials for years.
Now a new Redistricting Commission is about to have a crack at drawing new maps for the House of Delegates, the State Senate and congressional districts. Many voters from Northern Virginia are telling them they don't like the kinds of districts like the state Senate seat currently held by Dave Marsden
"State Senate District 37 currently stretches roughly 30 miles from Centreville to the center of my community," said Bill Millhouser of Annandale. "District 37 includes numerous disparate communities with completely different issues and needs as it weaves across the county, and I think it's a perfect example of an elongated gerrymandered district."
"We hear a lot of talk about voter suppression. These kinds of congressional districts are all about voter suppression, and they make the congressional elections totally meaningless."
— Bill Millhouser of Fairfax County
ACROSS NORTHERN VIRGINIA, voters say they're unhappy that their cities and counties are sliced and diced in a way that separates them from their neighbors and connects them to communities far away. One example that came up during the public hearing at George Mason University is the 11th Congressional District, which is currently held by Gerry Connolly. It includes Tyson's Corner and Reston, but it also stretches deep into Prince William County all the way to Swans Creek.
"There's no community of interest between Tyson's Corner and Swans Creek in Prince William County," said Bill Millhouser of Fairfax County. "We hear a lot of talk about voter suppression. These kinds of congressional districts are all about voter suppression, and they make the congressional elections totally meaningless."
Some argue that splitting communities into multiple districts is actually a good thing. If one lawmaker is apathetic to an issue or disagrees with advocates, they can go to another. Also, members of the General Assembly who are in leadership introduce very few bills, so their local jurisdictions can't count on them to include items from their legislative packages. As a result, some say the more the merrier in terms of local delegations. That's not an opinion that was widely shared at the George Mason public hearing.
"I would like to propose that Arlington be represented by fewer delegates and fewer state senators," said Chris DeRosa of Arlington. "Each delegate would be more fully engaged with the Arlingtonians in his or her district."
THE CENSUS DATA that will be used to draw the new political maps is expected to be available in about three weeks. The numbers will offer a snapshot in time, providing a great deal of information about one point in time last year. But the numbers don't tell you much about the growth and development that's in the pipeline — large scale development in Potomac Yard or south Old Town that will bring thousands of new residents to Alexandria will reshuffle the deck in terms of relative population to the declining populations in Southwest Virginia.
"The Census data you're going to be using to draw maps this time are actually based on data that will be two years old by the time the first election is held using those maps," said Tom Osborne of Alexandria. "Under-populated districts mean over-representation for those areas, and over-populated districts mean under-representation, and fast-growing areas inevitably end up under-represented during the life cycle of this 10-year redistricting."
THE HISTORY OF drawing political boundaries in Virginia is full of racism and revenge. In the 1780s, Gov. Patrick Henry tried to draw the congressional districts to deny his archenemy James Madison a seat in the House of Representatives. In the early 1900s, white supremacists in the Democratic Party instituted a poll tax as part of a Jim Crow plan to exclude Black voters from the process. Even after the last redistricting a decade ago, federal courts determined Republicans were engaged in an unconstitutional scheme of racial gerrymandering.
"Some institutions of civic life have not and do not work for all Virginians," said Paul Berry, chairman of the Fairfax County Redistricting Commission. "Our collective effort in this process is driven by equity."
Modern technology has made the process of drawing political boundaries extremely effective for partisan purposes. Lawmakers have access to software that can help them go block by block to rig the outcome of elections with military precision. They will also eventually have access to the latest Census data that will help them understand which areas are growing the fastest and therefore need more representation.
Del. Vivian Watts (D-39) spoke at the George Mason public hearing to request that the precincts crafted by local elected officials should be the building blocks for the new maps.
"In defining community, please look at precinct lines, not sub-Census tract lines," said Watts. "I respect the work that is done year in and year out by our local elected boards to define precinct lines. They come as close to respecting community as any building unit I can possibly describe."