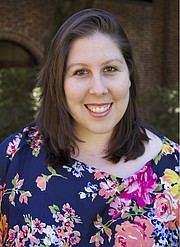 It may have been hot and humid outside of Fairfax's Kathryn Johnson Middle School, but inside, a bevy of six young actors were a whirlwind of fresh energy rehearsing for the City of Fairfax Theatre "A Brief Shakespeare Festival." And as director Olivia Hinebaugh enthusiastically cheered them on as they hit their marks; "You got this!"
Hinebaugh, also the Festival script adaptor and scenic designer, was building a team environment. She reminded her charges to "help each other" during rehearsals and performances.
"This production is all about making Shakespeare fun and accessible to the Fairfax community. For anyone seeing a Shakespeare play for the first time, they're going to get to know the story and characters of some of the most famous of his works very well," said Amana Herman Snellings, producer of the Festival.
"For someone who is a longtime fan of the Bard, they'll enjoy those lines and moments that are most well-known. We can't wait to bring the community back together in the perfect outdoor setting for an evening of great performances for all ages!" continued Snellings.
Snellings noted that the outdoor setting for the Festival at Veterans Amphitheater permits patrons to bring their own dinners.
"A Brief Shakespeare Festival" will be performed by a wide range in ages of local students and adults with excerpts from The Bard's works. There will be scenes, monologues and sonnets presented with the student actors performing adaptations from "The Tempest" and "A Midsummer Night's Dream" (elementary school age students), "Twelfth Night" and "Macbeth" (middle school group) and "Romeo and Juliet" and "Hamlet" (High School/College group). Each student will play several characters. Between the student performances adults will provide theatrical interludes as bookends.
Parents of the elementary school age students were enthusiastic about the Festival and the participation of their children including how excited their children were. As one parent noted, "the idea of doing Shakespeare was a little intimidating at first for a ten year old, but she has fallen in love with Shakespeare's humor."
There are more than two dozen children and adults from the local community who are the cast members and creative team for the "Brief Shakespeare Festival." As individuals and as team members, they are working to bring a joyful, rewarding evening to all.

In inviting the community to the outdoor "Brief Shakespeare Festival" Snellings made clear the Festival will be "be truly different and unique."
Where and When

City of Fairfax Theatre Company (CFTC) presents "A Brief Shakespeare Festival" outdoors at Veterans Amphitheater, 10455 Armstrong Street, Fairfax, July 30 to Aug. 8, 2021. Performances at 6 p.m. with outdoor seating area available starting at 5 p.m. Performances: Friday, July 30, Saturday, July 31, Sunday, Aug. 1, and Friday, Aug. 6, Saturday, Aug. 7, Sunday, Aug. 8. Tickets: $25 for adults and $15 for kids ages 3–12. Tickets at http://www.fairfaxcitytheatre.org/ or at the door. Note: "A Brief Shakespeare Festival" is approximately two hours with one intermission.