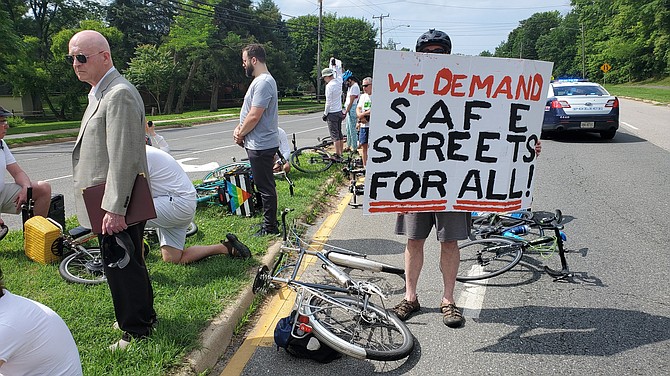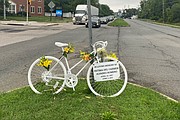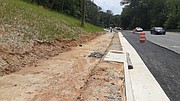 This spring has seen several fatal pedestrian accidents, possibly signaling a warning to drivers, pedestrians and transportation engineers that more could be done to lessen these fatalities in Fairfax County.
In early June, a 64-year-old cyclist died following a crash that occurred just after 10 a.m. at the intersection of Hidden Canyon Road and Blueridge View Drive in Centreville. Detectives from the Fairfax County Police Crash Reconstruction Unit have preliminarily determined that Raymond Buza, of Centreville, was on his bicycle traveling east on Hidden Canyon Road and was hit by a 2017 Hyundai Sonata turning left in front of Buza resulting in the fatal crash. The driver of the Sonata remained at the scene, and was later charged with infliction of injury on a vulnerable road user, the police said.
On June 3, Reynaldo Quinteros Alfaro, 54, of Alexandria, was crossing South Kings Highway when the driver of a 2017 Dodge Journey was traveling southbound on South Kings Highway, a posted 35-mile-per-hour roadway, and struck him. Virginia law, §46.2-924, requires drivers to stop for pedestrians at any intersection when the driver is approaching on a highway where the speed limit is not more than 35 miles per hour. Quinteros Alfaro was taken to the hospital where he was pronounced dead, police said.
On June 4, Fatima Del Carmen Alvarez Romero, of Alexandria, a 24-year-old cyclist, died in a crash just after 11 a.m. at the intersection of Telegraph Road and Franconia Road. According to the FCPD, she was on her bicycle and entered the crosswalk to cross Telegraph Road on the south side of the Franconia Road intersection. Alvarez Romero proceeded east through the intersection in front of a 2020 GMC Savanna which was traveling north on Telegraph Road and had a green traffic signal which resulted in the crash. The driver of the GMC Savanna remained at the scene.
In April, pedestrian Choon Yoo, 77, of Annandale, died following a crash at 10 p.m. near the intersection of Little River Turnpike and Backlick Road. Detectives determined that Yoo was crossing Little River Turnpike and the driver of a 2011 Toyota Corolla on Little River Turnpike and struck Yoo.
Police Presence
The Fairfax County Police Department is increasing patrols to increase police visibility and enforce laws that make the roads safer, according to Sgt. Hudson Bull. "While enforcement and education efforts are underway, the Department relies on its partnership with the community in sharing our message to increase public safety," Bull said. Although many fatalities have occurred in early June that makes it seem like a large amount, "to date, fatal crashes, and all crashes, are lower compared to 2020 and 2019," Bull said.
Many states are taking part in the "Vision Zero," traffic safety program. "Vision Zero starts with the ethical belief that everyone has the right to move safely in their communities, and that system designers and policy makers share the responsibility to ensure safe systems for travel," the policy information stated. In this area, the Vision Zero program is active in Alexandria, Montgomery County, Md. and Washington, D.C. Fairfax County is not part of Vision Zero, and some members of the bicycling community feel the county should sign on to Vision Zero.
"The Fairfax Alliance for Better Bicycling calls on Fairfax County to join its neighboring jurisdictions in adopting Vision Zero and acknowledging that the injuries and deaths of vulnerable road users are preventable," FABB stated.
Outdated Street Design
In many cases, "it's the design of streets that needs to be updated to prioritize street safety over motorist speed where pedestrians and bicyclists are likely to be present and accommodate all users with safe, welcoming, and context-appropriate facilities and networks," said Melanie Bowzer at the Association of Pedestrian and Bicycle Professionals.
Other factors affect the severity of injuries too, including road design that lends itself to people driving faster and the increase of larger vehicles on the road. Both speed and vehicle size increases the likelihood of fatal and serious crashes. Distracted driving is also a relevant factor in pedestrian and bicyclist fatalities, Bowzer noted.
VDOT works closely with Fairfax County to administer projects through the county's prioritization and funding processes, following the comprehensive and multimodal plans for the County.
"Safety is always our top priority and is a vital consideration at each stage of project design," VDOT said. At the project development stage, VDOT will initiate all highway construction projects with the presumption that the projects shall accommodate bicycling and walking, their planning document states.