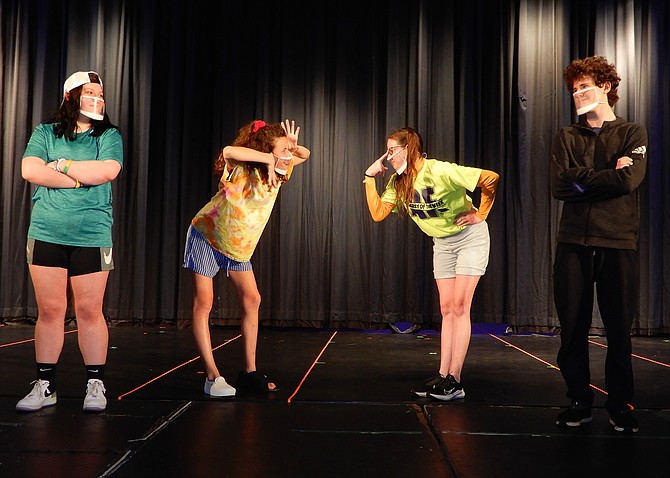 Offering both virtual and in-person shows, Chantilly High presents the children's show, "Judy Moody & Stink: The Mad, Mad, Mad, Mad Treasure Hunt." Tickets are $8 at http://www.chantillyhsdrama.com/, as is the link to the online version.
Live-streamed shows will be May 7, at 7 p.m., and May 8, at 2 p.m. In-person shows will be May 8, at 7 p.m., and May 9, at 2 p.m. The auditorium will be 30-percent capacity, and actors, crew and the audience will wear masks.
The story's about third-grader Judy Moody and her younger brother, Stink, whose moms take them on vacation to an island where they find mysteries, surprises and adventure. There's a cast and crew of 35, and the actors will wear see-through masks so the audience can see their expressions.
"I'm so happy to be back working with my kids because they're taking small steps back to normalcy doing something they love," said Director Shannon Spicer. "A lot of them grew up reading Judy Moody books, so it's special for them to perform this one as a live play. And it lets families enjoy a fun evening at the theater in a safe environment."
She said making realistic blocking choices while maintaining social distance challenged the in-person cast. And the online cast must maintain its energy and enthusiasm without hearing a live audience's laughter. But, said Spicer, "I'm extremely proud of them being underclassmen and having such dedication to our theater department. It's really admirable; and after teaching 20 years, it makes me remember why I do it."
PORTRAYING JUDY is freshman McKenzy Hopkins. "She's funny, sassy, outspoken and energetic," said Hopkins. "But she wants things to stay the same as in second grade and not change. I like playing her because she has two sides. When talking to her brother and classmates, she doesn't care what anyone thinks. But when addressing the audience, she's softer and shows her true feelings."
Excited to play the lead, Hopkins hopes to someday act professionally. So, she said, "Getting this role's responsibility is a great opportunity. Audiences will like coming along with us on the adventure and will enjoy laughing with us."
Freshman Grace Drost plays Mom, one of the family's two mothers. "She wants what's best for her kids and makes sure they do their homework and get to school on time," said Drost. "I draw inspiration from my own mom and recognize some of the things she'd say."
In a children's show, she said, "You make big, animated motions so the kids understand it and are entertained. It might even get them involved in theater. It's a fun, pirate adventure with brightly colored costumes, and people will be able to see themselves in the characters."
PLAYING SMART GIRL, an island tourist, is sophomore Lucy Sherrier. "She's nicknamed 'Smart Girl' because she wears glasses and looks smart," said Sherrier. "She and her brother compete against Judy and Stink to find 16 gold pieces and bring them to Scurvy Sam, the pirate. And Smart Girl's a little smug because she and her brother have done this treasure hunt before."
Sherrier likes playing supporting roles and "know-it-all, confident characters." She also said children will identify with the characters who, in the first scene, don't want to get out of bed and go to school. And throughout the play, she said, "We act over-the-top to make them laugh."
Sophomore Alex Lesnik plays Stink. "He's impulsive and clueless and can't pick up on social cues very well," she said. "He's also curious and likes to explore. Stink just wants to have fun and be happy. I enjoy this role because it's slightly out of my comfort zone, since he's very open and doesn't hold back. He'll sometimes embarrass himself accidentally, but all these things make him fun to play."
Lesnik said both children and adults will enjoy the show's jokes and "out-there" costumes. "People who know this book series will want to see how we do it," she said. "And for kids unfamiliar with it, it'll be something new and fun."