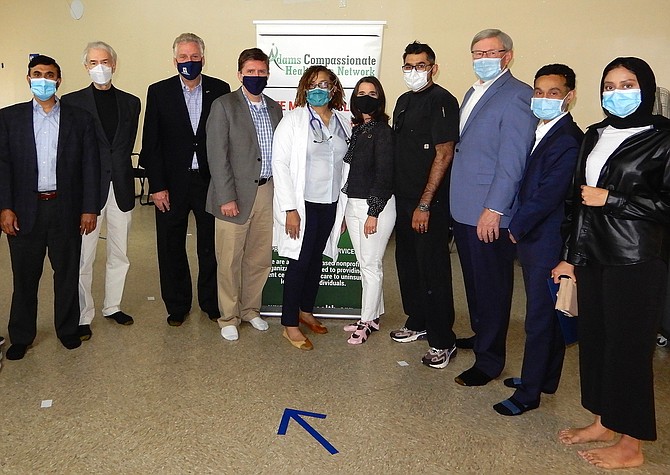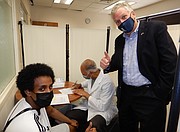 Bumping elbows and happily chatting with staff and patients alike, Gov Terry McAuliffe visited a COVID-19 vaccination clinic in Chantilly, last Saturday, May 1. Joining him were State Sen. Jennifer Boysko (D-33) and Fairfax County Supervisors Walter Alcorn (D-Hunter Mill) and John Foust (D-Dranesville).
They were at the All Dulles Area Muslim Society (ADAMS) Compassionate Healthcare Network (ACHN) Free Clinic at 4431 Brookfield Corporate Drive, Unit. F. Since February, the clinic has vaccinated thousands of Fairfax County residents. And on Saturday, it administered shots to 156 more.
McAuliffe has been a strong supporter of the ADAMS Clinic since its inception in 2015. In fact, while in office between 2014-18, he visited there several times. And earlier this year, a General Assembly Resolution commended the Clinic for helping uninsured and other Virginia residents with a range of free medical services. These include initial medical care, consultations with ACHN physicians in a wide range of medical specialties, prescription drugs and lab work.
During Saturday's event, ACHN volunteer doctors and staff were on hand to talk with visitors and tell the visiting dignitaries what they do there. It also enabled area residents to learn about the services this free clinic offers and how to become a patient there.