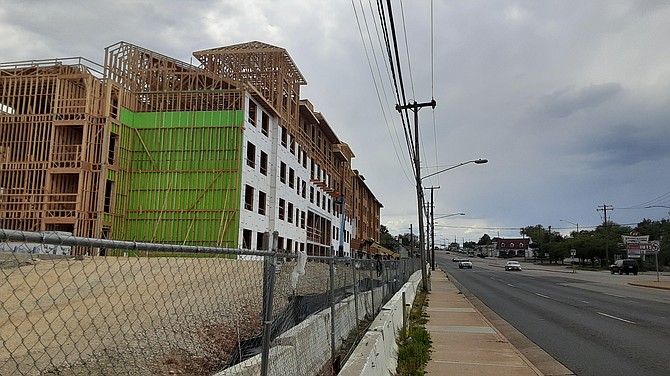 Just south of Fairview Avenue in Penn Daw, The Belhaven by Fairfield apartment community, is taking shape on the northbound side of Richmond Highway. This 349-unit apartment building is a pre-EMBARK structure that will provide housing for many in this busy area of Mount Vernon.
The Fairfax County Board of Supervisors approved this project in July 2017, and on the approval form, it is referred to as a "multi-family building," that is scheduled to open in 2022. The apartment complex will have a 560-space parking garage, a pool, a couple of courtyards and out front, a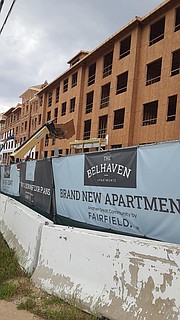 "interim landscape area until full build-out of Route One occurs," it said on the plans. It is typical of urban streetscapes and what is envisioned with future Embark development and consistent with the county's Urban Design Guidelines. Per the proffers with the apartment project, planned are a seven-foot-wide sidewalk up front, a 4.5-foot-wide landscape strip, a 6.5 ft wide bike lane and a six-foot-wide landscape strip.
The Embark Richmond Highway Study was adopted by the county on March 20, 2018 which is after The Belhaven project was approved, but according to Supervisor Dan Storck's office, this apartment structure fits well into the future plans for the corridor. Embark Richmond Highway is described as an initiative focused on creating a multimodal future for Richmond Highway Corridor where residents, workers, and visitors can walk, bike, or drive to the places they want to go. From the Belhaven, there are food places, retail, parks and bike trails within walking distance. A Bus Rapid Transit station is planned close to The Belhaven, but Embark development isn't expected to start until 2023.
In Storck's newsletter, they describe the new development with Cafritz Interests and Novus Residences as one that "creates a unique opportunity to enhance revitalization on Richmond Highway, bring development partners to our corridor, and create an economic investment in our community." Of the 349 apartments, there are 42 workforce dwelling units, which are in the "affordable," category, according to Trey Kirby, Vice President of Development at Fairfield. The actual prices of the apartments has not been finalized, and they will look at the market rates when it gets closer to opening in summer 2022.
Local Apartment Projects
Fairfield has a few other apartment structures in Alexandria including The Bradley Braddock Road Station Apartments in Alexandria. These apartments are priced at $1,890 for a one bedroom and $2,670 for two bedrooms.
Another Fairfield property that's opening soon is Fairfield at Gateway (The Moxley) in the City of Fairfax. It is a multi-building project that includes a parking garage, pool, pet area and landscaping. According to the website, The Moxley is opening this year.
In February 2020, there was a multi-alarm fire in an apartment construction site across Richmond Highway from The Belhaven. Now the construction has resumed and that condominium and townhouse facility is scheduled to open in the near future.